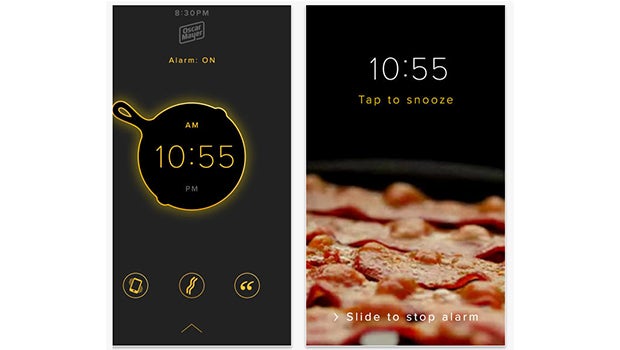 New app lets users "wake up and smell the bacon" -- literally
Wake up and smell the bacon! Seriously. There is now an iPhone app that sends the smell of bacon wafting to your nose as your alarm goes off. And the promo imagery features a rose made of bacon strips.
Created by Oscar Mayer, the app is accompanied by a dongle that plugs into the iPhone's headphone jack. When you sync it with the app, you wake up to the sounds and smell of bacon sizzling on a skillet.
"With nearly two million mentions of #bacon on Instagram, it seems people never get tired of bacon. That's why our team decided to develop a device to give folks what they long for most," Tom Bick, senior director of integrated marketing and advertising at Oscar Mayer, said in a statement. The company's Institute for the Advancement of Bacon is behind the app.
"As the category leader, Oscar Mayer is thrilled to bring the first-ever, bacon-scented mobile device to market, giving bacon aficionados a new reason to welcome their morning alarm clocks."

Unfortunately for bacon lovers, the app won't be available on the open market. Oscar Mayer is instead creating a contest, asking fans to apply to be an official beta tester. Winning requires taking a quiz on the company's website.
But there is a promo video for all to enjoy. In it, a voice says things like, "Experience bacon with all your senses," and "Like the deepest root, like the stormiest ocean, it's briney cure endures. Bacon exceeds everything you ever imagined."
Thanks for reading CBS NEWS.
Create your free account or log in
for more features.