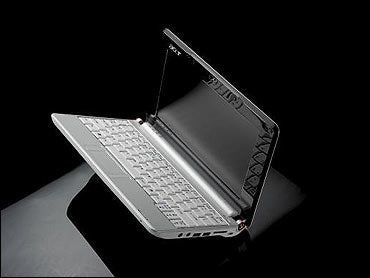 "Netbook" A Major Tech Trend Of 2008
I was not surprised when iSuppli announced that notebook sales exceeded desktop sales for the first time in the third quarter of this year in what the research company called a "watershed event." The report singled out Acer which "grew its unit shipment market share by 45 percent, and by 79 percent on a year-over-year basis."
The Taiwanese company, according to the computer analysis group, shipped nearly 3 million more notebooks in the third quarter than in the preceding quarter, "with the majority of those 3 million being the company's netbook products."
"Netbook" is a relatively new category of notebook computer noted for being smaller, less expensive and generally more energy efficient than typical notebook or laptop PCs. It's one of the major technology trends of 2008.
In many ways, netbook is simply another name for subnotebook PCs, which have been on the market for a long time or "ultra-mobile" PCs, a category championed by Microsoft, Intel and other manufacturers in 2006. Ultra-mobile PCs were typically tablet PCs, sometimes without keyboards, while most netbooks are basically just smaller versions of traditional laptop PCs.
I'm writing this column on an Acer Aspire One, a 2.2 pound netbook PC that can be purchased stand alone for as little as $350 or for $99 at Radio Shack along with a two year commitment to an AT&T $60 a month Wireless broadband service. I'm not sure that Radio Shack's marketing idea makes much sense. In most cases, people who buy a $99 PC are probably not the same people who would be willing to spend $60 a month for wireless broadband. I have Verizon wireless broadband in my laptop and love it but I'm a frequent business traveler. For personal use at home and at my usual local haunts, I'm content to use Wi-Fi.
With a 1.6 GHz Intel Atom processor and 1 gigabyte of memory, the Aspire - running Windows XP - is a bit more sluggish than many full sized laptops but it's powerful enough to run Microsoft Office, Internet Explorer and most of the other standard applications that people typically use. The 160-gigabyte hard drive provides ample room for applications.
In order to keep its size down to 9.8 by 6.7 by 1.4 inches, Acer shrunk the size of the keyboard by about 10 percent, which is slowing down my typing and slightly increasing my typos.
The 8.9-inch screen is considerably smaller than other laptops, but it's not a bother. I find the size adequate for things I would do on a small computer. My only design complaint is the narrow buttons on the left and right side of the track pad.
To its credit, the Aspire One has three USB ports which make it easy to plug in an external keyboard and mouse. There is also a VGA port for an external monitor. The Aspire also has an Ethernet port, a slot for an SD memory card and jacks for a headphone and external microphone.
Acer is not alone in this product category. Hewlett-Packard, Dell and Lenovo also have their netbooks or mini-notebooks.
Although the unit that Acer sent me is equipped with Windows XP, Acer, Dell, and HP also offer versions equipped with Linux. I didn't try any the Linux versions but based on my experience with that leaner and faster operating system, I'm certain it will be a lot less sluggish than Windows XP.
What excites me most about this category is that it makes notebook PCs affordable to a wider audience, including high-school students who - in many cases - could use this as their primary home PC as well as a classroom tool. It's also a recognition that Internet or web-based applications are growing in popularity. Over time, bloated desktop software is will give way to more and more applications that run over the Internet making broadband speeds more important than CPU processing speed.
Thanks for reading CBS NEWS.
Create your free account or log in
for more features.