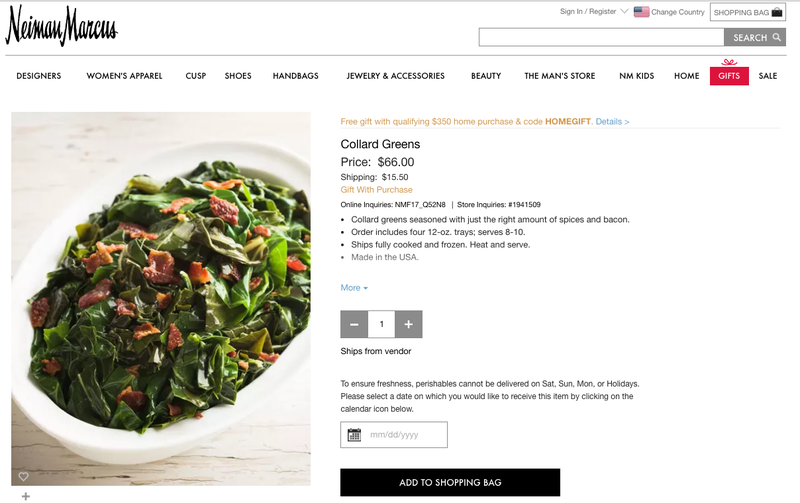 Neiman Marcus is selling collard greens for $66 and the internet can't believe it
Around the holidays, Neiman Marcus — or as it has come to be known, "Needless Markup" — is famous for offering extravagant gift options at astronomical prices. In this year's Neiman Marcus "Christmas Book," for example, you can buy the special lady in your life a "Reversible Sable Fur Vest and Puffer Jacket" for $16,500. Or perhaps you know someone who'd like a "Vintage Electric Bike" for $6,995.
But Christmas is still seven weeks away. At the moment, the internet is losing its collective mind over something the luxury retailer is selling for Thanksgiving dinner: Collard greens.
Yes, that's right. Neiman Marcus advertised a side dish of collard greens, "seasoned with just the right amount of spices and bacon," for $66.00 plus a $15.50 shipping fee.
If $80.00 strikes you as a tad high, you're in the majority. And now, social media is dishing up a fair amount of shade.
While there's no doubt that Neiman Marcus's collard greens are exponentially marked up in price, for many the most offensive aspect of this luxury food listing is its somewhat bizarre misappropriation of southern African-American cuisine.
"Collard greens are a staple of southern cooking and they're a staple in many black households," says Danielle Belton, managing editor of The Root. "It could be part of soul food. It could be part of a holiday meal. In my household, it was a special soul food that we had together as a family. It's just so closely identified with black southern culture that it seems kind of odd to take something that only costs a few dollars in the grocery store and somehow charge $66."
In addition to the product's exorbitant price, social media users were also quick to point out an error in its preparation: traditional collard greens are cooked with ham hocks, not bacon.
Southern chef Paula Deen's collard recipe on the Food Network seems to reinforce that sentiment, calling for "1/2 pound smoked meat (ham hocks, smoked turkey wings, or smoked neck bones)." MarthaStewart.com says, "Traditionally, collards are paired with ham hocks and other pork for flavor and richness."
"It's even bizarre that they're cooking it with bacon," echoes Belton. "It must be gold leaf bacon for it to get the price to that point."
For what it's worth, as many critics as the #gentrifiedgreens seem to have spawned for Neiman Marcus, the product clearly had its appeal. By the time of this article's publication, NeimanMarcus.com had marked the greens as no longer available because they had completely sold out.
"I don't fault them for doing it," says Belton. "Hey, if you can sell $66 greens, maybe you're onto something. Maybe soul food proprietors can learn something from this example."
She simply notes that it's odd for something so ordinary, something so "about home and family," to be passed off as a luxury item in this way.
"It feels like some sort of weird soul food tourism," she says. "Like you want to be able to say that you had some soul food with your meal, but you don't want to go to the hood or have a conversation with a black person to get it."
Thanks for reading CBS NEWS.
Create your free account or log in
for more features.