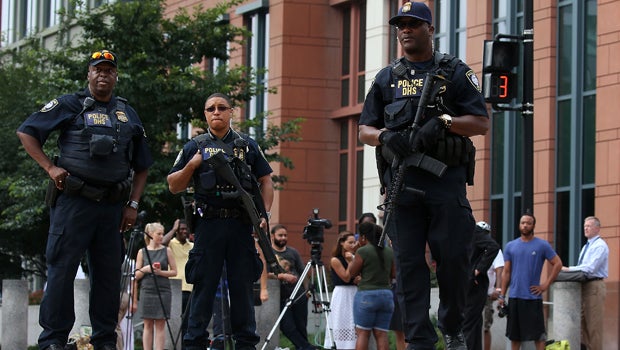 No sign of shooter at Navy Yard after massive response
WASHINGTON -- Investigators found no evidence of a shooting after the Washington Navy Yard went on lockdown Thursday because someone reported shots fired in the same building where a gunman killed 12 workers in a rampage two years ago.
A law enforcement source said the "all clear" had been given, CBS News senior investigative producer Pat Milton reports.
A call came in from someone reporting hearing a loud noise that could have been gunshots at the Navy Yard's Building 197, Milton reports.
In September 2013, military contractor Aaron Alexis killed 12 civilian workers at Building 197 before he was fatally shot by police. The building has since been renamed the Humphreys Building. It reopened this year.
Authorities don't believe that the report was a hoax. District Police Chief Cathy Lanier said investigators interviewed the woman who called the report in. Lanier said authorities regularly tell people that if they see something, they should say something - and this woman did just that.
A military statement said the Army's Criminal Investigative Division and the Naval Criminal Investigative Service said that no shots were fired at the Navy Yard and no shooter has been confirmed or located.
The investigative service continued to search the Navy Yard out of an abundance of caution, according to the statement.
A heavy police and fire department presence began blocks away from the Navy Yard, with roads blocked and a helicopter hovering overhead. The FBI and Bureau of Alcohol, Tobacco, Firearms and Explosives were on the scene.
Gates to the Navy Yard were closed, and all people were advised to shelter in place, said Chatney Auger, spokeswoman for Naval District Washington.
"It was pretty much a lot like the first time," Navy Lt. Cmdr. Scott Williams, who was in a group of people escorted from the facility, told reporters. "There was a lot of people running for exits."
Thousands would be at the base at the time of the reports, Navy public affairs officer Chris Johnson told reporters outside the facility.
When facilities specialist Chris Robertson heard an alarm and loudspeaker instructions about 7:30 a.m., he said his first thought was: "Here we go again."
He said his supervisor called at 7:33 a.m. and told him and his two co-workers to leave. He also said he hadn't noticed anything unusual Thursday morning - everything was normal.
The incident comes after the FBI warned police departments across the country about potential terrorism threats during the Fourth of July holiday weekend.
"ISIS has called on its followers over social media for attacks during the period of Ramadan, which we have a couple of weeks left of," John Miller, the New York Police Department's deputy commissioner for intelligence and a former CBS News correspondent, said on "CBS This Morning" Thursday.
Thanks for reading CBS NEWS.
Create your free account or log in
for more features.