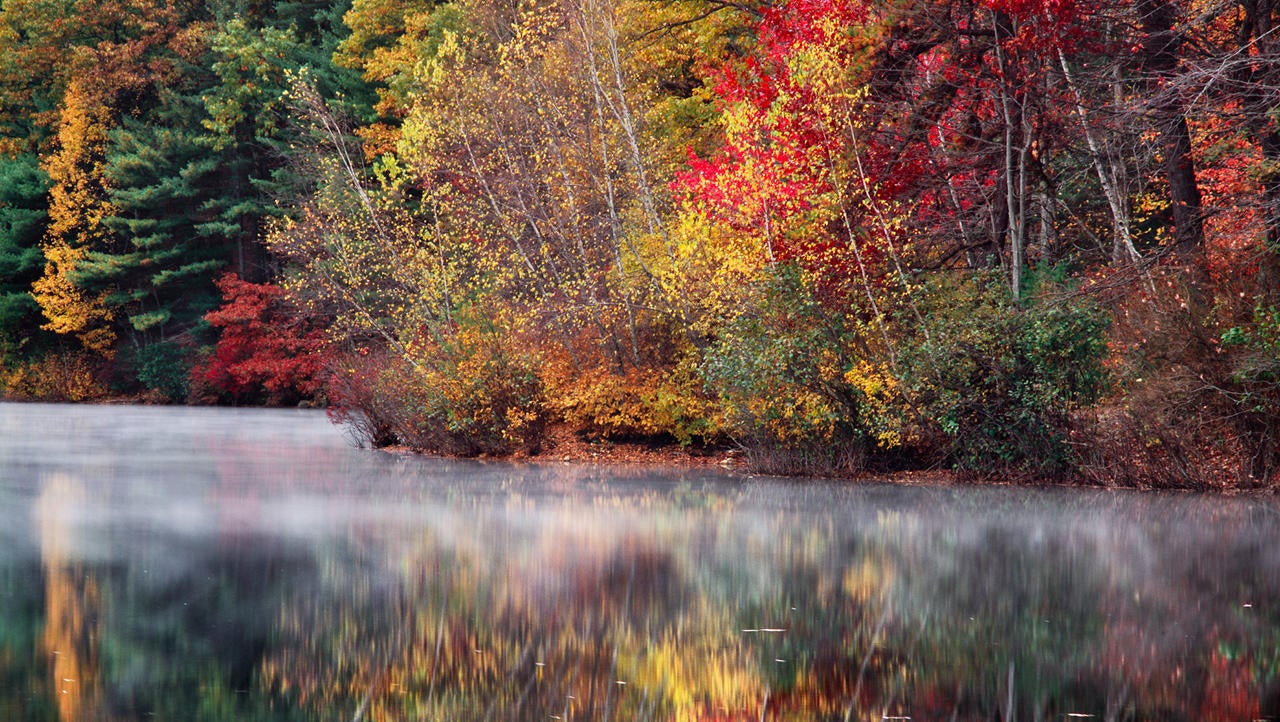 Nature up close: Preservation with a camera
By "Sunday Morning" contributing videographer Judy Lehmberg.
Wilderness preservation in North America has been strongly influenced by literature, art and photography. The writings of environmental ethicists such as Henry David Thoreau, Ralph Waldo Emerson, John Muir and Aldo Leopold have influenced people and political policy. Also, some of our most influential photographers of the environment have prompted presidents and Congress to create such national parks as Yellowstone (photographed by William Henry Jackson).
The recent Moment in Nature segment which captures the misty Walden Pond (where Thoreau built a cabin and wrote some of his most influential work) was filmed by Scot Miller, who can include himself in this illustrious group of photographers.
Miller started work on a Maine Woods book in 2006, planning to spend two years capturing images. It turned into a seven-year journey of discovery, photographing and learning about the land, the people, and the rich history of Maine's North Woods.
He photographed in all seasons, cutting a wide geographic swath from Bangor in the south to Fort Kent in the north, and many points in-between, with emphasis on areas that Thoreau either explored or wrote about in "The Maine Woods." Miller wanted to experience the places in person, get a feel for them and a sense of them, and artistically interpret them in his own way. The resulting book was "Thoreau, The Maine Woods: A Photographic Journey Through an American Wilderness," published in 2013.
During the process of photographing Maine, Miller became involved in efforts to create a new national park. Scot and his wife, Marilyn, donated copies of the book, along with his photos and videos, to advocate for the proposed Katahdin Woods and Waters National Monument. These 87,500 acres, donated by Roxanne Quimby, help protect the pristine watersheds of the East Branch of the Penobscot River, the Seboeis River and Wassataquoik Stream. This wonderful gift to future generations was signed into law in August 2016 by President Barack Obama.
Miller's photography has formed the basis of numerous books, including "Walden: The 150th Anniversary Illustrated Edition of the American Classic"; "Cape Cod: Illustrated Edition of the American Classic"; "First Light: Five Photographers Explore Yosemite's Wilderness"; "My First Summer in the Sierra: 100th Anniversary Illustrated Edition," winner of a 2011 National Outdoor Book Award; and "Emerson, Muir, Thoreau: A Photographic Trilogy of American Wildness."
It is easy to see how Miller's passion has guided his life when you read his thoughts: "Through my photography and videography, I attempt to inspire an appreciation and understanding of the uniqueness of wild spaces and special places.
It's easy to get into a routine and be totally comfortable in our everyday urban, suburban or rural lives, and there's nothing wrong with that. But it's also nice to know that we have the ability to experience the quiet, solitude, personal challenges, and sense of discovery afforded by wilderness areas in our country.
For me, wilderness offers an unparalleled opportunity to "get out of my comfort zone," to listen to and get in touch with my inner self, and to leave behind everyday cares and worries. Wilderness travel presents physical and mental challenges not dealt with in everyday life. As much as you plan in advance, wilderness is always going to find ways to throw you unexpected curves, and rising to meet those challenges has resulted in some of my most unforgettable and rewarding life experiences.
I feel blessed to have had the opportunity to spend much of my life exploring our country's wild areas. I am well aware that most people will never do the same, but it's nice to know that they have the opportunity to do so, and can if they want to. There's something comforting about that, something that speaks to our country's very fabric. Our rich history is full of stories about the "frontier," so it's nice to still have wild places to visit.
We have photographers like Scot Miller to thank for helping preserve them.
See also:

Judy Lehmberg is a former college biology teacher who now shoots nature videos.
For more info:
To watch extended "Sunday Morning" Nature videos click here!
Thanks for reading CBS NEWS.
Create your free account or log in
for more features.