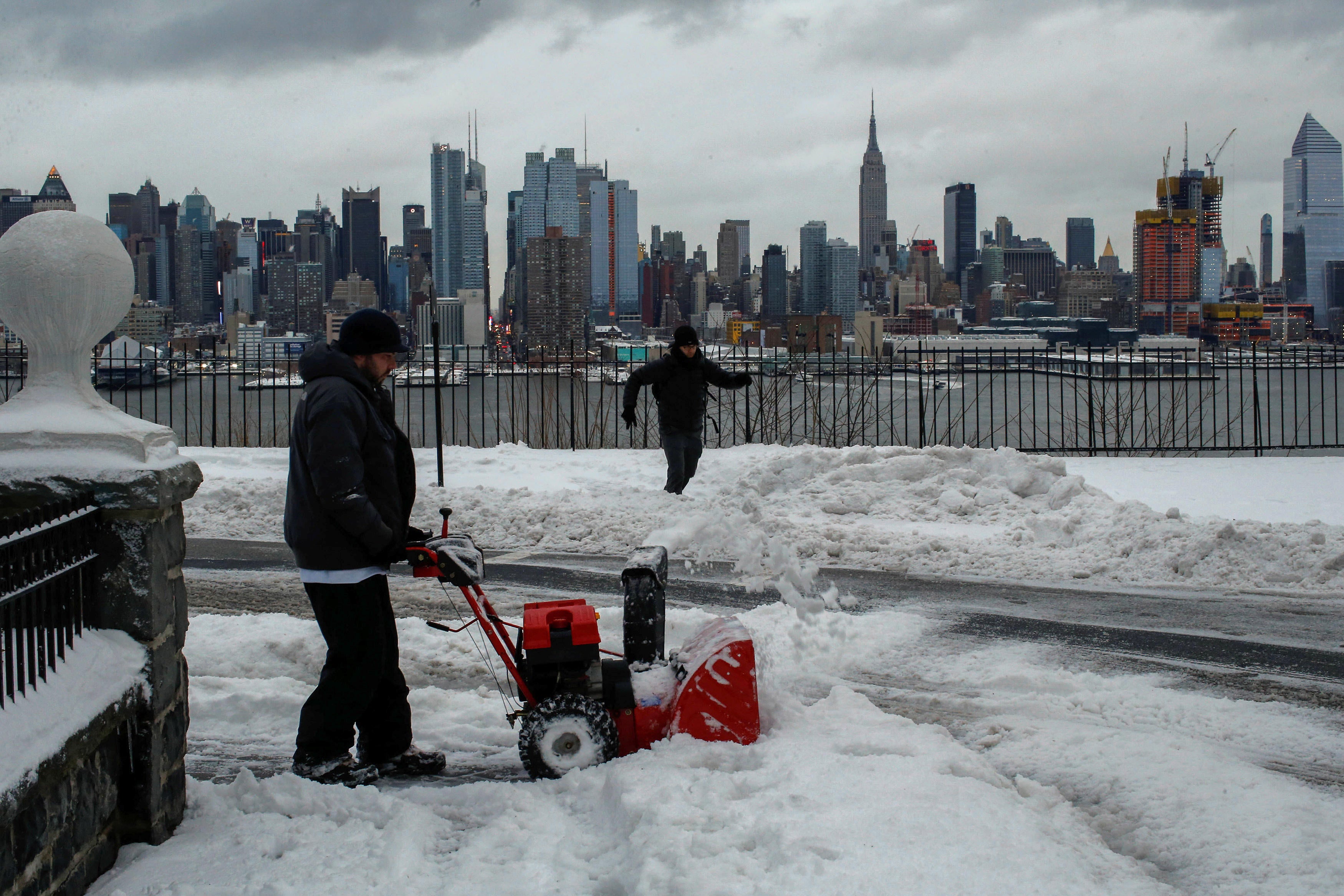 National Weather Service accused of knowingly misleading public
The National Weather Service is denying accusations it knowingly misled the public with its blizzard forecasts this week. On Monday, before the storm hit the East Coast, the agency forecasted up to a foot and a half of snow in New York, but only 7.6 inches fell. In Boston up to a foot was predicted but only 6.6 inches hit the ground. In the nation's capital, up to eight inches were forecasted, and only about three inches actually fell.
The National Weather Service said it kept predictions high because it worried "a dramatic change in the snowfall forecast could produce an unwelcome result of less readiness and vigilance."
The blizzard did dump massive amounts of snow in many areas in central New York. Binghamton received a record 31 inches of snow. But along the coast, where many of the big population centers are, it was less of a snowmaker than feared, leading some to ask -- what happened with the forecasts?
Armed with the National Weather Service's predictions, government officials sounded the alarm Monday, reports CBS News correspondent David Begnaud.
"We've heard reports from the National Weather Service of as much as two inches to four inches per hour," New York City Mayor Bill de Blasio said.
"It is going to snow hard, and it's going to snow quickly," Massachusetts Gov. Charlie Baker said.
But that day, some of the agency's models were already changing. It appeared crippling amounts of snow could miss large cities like New York and Philadelphia. However, the weather service didn't downgrade its forecasts until early Tuesday morning, when the storm was already underway.
David Robinson, the New Jersey state climatologist, said the fluctuating models posed a dilemma for the weather service.
"I think there's some room for discussion whether they should have been a little more forthright," Robinson said.
New York City virtually shut down after some forecasts called for as much as two feet of snow. The storm dumped only about eight inches. The lost business and productivity in the northeast cost $2 billion to $3 billion, according to Moody's Analytics.
A spokesman for Mayor de Blasio told CBS News: "We always want the most accurate, timely information possible... There's no telling whether our tactics would have changed."
"I'm usually disappointed in meteorologists across the board because I'd love for them to be more precise," New York City Sanitation Commissioner Kathryn Garcia said.
Garcia is in charge of the city's snow removal, which costs on average about $2 million per inch. Garcia insists her response would have been similar whether the forecast called for eight inches or 24.
The governor of New Jersey had a different take after he said he had to move equipment to another part of the state after the storm hit.
"I've had my fill after seven and a half years of the National Weather Service, to tell you the truth," Gov. Chris Christie said.
Forecasting is tough and nor'easters are famously tricky to predict. A supposedly-historic blizzard in January 2015 also fizzled out.
Thanks for reading CBS NEWS.
Create your free account or log in
for more features.