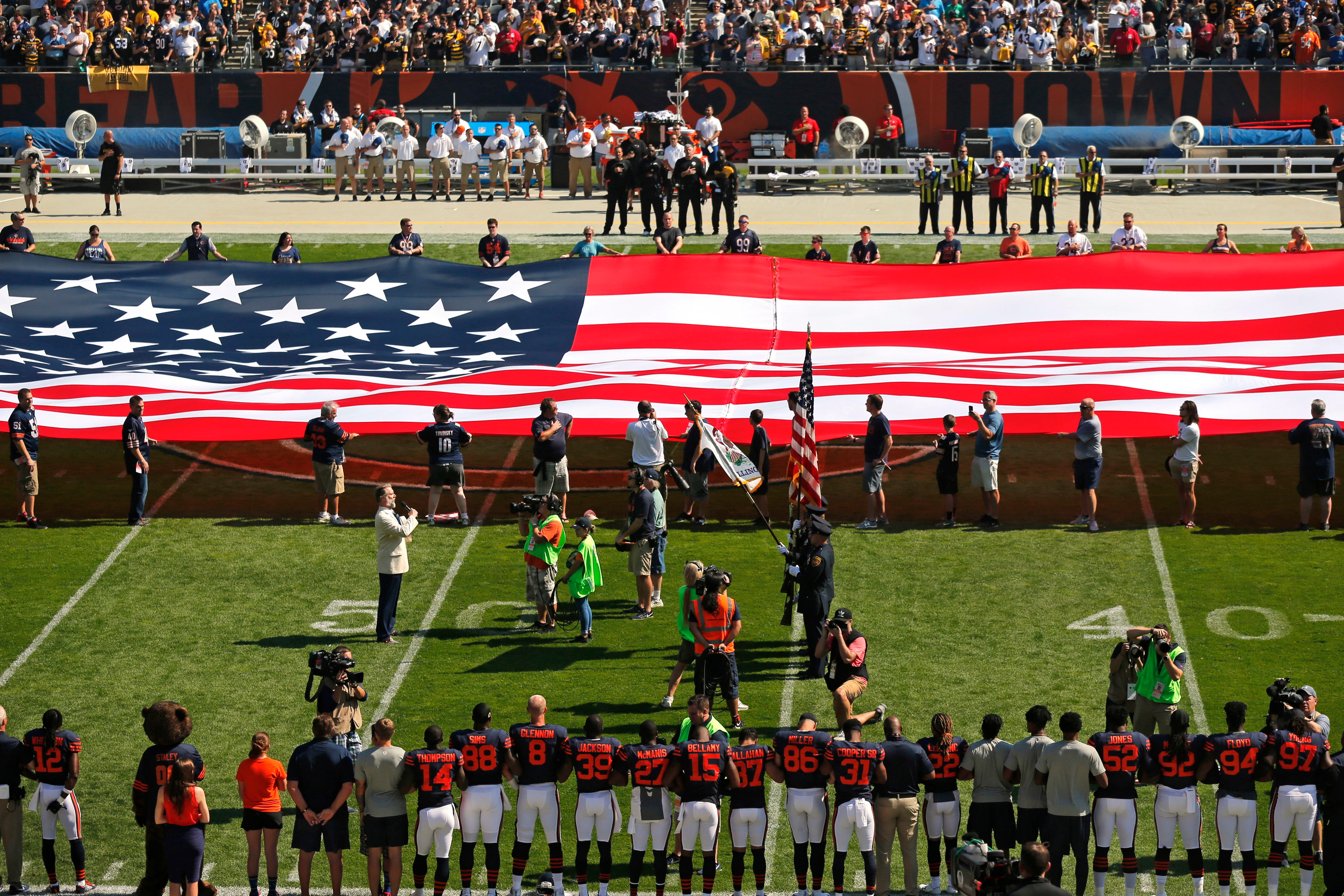 National anthem at sporting events has long been a place for protest and patriotism
President Trump called for an NFL boycott after more than 200 players kneeled, locked arms, or sat out during the playing of the national anthem this past weekend. However, there has never been any hard-and-fast rule about what to do during the ceremony that's been a fixture at American sporting events for generations.
The president tweeted on Tuesday, "The NFL has all sorts of rules and regulations. The only way out for them is to set a rule that you can't kneel during our National Anthem!"
The first documented time that "The Star-Spangled Banner" was played at an American sporting event was at a Brooklyn, New York, baseball game at the height of the Civil War, reports CBS News' Vladimir Duthiers.
When the national anthem played at this weekend's football games, some players took a knee and many other players and team owners were seen linking arms in defiance of President Trump after he told them not to protest.
Others, like former Army Ranger Alejandro Villanueva, were seen standing silently on the sidelines with their hands over their hearts. (Villanueva later said he was "embarrassed" by "unintentionally" making his teammates look bad.)
While there are guidelines about how to act when the anthem is played, there are no penalties for people who choose not to follow them.
"This is not a law. It's a suggestion," said Marc Ferris, the author of "Star-Spangled Banner: The Unlikely Story of America's National Anthem."

"Standing and protocol even for the national anthem are all outlined in the 1942 flag code and that is when they suggested that we cover our hearts with our hands," Ferris said.
The practice of playing the national anthem at sporting events was sporadic at first, but surged in popularity – mainly at baseball games – when loudspeakers took the place of live bands after World War II. Other pro sports leagues later adopted the practice, which has since become a platform for both protest and public expressions of patriotism.

At the 1991 Super Bowl, Whitney Houston rallied the nation at the start of the first Gulf War and in 2013, Boston Bruins fans joined voices in solidarity with a city still reeling from the Boston Marathon bombings.
But acts of protest surrounding the anthem are more likely to be remembered. At he 1968 Olympics two American sprinters raised their fists for black power at the height of the civil rights movement. That act of defiance inspired a later generation of athletes to take a stand against police brutality and racism in a similar way.
"The football players are savvy to be on the field when the camera is panning across you, when it's a time where there are scripted things that you're supposed to do and you deviate from that. It is a powerful message," Ferris said.
During the Vietnam War, any protests organized by NFL players were quickly suppressed and a new set of rules for when the national anthem was played came into effect. Players were reportedly required to stand upright with their helmets tucked into their arms and refrain from any talking, nervous footwork, gum chewing or shoulder-pad slamming.
Thanks for reading CBS NEWS.
Create your free account or log in
for more features.