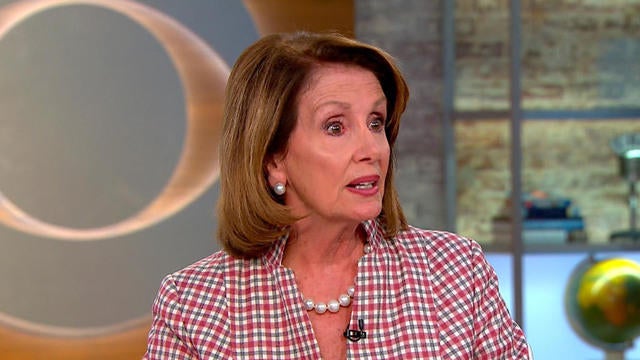 Nancy Pelosi warns "hundreds of thousands of people will die" if GOP health bill passes
House Minority Leader Nancy Pelosi warned Monday that the Senate GOP health care bill that could be voted on later this week would be extremely harmful to Americans who rely on their health insurance.
In an interview on "CBS This Morning," the California Democrat said while the nonpartisan Congressional Budget Office (CBO) has not yet released its cost estimate of the measure, she can already predict one major effect.
"We do know that many more people, hundreds of thousands of people, will die if this bill passes," Pelosi said.
Pelosi, 77, said there's no room to fix the legislation and instead Democrats and Republicans should focus on improving Obamacare, "instead of sabotaging it," she said.
"These bills, systemically, structurally, they are very, very harmful to the American people," she said. "They will raise costs, with fewer benefits, have an age tax...they will undermine Medicare, they will throw millions of people, tens of millions of people, off."
Democrats, she said, have to "fight for our lives and the lives of many people" in the U.S. this week to defeat the Senate bill.
Senate Majority Mitch McConnell, R-Kentucky, has been aiming to hold a vote on it before lawmakers leave Washington later this week for their week-long July 4 recess, but as of Monday, leadership appears to be falling short in securing enough support.
Meanwhile, Pelosi dismissed calls by a select few House Democrats who said last week that she should step aside from her leadership position in the wake of two more special election losses last week.
"I've always had a challenge in the caucus right from the start," she said.
Pelosi said that there are 70 House races that are "easier for us" than any of the special election races they've lost since November's election. She explained why she should stay.
"I'm a master legislator," she said. "I'm experienced in terms of knowing the institutional memory of the Congress. If Hillary Clinton had won, I might have gone home. But with Donald Trump in the White House, with a Republican majority in Congress, no way. "
Thanks for reading CBS NEWS.
Create your free account or log in
for more features.