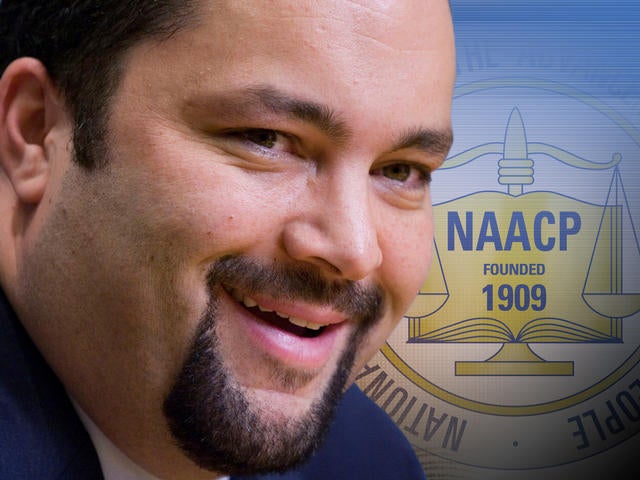 NAACP leader blasts Gingrich's food stamp comment
NAACP President and CEO Benjamin Todd Jealous on Friday labeled as "inaccurate and divisive" a statement by Newt Gingrich that African-Americans should "not be satisfied with" food stamps.
The move marks the second time this week that the NAACP has criticized one of the GOP candidates. It also rebuked Rick Santorum for a remark in which he appeared to single out African-Americans as recipients of federal aid. Santorum has denied he was singling out blacks.
Of Gingrich's remark, Jealous said: "It is a shame that the former Speaker feels that these types of inaccurate, divisive statements are in any way helpful to our country. The majority of people using food stamps are not African-American, and most people using food stamps have a job."
Gingrich, like Santorum, vehemently denied his remark had any racial overtones or that he was engaging in class warfare. "I would welcome a request, an opportunity to go to speak to the NAACP convention because I thought there ought to be a conversation,"Gingrich said on CBS' "The Early Show" on Friday, and followed that he would speak to Latinos or any other minority group that wanted "paychecks over food stamps."
Jealous said Gingrich had been invited to speak to his group several times when he served as speaker, but declined the invitations. "If he is invited again, I hope that he would come, with the intention to unite rather than divide," he said.
Jealous and other critics of Gingrich's remark have noted that more whites than blacks receive food-stamp assistance. Whites accounted for 34.4 percent of food-stamp recipients in 2009, compared to blacks who accounted for 21.4 percent of recipients, according to an October 2010 government report.
Gingrich has sought in his recent comments invoking the NAACP to demonstrate his commitment to reaching beyond traditional GOP groups to Democratic constituencies.
But Oscar Eason, president of the NAACP State Conference of Alaska, Oregon and Washington State, called Gingrich's most recent statement racist.
"It goes right to the heart of real racism -- that African Americans are lazy and don't want to work and depend entirely on handouts," Eason told CBS Radio.
Gingrich, in remarks to reporters Friday in Newport, N.H., continued to insist there was nothing racist about what he said. "If you talk openly and honestly about the failure of liberal institutions and the way that they hurt the poor, there becomes a sudden frenzy of a herd of people running over screaming racism, racism."
He added: "I think you would have to be nuts to read those two paragraphs to conclude anything except that I was saying that every young American deserves the right to pursue happiness, every young American deserves the right to get a job. Every neighborhood in America deserves a chance to get paychecks instead of food stamps. And I was saying something which I thought for a Republican candidate was refreshingly positive, which is I would be happy to go to the NAACP convention and talk about creating greater opportunities for all Americans."
Full CBS News coverage: Newt Gingrich
Thanks for reading CBS NEWS.
Create your free account or log in
for more features.