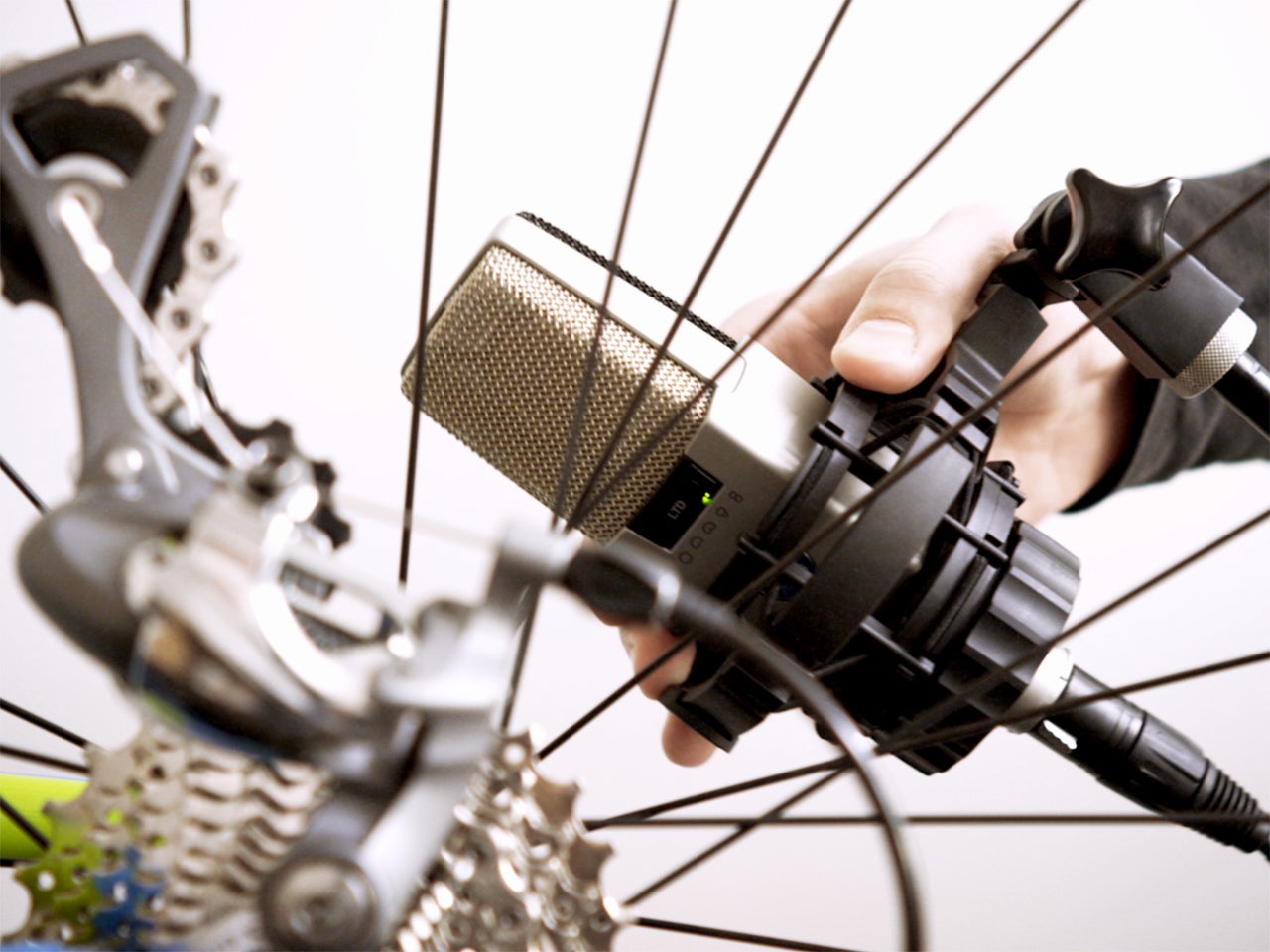 Design takes many forms, and resonates in unexpected ways. John Blackstone has a case in point:
Steven Baber is a designer with a difference. He designs sounds -- coaxing music from some unlikely objects.
"Are you listening all the time?" Blackstone asked. "Walking down the street, sitting down in a restaurant?"
"Constantly, constantly," said Baber. "It can be distracting. I have to sleep with earplugs in."
Baber lets his surroundings serve as his orchestra and his inspiration: "It all came from when I was a little kid hearing the spokes of my bike and imagining, 'Oh, I wish I could play that like I could play these other instruments."
Lately he has been doing just that: making music from sounds created by bicycle parts. "There's something really exciting and fascinating about discovering these sounds that maybe nobody's ever made on a bike," Baber said.
"Nobody was ever obsessive enough to make it on a bike before," said Blackstone.
"Maybe!" he laughed.
Baber spent months tediously experimenting, and meticulously recording, searching for just the right notes. He amassed a couple hundred different sounds.
Then comes composing: "It's about layering these sounds together to see how they work."
You can sample some of Baber's bicycle sounds by clicking on the audio embed below.
The 39-year-old works out of his apartment in Emeryville, Calif. In the world of sound design he's known professionally as Johnnyrandom.
You may well have heard some of the sounds he's designed in the past, like the crunch from a Doritos commercial.
"I bought three bags of chips," he explained, "went home, put a mike in front of me, and -- I should have been spitting them out, but I are three bags of chips in a row, small bags! I just took 15 of these sounds and layered them together at different pitches, you know? And that was it. It's been on every Super Bowl ad since 2006."
Nowadays, he's putting the brake on commercial endeavors, and is currently cooking up another composition. His instruments this time come from the kitchen -- the inside of a coffee grinder, a fish spatula.
He demonstrated another "instrument": a wine glass. "I didn't want to just do the finger on the wine glass thing," he laughed, as he ran a violin bow across it. "I think it sound better."
For Baber, an appealing sound can turn up anywhere.
"So all the time you're working in the kitchen, it's time to make some lunch, you're listening as well?" Blackstone asked.
"Well, sometimes that's how you discover it," Baber replied. "Like the other day, I was making a Caesar salad, and one of my teaspoons hit the side of the counter and it rang out like a bell. Oh, you're nice!"
By simply tuning in, Baber demonstrates how to find beauty where others just hear noise.
Preview: "Bespoken" by "Johnnyrandom" on SoundCloud
For more info:
"Bespoken" video credits:
Original Music Composition & Sound Design: Johnnyrandom
Director of Photography: Devin Whetstone
Mastered by AudibleOddities
Graphic Design: Lisa Mishima
Editor: Blake Bogosian
Motion Design: Chris Kelly
Colorist: Eric Pascua
Thanks for reading CBS NEWS.
Create your free account or log in
for more features.