Produced by Lourdes Aguiar and Peter Shaw
On July 5, 2005, George Smith disappeared from his honeymoon cruise.
This week, his family announced a $100,000 reward for information leading "to the arrest and conviction of the person(s) responsible."
In the beginning, suspicion surrounded George's new widow. But the FBI soon turned its focus to a group of young men -- the last to see George alive.
A "48 Hours investigation has uncovered failed polygraphs, questionable alibis and a provocative video made by some of the men just hours after George Smith disappeared.
"You know, sometimes you still think, 'Ah, he might still be out there,' cuz we don't have a body. We don't have a body," Maureen Smith told "48 Hours". "It doesn't get any easier. And you know what? If we had our answers for George and know what happened, maybe. We don't know."
For nine years, Maureen and George Smith have been tormented. They don't know what happened to their 26-year-old son aboard that cruise ship.
"We just have to keep pushing the buttons. And we won't let it go. It's our son," said Maureen.
It wasn't supposed to be this way. George Smith IV had seemed destined to have it all.
Maureen Smith described her son as a "Fine young man. Handsome ... Hard working. He was just an all-around great kid."
"He was the funniest guy, you know?" George Smith III said with a laugh. "I would sit and have a couple of beers with him and he'd make me laugh for the whole night. And besides he was so good looking the girls just fell all over him. He was a just a lot of fun. He was a great guy [voice catches]."
George was about to take over his father's liquor store in Greenwich, Conn.
"George made the store. He was much more of a lively guy than I and loved to talk," George said of his son. "He had that gusto in him and he really wanted to take the store and build it."
"He always called me the old man because I wasn't into modern tools and techniques [laughs] like he was. So I was the old man."
"I was the dinosaur that he had to deal with," George said laughing.
George's future seemed even brighter when he met Jennifer Hagel, an aspiring schoolteacher.
"I was overwhelmed with her because she had this dynamic personality," Maureen explained. "She was very fun-loving like him. Very attractive. ... And he was really happy with her."
After a three-year courtship, George and Jennifer were married in a ceremony overlooking the sea.
"It was a really lavish affair in Newport, Rhode Island," George's older sister, Bree Smith said. "It was a storybook wedding. It was absolutely beautiful."
Bree remembers the day very well and how excited they were to go on their honeymoon.
"They were so excited to be starting their life together," she said.
"And they couldn't wait to start their cruise."
"I can remember shaking his hand in the street and saying goodbye to him," said George's father.
"Who would have thought that less than two weeks later, George would be missing," said Bree.
In late June 2005, Royal Caribbean's "Brilliance of the Seas" set sail from Barcelona. Aboard with the Smiths were fellow honeymooners Paul and Galina Kvitnisky.
"We sat down next to one another and ... since the first day, we became acquainted," said Paul Kvitnisky.
The couples hit it off immediately.
"They were really great ... they were just normal down to earth, happy people," said Galina Kvitnisky.
"I would say we spent a lot of time together ..." said Paul.
"They loved the sites. I remember they were talking a lot of pictures. Like, everywhere they went they were, like, always with the camera," Galina recalled.
And back on the ship, they socialized into the early morning hours.
"I think he enjoyed himself a lot, you know -- having a drink or two," said Paul.
"He didn't have a good tolerance for alcohol. He would have like four beers ... and you could see that he was pretty much drunk," Galina added.
Around midnight on July 5, 2005, the two couples headed for the casino. It would be the last night of George's life.
Jennifer, who can be seen on casino security cameras, spent much of her time at the blackjack table. George, also captured on tape, headed for his usual spot at the craps table.
"And he was just having fun at the table. You could see that right away," said Paul.
George was soon joined at the table by another shipboard acquaintance -- California college student Josh Askin. "48 Hours" spoke to Askin in 2006.
"Hung out with them a little bit, nothing too in depth. ... Jennifer played a little blackjack. I played a little craps with George," Askin said. "There were a lot of other people around as well, who'd been on the cruise so far."
Also making the rounds that night were a group of Russian-American students -- cousins Zachary and Greg Rozenberg, and a friend, Rusty Kofman. Askin had met them on the cruise as well.
"Everyone who was 18 pretty much congregated in the casino," Askin explained. "Everyone was in high spirits."
And George and Jennifer were high rolling. At one point, George, who can be seen at the casino with Askin, went back to his own cabin to fetch extra cash for Jennifer.
"I think George looked prosperous," Bree commented. "Additionally, he had a really nice watch ... which was a Breitling watch, was worth a bit of money."
And Bree wonders if someone on the ship was getting the wrong idea about her brother.
"People may have made assumptions that George was a millionaire, even though he wasn't," she said.
The one thing that was clear to Paul Kvitnisky that night, was that by the time the casino closed, both Jennifer and George were already drunk.
"And I just remember telling him, 'It's time to call it a night,'" he said.
Paul wishes his new friend had listened. Two hours later, George Smith would be gone.
A STARTLING DISCOVERY
As the sun rose over Kusadasi, Turkey, on July 5, 2005, 16-year-old Emilie Rausch stepped onto her balcony to snap some photos.
"It was around 7:30 in the morning ... and I noticed something on the overhang of the lifeboats..." she said.
Instead of a spectacular sunrise, Rausch's camera captured a huge bloodstain on the lifeboat canopy.
"I just assumed someone had died there," Rausch said at the time.
Security quickly determined the occupants of room 9062 were unaccounted for and snapped pictures of the room. Then they began paging the Smiths.
"I had a stateroom attendant outside my room and I said, 'You know, you should probably go into that guy's room and wake him up, because he's not gonna hear that page,'" Askin said. "'Because he was probably still sleeping.'"
In another cabin, Paul and Galina Kvitnisky were startled by a visit from ship personnel.
"And that's when the guy came in, and he said, 'Have you seen George?' And I'm like, 'What do you mean have I seen George?'" said Paul.
"And we said, 'What's going on?' And he kinda told us he's missing. We were like, 'Missing!?'" said Galina.
By now, they had been summoned to Guest Relations; Jennifer was also there. She had been located at the ship's spa getting a scheduled massage. The crew soon delivered the crushing news: George was presumed overboard.
"She just kept saying that she doesn't remember what happened," Galina said. "'I can't remember. I can't understand. I don't remember.'"
Jennifer said she had almost no memory after leaving the casino.
Jennifer said she had almost no memory after leaving the casino and that when she had awakened in the cabin, George wasn't there. She had just assumed George had stayed with Paul and Galina.
"She's shocked and panicked and she doesn't understand what's going on," Galina explained. "She just kept sayin' that, 'I wanna call my dad. I wanna call my dad.'"
Half a world away in Connecticut, the Smiths were trying to absorb the shock from the call from Jennifer's dad.
"It's disbelief," said Maureen Smith.
"You know, we just couldn't believe it," said her husband, George. "He's gotta be on the boat."
But the Smiths had not yet been told about that bloodstain or the investigation now under way on the Brilliance of the Seas. Turkish police had boarded the ship; Royal Caribbean documented the forensic investigation.
And in the ship's lobby, they rounded up Josh Askin and the group of Russian-Americans -- Rusty Kofman and Zach and Greg Rozenberg. They had all partied with George the night before.
"I mean, I just didn't know what was going on. I knew I did nothing wrong and that's all that mattered to me," said Askin.
Video secretly recorded by Askin's father shows the police interview. Rusty Kofman appears to be shocked when he hears about the blood:
Rusty Kofman [Turkish police interview]: Blood? [Puts his hand to his mouth] No! That's crazy.
The video only captures snippets of what has emerged over the years as a very complex story -- a story and a timeline that would be dissected and debated for years. The men's story has never changed. As a group they tell Turkish police, "After we dropped him off, the second time, we closed the door, we never saw him again ... Never saw him again."
The young men's account begins at 2:30 a.m., after the casino closed. It was on an elevator to the disco when Askin says he noticed some odd behavior from casino manager Lloyd Botha.
"There was maybe a time when Lloyd, the casino manager put his arm around Jennifer and we thought a little awkward moment. It was just a little awkward for a second," said Askin.
At the disco, the party was in full swing and the guys smuggled in a bottle of potent liquor called absinthe.
"They were having shots of absinthe. They were having shots," said Albert Dayan, an attorney who represents Rusty Kofman.
"48 Hours" spoke to Dayan in 2006. He says there was tension between George and Jennifer at the disco.
"Rusty does not hear what is being said but he does observe Jennifer kick George in his groin," he explained.
Jennifer storms out of the disco and, according to Zach Rozenberg, Rusty Kofman and Josh Askin, the casino manager followed after her. Askin would emphatically make this point when questioned by Turkish police later:
Josh Askin [Turkish police interview]: She has no idea what happened! She was with another man ... The casino manager Lloyd. You need to get him in here.
The men claim they didn't know where Lloyd and Jennifer went, but by 3:30 a.m., the disco was closing and George was in bad shape.
"George was kind of slumped over in a chair ... I asked my buddies, ' Will you help me take him home real quick?'" Askin told "48 Hours."
"When they're walking to his cabin ... they are literally carrying George," said Dayan.
At 3:52 a.m., the guys enter the Smith cabin. The ship's key entry log records the time, but Jennifer is not there.
Turkish official on interview video: Did you see her?

Guys: No ... she wasn't in the room. She wasn't in the room.
"George all of a sudden expresses a wish to go search for his wife ... at this time the boys are having a loud discussion, debate about whether they should assist George," Dayan explained.
The group heads out again and, after a brief search of the ship's solarium, they return George to his cabin at 4:01 a.m.
"I went to the restroom right when I went in ... I probably saw him for like a minute ... 30 seconds," said Askin.
"And they actually lay - George -- on his bed. Take off his shoes ... and he displays a tremendous gratitude towards these young men. In fact he hugs and kisses one or two of these young men," said Dayan.
As a group, the men told Turkish police, "And that was the end of it. ... We were all together ... But just remember not at one point or at no time did he ever seem angry or anything at all."
But shortly after 4:00 a.m, passenger Clete Hyman, a vacationing deputy police chief, hears a disturbance next door.
"My wife and I were awakened by yelling coming from the Smith cabin. This yelling sounded what I would liken to a drinking game," he said.
A few minutes later ...
"Suddenly though, there was an argument out on the Smith balcony. This argument appeared to be between three, maybe four individuals," said Hyman.
But Rusty Kofman's lawyer insists that the men never went out on the balcony.
"After about two minutes of the argument, we heard one lone male voice repeatedly saying, 'Goodnight, goodnight' ... like they were ushering someone out of the room," Hyman continued. "I looked out and saw three male individuals walking away from the room."
Three males walking away? Then where was the fourth man? Dayan insists all four men left together.
"Rusty is a pretty wide -- type of a -- a young man," Dayan pointed out. "I believe that the -- witness just failed to observe the fourth one."
What Clete Hyman hears next would become the subject of endless speculation: was George alone in the room?
"At this point we heard just one lone voice in the room. We heard what sounded like the cupboard doors being closed loudly. And also sounded like furniture being moved," he said.
Greg and Pat Lawyer, in the cabin on the other side of the Smiths, hear something similar.
"There was what I call trashing of the room sounds," Greg Lawyer explained. "I thought somebody was throwing furniture around...either mad or having a good time so we dismissed it at that point."
"...after about two minutes of total silence, however, there was a large, what I would call a horrific thud," said Hyman.
That thud is believed to be the sound of George Smith hitting the metal canopy around 4:30 a.m. About that same time, Jennifer is found passed out in a hallway. As for the men, they say they were all back in their cabin ordering a lion's share of room service.
"Oh, they were definitely in their own cabin. In Zach's and -- Rusty's cabin ordering food at that time," said Dayan.
But as it would turn out, the young men's alibi would be called into question.
ACCIDENT OR FOUL PLAY?
As the details surrounding George Smith's disappearance emerged, so had speculation about his bride, Jennifer.
The widow went on "Oprah" to defend herself:
"Not only to lose your memory but to have nobody believe you," Jennifer Hagel Smith told Oprah Winfrey. "I don't know what happened."
Jennifer wasn't the only one in the spotlight. There were questions in the national media about the young men and about George's disappearance - was it an accident or was George pushed overboard?
The FBI would begin an investigation that would span 9 years and remains open to this day. At the time, the ship's captain described it as a likely accident -- theorizing that an intoxicated George sat on the railing and simply fell off.
"I think that's outrageous. I think that's disgusting," said Bree Smith.
The Smiths never bought the accident theory.
"The blood is compelling evidence," Bree said. "There was blood in the room."
Photographs taken by Royal Caribbean inside the Smith cabin revealed two small lines of blood on the bed sheets. The Smiths say it was George's blood and another sign pointing to foul play.
"In addition to the blood, there were sounds of -- a fight, a struggle inside my brother's room," said Bree Smith.
The Smiths hoped that getting access to Royal Caribbean's investigative case files would provide some answers and brought in attorney Mike Jones to help them.
"What it's not about is an accident, and what it's not about is a suicide," Jones told "48 Hours". "It's about a murder."
Jones immediately got to work, setting his sights on the ship's documents and the four men last seen with George.
"I took Josh Askin's deposition first," he explained.
Mike Jones: Do you if George Smith was murdered?

Josh Askin: Invoke my Fifth Amendment right.

Mike Jones: Do you know who killed George Smith?

Josh Askin: Invoke my Fifth Amendment right.
"That's a yes or no answer," Jones commented.
Josh Askin took the Fifth on everything:
Mike Jones: In late June of 2005 did you go on a Royal Caribbean cruise with your family?

Josh Askin: I evoke [sic] my Fifth Amendment right.
"I had him take the Fifth as to his date of birth, his name," said attorney Keith Greer, who represents Askin. "And so I told him, 'The only way we're gonna do this, Josh, is if every single question you're asked, you plead the Fifth.'"
Greer says that Askin has always been cooperative, speaking freely to everyone, but there came a point when he had to shut him down. The feds were getting aggressive.
"And they told us that if Josh ever says anything that is different than what he said before the grand jury, anything, they will fly him back to Connecticut on perjury charges," Greer explained. "I couldn't have that happen."
Attorney Albert Dayan says Rusty Kofman got the same treatment and has stopped cooperating with the FBI.
"The more he wanted to speak with them, the more he wanted to tell them what happened, the more they accused him of foul play," he said.
During his deposition, Rusty Kofman didn't plead the Fifth, but his memory on a lot of things seemed a bit rusty:
Mike Jones: And when you say "we put him to bed" ... who put him to bed?

Rusty Kofman: I don't have a recollection of that right now.

Mike Jones: Josh said that he actually used the bathroom at that point, do you remember that?

Rusty Kofman: I don't have a recollection of that.
Zachary Rozenberg also invoked his right against self incrimination.
Mike Jones: Was there a commotion in the room?

Zach Rozenberg: I'd like to invoke my Fifth Amendment right ...
The only one who appeared forthcoming was Greg Rozenberg. In 2010, Mike Jones found him in a Florida prison:
Mike Jones: And why are you here in prison?

Greg Rozenberg: Trafficking
Greg was serving three years for trafficking oxycodone, he says, to support his expensive taste:
Greg Rozenberg: I'm fanatic with clothes, jewelry, watches that's why I'm in here man.

Mike Jones: But murder is a different deal.

Greg Rozenberg: Murder is a different deal man. I don't have it in my heart to kill nobody man.

Mike Jones: Did you have anything to do with George's death?

Greg Rozenberg: No. Never did, never would, never thought about it, no.
Greg brought up that room service party:
Mike Jones: What did you eat?

Greg Rozenberg: Tuna fish sandwiches, I know that. We had like tuna fish sandwiches and I think cheeseburgers ... I know we had some of that fast food type. We were just infatuated with the fact that we could order anything we wanted.
"You know, they ordered so much food, and they couldn't have killed George because they were in the room eating the room service," Jones told "48 Hours". "I mean, it's a nice story, but it doesn't work."
In 2010, Mike Jones finally got his hands on those Royal Caribbean internal documents.
"The room service party is pretty much blown by the information we got from Royal Caribbean. I mean that's a big fact," he said.
The ship's records show that although several short calls were made from Zach and Rusty's cabin to room service after 4:13 a.m., there is no record of any order of any kind.
"The handwritten records show that the room service was never delivered," said Jones.
"Was it human error they didn't write it down?" Keith Greer asked.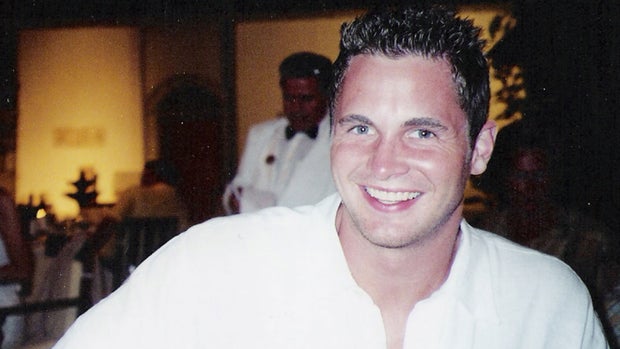 Greer insists the room service party did take place, but it was never really an alibi to begin with since it would have been delivered after George went missing.
"The food service itself doesn't prove that they were in a certain place at the time George went over 'cause George goes over about 4:20 in the morning. So at that point in time really the only alibi they have is each other," he explained.
If the ship's records raise some questions about where the men say they were that night, they also cast doubt as to where they implied Jennifer was -- remember the casino manager the guys say she left with at the disco?
"She was with another man ... the casino manager Lloyd," Josh Askin had said.
"And that -- that didn't happen. That just didn't happen," said Jones.
Other witnesses say Lloyd did not leave with Jennifer and key records show that he entered his girlfriend's cabin at 3:25 a.m., while the Smiths were still in the disco.
"And he had gone to his girlfriend's room. And she was able to corroborate that," Jones said. "So, I think Lloyd became the victim of this attempt by the Russians and by Josh Askin to deflect attention from themselves."
As for Jennifer, several witnesses saw an unsteady Jennifer leave the disco alone at 3:30 a.m.
"There are some witnesses from the cruise ship -- cruise ship employees that actually escorted her onto the elevator and tried to help her get off the elevator on her floor before she ended up going the wrong way on -- on deck nine," said Jones.
An hour later, Jennifer was found passed out in that hallway around the time George went overboard. Lloyd Botha and Jennifer both passed FBI polygraphs.
"The people that the Russians and Josh were pointing fingers at both came through the -- very cleanly on their polygraphs," said Jones.
Still on the FBI's radar are the four men. And the discovery of a homemade videotape only raises more suspicion.
"It's ridiculously provocative," Jones said of the videotape.
PROVOCATIVE VIDEOTAPE
For the last few years, Mike Jones has been trying to reignite a case he believes has gone cold in the Connecticut FBI office.
"...Unfortunately, obviously, after eight years, this has become, pretty much, a cold case," he said. "I mean, if you talk to the FBI, they'll say it's active and open, but I don't really believe that."
And Jones also doesn't believe the account of the four young men last seen with George Smith:
Mike Jones: When you left George in his bed, all you guys left, no one stayed behind?

Greg Rozenberg: Nobody stayed behind, we all left.
"There's a lotta evidence to suggest that that was not as simple as -- as the Russian men and as Josh have said," Jones said. "You look at the behavior of these young men. ...they're not good boys or good Samaritans."
Royal Caribbean documents show complaints were made against some of the men for smoking, sneaking liquor and verbally abusing ship employees.
"They were dropping F-bombs on the room service people," said Jones.
And two days after George Smith went overboard, an 18-year-old passenger came forward with a major allegation of sexual assault.
"She stated that she was in one of their rooms, one of the Russians' rooms, and that there was group sex with her with some of the Russians," said Jones.
In the woman's statement, she says she was "completely intoxicated" and in between "blackouts", remembers having non-consensual sex with Greg Rozenberg, Rusty Kofman and Jeffrey Rozenberg -- Zach Rozenberg's younger brother.
"And they actually videotaped the group sex," Jones said. "And the fact that they videotaped themselves doing this, I mean, who does that?"
Rusty Kofman's lawyer says the sex was consensual.
"That whole escapade was non-criminal in nature. The tape itself revealed that," said Albert Dayan.
Josh Askin's lawyer, Keith Greer, says Josh did not have sex with the young woman -- but he was there.
"Josh walks into the room and there's one of the Russian boys having sex on the bed with the girl and another one of the boys filming it. And Josh was concerned," Greer explained. "It became clear to him very quickly that the boys weren't ... taking advantage of her. The girl was taking advantage of the boys."
Before he left CBS News to rejoin the New York City Police Department, John Miller investigated the case for "48 Hours."
"People [who] have seen that videotape have told me that the person holding the camera is doing kind of a narration and asking her questions and she's responding to them. But as this continues she's crying," Miller pointed out to Greer.
"I haven't heard anything about any crying from anyone," Greer replied.
Royal Caribbean had had enough and rounded up all of the young men and their families for a tense meeting with the ship's lawyer.
Josh Askin's father was again recording:
Lawyer: The FBI has asked us to detain your sons ... we're gonna have to ask you to have your sons go to their cabin and they're gonna have to remain there.
The group angrily denied the allegations.
The four men and their families were then removed from the ship in Naples, where Italian police looked into the rape allegation and washed their hands of it saying they had no jurisdiction. No one has ever been charged in the sexual incident and lawyers for the men believe the tape saved them.
"But for that tape, they could've been charged for something that they did not commit," said Dayan.
But that tape may come back to haunt them. The tape -- in the FBI's possession -- contained something else: a lunch meeting filmed by the Russian-Americans just hours after George went overboard. Josh Askin was not present.
"They pass a video camera around filming themselves commenting about George's death in a very callous way," Jones explained. "And they're laughing and joking very callously about him being wealthy ... And certainly the way they were talking, they either knew or they had a pretty good sense of what had happened."
A source close to the investigation has told CBS News that on the tape, one of the men -- Rusty Kofman -- refers to George going "parachute riding" off his balcony. It is not an admission, but it's at the very least provocative -- and there's more.
"But the really-- sort of, incriminating statement is one of them stands up at the end of the tape and sorta hunches his shoulders and flashes gang signs and says, 'Told ya I was gangsta,'" Jones explained. "And that's in the context of the discussion about George's death, almost as if he's bragging about having done something to George."
Jones says that young man was Greg Rozenberg.
"And I just don't understand how the FBI could have had this tape in their possession and still we sit here," George's sister, Bree said. "Get the guys in there. Question them!"
Lawyers for Zach Rozenberg and Rusty Kofman declined to comment on the video. In the spring of 2013, John Miller tried to see if Kofman himself could provide any more answers.
"There's a statement made on videotape where you say George went parachute riding off his balcony," Miller confronted Kofman.
"I have no comment. Please contact my lawyer and then we can arrange a time to speak," he replied.
Greg Rozenberg's lawyer says Greg didn't know George was dead at that point and that his client was just making a stupid comment.
"I don't think they're kidding around. It's just not something you would just come out and say you're kidding around," George Smith III said. "Because if you didn't do it, why would you be saying it?"
But if George was murdered, the question has always been why? Mike Jones believes there is finally enough evidence to piece it all together.
"The first thing you look at is motive, OK," Jones said. "George and Jennifer dressed well. George had a very expensive Breitling watch. They, sort of, flashed the money at the -- in the casino."
What's more, witnesses heard George and Jennifer saying they had thousands of dollars in wedding money in their cabin.
"And this got around because there were other passengers not within the circle of the Russians and Josh who heard the rumors about the money in the cabin. We don't believe it was true, but perception is everything," said Jones.
Jones believes that perception fueled a robbery attempt -- one that was hatched when they put George to bed and Askin had gone into the bathroom.
"The theory would be that they were arguing about whether or not one of them or -- or two of them should stay behind and see if they could find the money and take the watch, because George was in no position to argue or to put up a fight," Jones explained.
That arguing, Jones believes, is what Clete Hyman heard on the balcony. Jones also believes his theory fits with what the witness saw... just three men leaving.
"And one of them stays behind, starts to rifle through the drawers and the cabinets," he said.
Jones has a possible explanation for that blood stain.
"The blood is on the sheets ... the blood is in two sorta centimeter-long splashes. And almost looks like if you were taking off a watch -- and you pinched your skin ... it would be compatible with the -- the blood splatter that was on the bed," he explained. "While they're doin' that, George wakes up and says, 'What are you doin'?' A fight ensues which is consistent with the noises that people on both sides of the cabin heard. And George goes overboard. Other people hear the loud thud."
Josh Askin's lawyer, Keith Greer, argues that it's all nothing more than speculation.
"Even Clete Hyman ... and he even said that he did not hear the sounds that you would expect if there was a fight. You know, 'you dirty so and so,' the - the -- the smacking, the -- the kicking and stumbling and yelling. The two guys goin' at each other in -- in a fistfight. I just don't think it makes sense," said Greer.
Greer thinks that there is a simpler explanation for all that took place aboard the Brilliance of the Seas -- the sex assault claim, George going overboard.
"I don't know why anybody's missin' the theme here. 'Cause there's one common element ... and it's too much alcohol!" he said. "And we can go and, you know, blame it on murder and - and -- and blame it on aggressive sexual behavior here. You know what? It's just everybody drinkin' too much and stupid stuff happening. That fits."
But does it fit with what Josh Askin was heard saying on an elevator?
NEW HOPE IN THE CASE
Mike Jones is a persistent man--and today his persistence may finally pay off.
Jones is meeting with the FBI in New York -- hoping to convince them to take over the George Smith investigation.
"There's a lot riding on today's meeting," Jones explained. "The New York office just makes sense. It's a bigger office, they have more - capabilities. ... They are more experienced with big cases."
And two of the men in question live in New York: Zach Rozenberg and Rusty Kofman, who is now a practicing attorney. As Jones sees it, a courthouse is exactly where these men belong.
"This is a case that should be solved. It's a case that-- frankly, I think it is solved. It's just a question of pulling together enough evidence to get an indictment and a conviction," he said.
And while Jones waits for an answer from the FBI in New York, the Smiths maintain the key to solving the case lies in California.
"Our theory is that Josh Askin knows what happened," Mike Jones said. "But we don't believe that Josh was involved in the actual, you know, tossing of George overboard."
To support his theory, Jones points to an intriguing clue uncovered by Royal Caribbean: a ship employee overheard Josh Askin speaking to a friend on an elevator.
"He said, 'I -- I know more than they think I know. Those [expletive] almost got me arrested in Turkey,'" said Jones.
Keith Greer argues the comments were taken out of context and Josh has nothing to hide.
"Do you think that Josh Askin has told you everything he knows?" Miller asked Greer.
"Absolutely, no doubt," he replied.
But Greer admits the FBI told Askin he failed a polygraph. Greer questions the test and the result.
"I think it's another rubber-hose ploy, you know, where just to freak Josh out and upset him more," Greer told Miller. "I think it was just the psychological war that they were waging on him and his family. ... Or they didn't take the time to do it right, one or the other."
Sources tell CBS News Rusty Kofman also was tested, and he too failed.
As for Greg Rozenberg, he was administered a private polygraph test:
Greg Rozenberg deposition: I took a polygraph but it was inconclusive because I'm ADHD as you can tell I like to move a lot. It was inconclusive ... ain't no lies that I need to tell.
According to Phil Houston, a former CIA case officer who for more than two decades specialized in detecting deception, "Generally it's much easier to tell the actual lie on your own."
"48 Hours" decided to bring in Houston to take a closer look at those depositions.
"Is there anybody of the group that particularly jumps out?" Miller asked.
"Greg stands out -- above and beyond everyone. There was just a ton of deceptive behaviors," said Houston.
In Houston's opinion, it's not what Greg Rozenberg says that seems deceptive; it's often what he doesn't say.
"What we should hear and see his focus on, 'I didn't do it. It wasn't me. You got the wrong guy.' But 'we' -- instead, 'we don't.' Where we hear his focus so many times are reasons why he wouldn't do this," he explained.
Greg Rozenberg: I in no way shape or form would ever do anything like that to an individual ...that's not me.
And it appears some questions are more difficult for Greg than others:
Mike Jones: Did they -- now did they find anything in either room that that was connected to George's disappearance
"He hesitates. He's clearly thinking. The question has thrown him for a loop. It's almost, 'What could they have found that -- that would've connected someone to the disappearance?" Houston said of Greg's reaction.
Greg Rozenberg: [Pause] No.

Mike Jones: OK ...
Greg Rozenberg: No. No, of course not.
"And then it's like, as he thinks through it, he realizes, 'I've gotta answer the question.' So he goes, 'Well, no. N - no,'" said Houston.
"So he's thinking about something that is not gonna come out in his answer," Miller noted.
"That's correct. That's correct, something he's not sharing."
But Greg Rozenberg doesn't hold back on the one thing the Smiths would agree with. He says George's death was no accident:
Greg Rozenberg: George Allen Smith did not disappear, or kill himself or hurt himself, or slip and fall off the boat at 6'4" or however tall he is and just dive off ... I know that didn't happen. So uh ... Some, some, something crazy went down that night. And I hope one day that they find out the truth.
In the years following George's death, Jennifer has remarried and tried to move on. But for the Smiths, it's not so easy. This week, the family announced that they are offering a reward -- $100, 000 -- for information that leads directly to the arrest and conviction of whoever is responsible.
"We're hoping with this $100,000 reward ... this might just be the thing that we need to get the arrest and convictions. And I think with that reward that just may be the final piece of the puzzle that may finally end the injustice that's gone on for 9 years," Bree Smith told "48 Hours".
The FBI is giving the family new hope. The New York field office is now offering assistance and a team of new agents in the Connecticut office has been assigned to the case.
"I've got a lot of confidence in the new team ... and they're working very hard on this," Maureen Smith said. "They're very determined and they don't like what they see. ...So we're very fortunate to have them working for our family now."
Until the day the case is solved, the Smiths vow to not let George's memory die on that ship.
"We'll get justice," said George Smith III.
"We'll get justice," Maureen Smith agreed. "Somehow we'll get justice for George. Somebody will talk. And shame on them that don't. Shame on the people that have put us through this eight years of hell."
REWARD OFFERED
The Smith family is offering a $100,000 reward for information leading "to the arrest and conviction of the person(s) responsible" for their son going missing from his honeymoon cruise.
Anyone with information is asked to call 1-844-651-1936 or send an email to georgesmithtipline@gmail.com
Thanks for reading CBS NEWS.
Create your free account or log in
for more features.