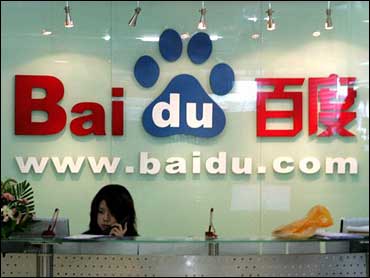 MTV To Show Music Videos In China
MTV and search engine Baidu.com on Tuesday unveiled a venture to distribute music videos via the Internet in China, boosting the music video channel's exposure in a market where regulation has limited its presence.
The companies said they will begin by offering 15,000 videos and MTV programs such as "Pimp My Ride," charging for some, while offering others for free. They also will distribute programs from MTV's sister network Nickelodeon.
The deal lets MTV, a division of Viacom Inc., raise its profile in China's fast-growing media market, while Baidu, China's biggest search engine, expands its sideline in entertainment offerings.
"Expanding the reach of our brands and content through Internet and mobile is integral to our China strategy, and China is critical to our global digital strategy," said Bill Roedy, vice chairman of MTV Networks, speaking at a news conference.
The companies will split advertising and download revenues, said Roedy and Shawn Wang, Baidu's chief financial officer. They declined to give a forecast of revenues, saying it was too early to know how the venture will develop. They said they were still deciding how much to charge per download for videos.
MTV and other foreign broadcasters are eager to expand in China, the world's largest television market with more than 400 million viewers. But regulators are trying to limit the presence of foreigners in the Chinese media market.
MTV broadcasts in China's mainland are limited to cable TV systems in a portion of the southern province of Guangdong, where the company says it reaches 13 million households. The company also has syndication deals with Chinese broadcasters.
Chinese authorities also are concerned about foreign entertainment content, and have imposed limits on use of foreign cartoons and other programming. Chinese media reported last week that the Culture Ministry canceled a Shanghai concert by American rapper Jay-Z because his lyrics were considered too vulgar.
But Roedy said MTV wasn't worried about running afoul of government censors. He said most of the videos and programming on the Web site will already have been approved by Chinese regulators to be shown on its cable channel.
"We've been doing business here for 10 years and feel very comfortable," he said. "The Internet is less regulated, but we're not looking to take advantage of that."
MTV has 136 similar Web sites in countries around the world, according to Roedy.
Customers who buy MTV videos from Baidu can use a payment system set up earlier by the 6-year-old, Beijing-based company for online commerce, said Wang.
"This is one of the very important directions we both are heading," Wang said.
About 70 percent of MTV videos on Baidu will be by Chinese performers, the companies said.
The venture will offer Chinese-language versions of MTV's "Pimp My Ride," an auto makeover show, and "Cribs," about celebrity homes; Nickelodeon's "SpongeBob SquarePants" and "Dora the Explorer" and locally produced programs such as "MTV Music Wire" and Chinese pop concerts.
Meanwhile, Roedy said MTV has expanded its presence in China's mobile phone market by signing a deal with the country's No. 2 provider, China Unicom, to offer ringtones, entertainment news and other services to its 130 million customers.
The company already has a similar deal with China's leading mobile provider, China Mobile, and said that with the new venture, MTV now has access to all of China's more than 400 million phone users.
The company has about 300,000 monthly subscribers among China Mobile customers, who pay 8-15 yuan ($1-$1.90) each per month, depending on which services they buy, said Yifei Li, managing director for MTV Greater China.

Thanks for reading CBS NEWS.
Create your free account or log in
for more features.