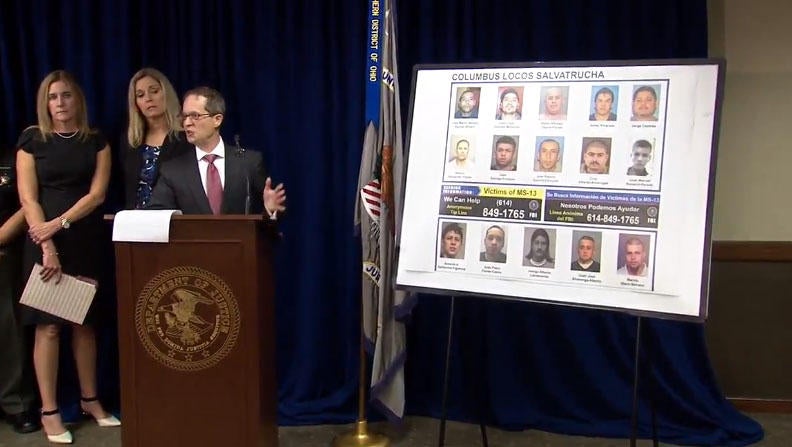 MS-13 gang sweep in Ohio, Indiana nets 13 arrests
COLUMBUS, Ohio -- Ten alleged members and associates of the notoriously violent MS-13 street gang are facing federal extortion conspiracy charges in central Ohio and Indiana, federal prosecutors announced Tuesday. Five more with links to the transnational criminal organization were charged with federal immigration offenses.
Of the 15, 13 were arrested Tuesday, and 2 remain on the run, U.S. Attorney for the Southern District of Ohio Benjamin Glassman announced.
MS-13 gang violence: Mounting alarm as feds respond
MS-13, also called Mara Salvatrucha, is believed to have been founded as a neighborhood street gang in Los Angeles in the mid-1980s by immigrants fleeing a civil war in El Salvador. It grew after some members were deported to El Salvador, helping turn that country into one of the most violent places in the world.
The gang is now a major international criminal enterprise, with tens of thousands of members in several Central American countries and many U.S. states.
Glassman said those charged Tuesday are members of the gang's Columbus "clique," which reports to the gang's East Coast program and in turn it's leadership in El Salvador, where many of its high-ranking members are imprisoned.
"Before today it may not have been well known by the public that MS-13 was even in Columbus, Ohio, and the surrounding areas," Glassman said.
Glassman said violence is the "calling card" of the gang. He said the indictment marks the first step in an effort to "completely dismantle" MS-13 in the Columbus area.
The 10 charged by a federal grand jury with conspiracy to commit extortion allegedly used threatened or actual force to intimidate their victims into paying them money, according to a U.S. Department of Justice news release. Much of the proceeds were sent, usually by wire transfer, to MS-13 members and associates in El Salvador and elsewhere, the statement says. The money was allegedly used to promote MS-13 criminal activities in El Salvador and the U.S.
Eight of the 10 also face charges of money laundering, and 5 are charged with brandishing a firearm during the alleged extortion.
Federal officials say there could be additional victims and urged anyone with information to come forward.
Thanks for reading CBS NEWS.
Create your free account or log in
for more features.