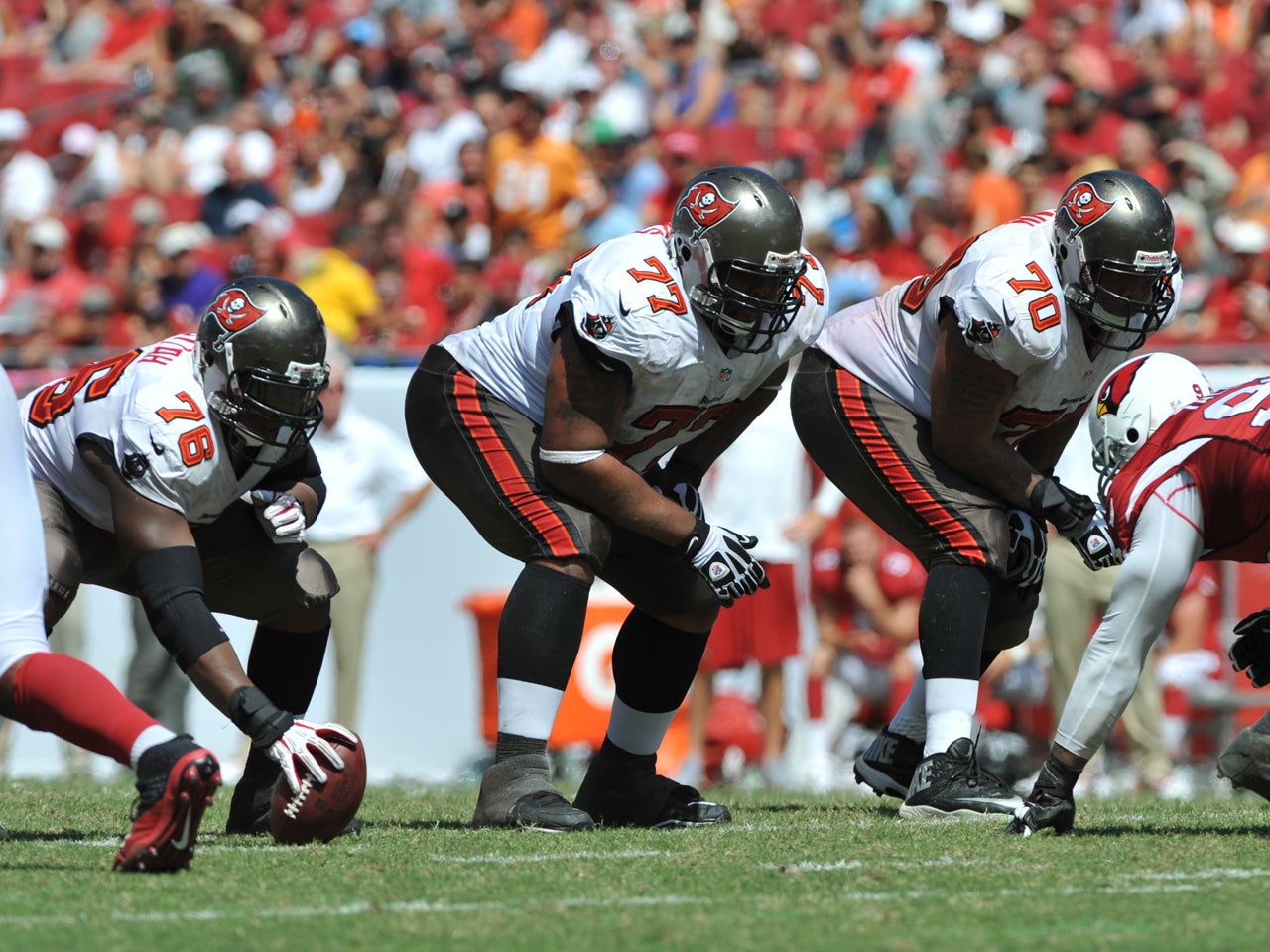 MRSA infects third NFL player on Tampa Bay Buccaneers
TAMPA, Fla.The Tampa Bay Buccaneers have announced that a third player has been diagnosed with MRSA, and confirmed offensive lineman Carl Nicks is being treated for a recurrence of the antibiotic-resistant staph infection.
Coach Greg Schiano declined to identify the player on Friday, saying the player requested his name not be released.
NFL.com reported the player was cornerback Johnthan Banks. He was the only new addition Friday to the injury report, which said the rookie did not practice due to illness. Banks is listed as questionable for Sunday's game against Philadelphia.
Nicks, who along with Lawrence Tynes was diagnosed as having MRSA in August, also sat out practice. According to NFL.com, Nicks missed the Bucs' first two games but then got back on the field before the infection returned in his left foot. Nicks went back on medication earlier this week, the report added.
Tynes was sidelined with an ingrown toenail when he was diagnosed with MRSA.
Tynes' wife tweeted a picture of her husband in late August receiving treatment:
MRSA, or methicillin-resistant Staphylococcus aureus, is sometimes referred to as a "superbug" because it is resistant to several antibiotics. About one in three people carry staph infections in their nose, but about two in 100 people carry MRSA strains. It is a skin infection that's spread through direct contact with an infected wound, such as through sharing personal items like towels or razors that have touched infected skin.
Infection risk can be increased through activities that involve crowding, skin-to-skin contact and shared equipment. As such, athletes, students, military personnel in barracks and people at hospitals and health care facilities are at higher risk, according to the Centers for Disease Control and Prevention.

The team flew in an infectious disease expert to answer questions players had before practice. Schiano said the session lasted more than an hour, pushing back the team's practice schedule.
"As in anything, I think so much of the fear is the unknown," Schiano said. "So as we became better educated, I think kind of understands the game plan and how to make sure this doesn't become a bigger problem."
Dr. Deverick J. Anderson, an associate professor of medicine at the Duke University Medical Center and co-director of the Duke Infection Control Outwork Network said even though there are no other confirmed cases of MRSA on other NFL teams that he doesn't feel players and staff in Tampa Bay are at any higher risk of coming in contact with MRSA.
The initial cases were confirmed while the Bucs were in New England holding joint practices with the Patriots before a preseason game. The team hired a company to sanitize One Buc Place, the team's headquarters and training facility, on two separate occasions in an effort to minimize the prospect of other cases.
The Bucs said at the time they did not know where Nicks and Tynes were exposed to MRSA.
Anderson did not plan to recommend a third cleaning of the facility, but that he was working with the team on things players can do themselves to minimize the risk of getting MRSA.
"I can say that I believe it is a safe environment for players and staff," said Anderson, who toured the complex in August and also observed how the team practices after Nicks and Tynes were diagnosed in August.
The expert said the cases involving Nicks and Tynes do not appear to be related, explaining there are different strains of MRSA.
"We don't know about the third one yet. We still need additional information about the specific MRSA that we're dealing with," Anderson said. "But we can actually definitely say that the first two cases were not related to each other."
And, the doctor said Nicks and Tynes did not get the infection from one another.
MRSA may look like a spider bite -- an infected red bump on the skin - that is swollen, painful, warm to the touch and full of pus. A fever usually accompanies the infection.
Contact a doctor immediately if these symptoms are present. Treatment includes draining the infection or prescribing an antibiotic the bug is not resistant to - it's essential to take all doses of it, even if the infection clears up, to prevent further resistance.
The CDC has more on how to prevent a MRSA outbreak among athletes.

Thanks for reading CBS NEWS.
Create your free account or log in
for more features.