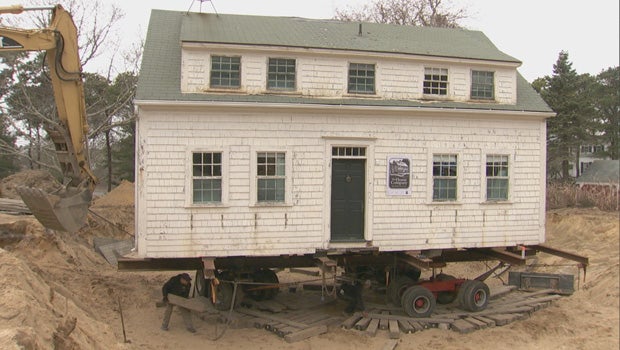 During the summer months, more Americans will be on the move from old homes to new ones than during any other season. In another category entirely, Vinita Nair tells us, are those who TAKE their old homes WITH them:
At the Crystal Bridges Museum in Bentonville, Ark., they're putting the pieces of a giant puzzle together again.
Scott Eccleston is the man in charge: "This is a home that, if you grew up in northwest Arkansas or the Midwest, this is the house that you would have built. And so it was a house for all."
This 1,700-square-foot "house for all" was designed in 1954 by Frank Lloyd Wright. It used to sit 1,200 miles away, in Millstone, New Jersey.
It was owned by architects Sharon and Lawrence Tarantino. After years of watching flood waters threaten their beloved home, they asked the museum to help save it.
Every detail was documented. Then the home was methodically dismantled and packed into two shipping containers.
"The next time that I saw this house -- you want to talk about your heart beating -- it was in millions of pieces," said Eccleston. "A house that was so majestic and 3D was all one level, wrapped in plastic, ready to be put back together."
"So you couldn't even tell what was what?" asked Nair.
"No, you couldn't. I mean, that moment, you're thinking, 'Oh my gosh, what have I done? Can we do this?'"
Every year an estimated 40,000 home owners decide to "do this" -- move a home from one location to another.
It usually costs between $15,000 to $45,000 to complete, and takes anywhere from a few weeks to a few months.
Though there are always exceptions. It took Scott and Kelly Bradley ten years to move theirs.
The Bradleys bought their West Lake, Texas, home with 130 acres of land back in 1977. It was designed by noted architect Charles Dilbeck for Dallas newspaper publisher Ted Dealey.
Then, in 1998, the Bradleys sold the land, but wanted to keep their house. Preservation architect Nancy McCoy devised a plan to move it. "I really didn't think this was going to be a good candidate for a move," said McCoy. "It's almost the length of a football field. So you immediately know it's not going to be moved in one big piece."
Neil McMillan, who calls himself the best "home splitter" in the country, agreed. He's a third-generation home mover.
"If it's done right and you put it back together, all you're missing is the sawdust of what the saw blade went through," he said.
Nair asked, "So what's the hardest part about deciding where to divide it?"
"You want to do it where you do the least amount of damage," said McMillan. Closets, he said, are the best place for cutting, "because you can hide the sins."
McMillan says he used a saw blade to split the Bradleys' home into seven parts. But before he made the first incision, every brick from eight fireplaces, and every stone from eight porches, was removed.
"We actually know how much this living room weighs," said Scott Bradley. "Ninety-eight thousand pounds, without the stone on it."
Re-constructing (and almost doubling) the size of the home, using the same techniques as the original architect, is what took so much time and money. The Bradleys wound up spending $12 million to move their house just two miles.
That was seven years ago. This spring they put it on the market, telling us they're now ready to downsize.
Their hope, they told Nair, is that the house lives in eternity.
"I hope someone buys it that will do what we've done -- love it, share it with the community," said Kelly Bradley.
That's exactly what motivates the folks at Crystal Bridges. Eccleston says they're hoping to finish work by the end of the summer -- with each piece fitting just the right way.
"Throughout this process, how many times have you heard someone say, 'You all are nuts, just build a house that looks like the original'?" asked Nair.
"We've had the conversation - 'How much easier would it have been just to take the plans and build it from scratch?'" said Eccleston. "But every board that goes in, every nail, it's as if Frank Lloyd Wright was sitting in a chair at his drawing table telling you, 'This is why I did this.' And that's how we built this house."
"Knowing what you know now, would you have taken this project on again?"
"I would do this house 100 times over," he replied, "because it's a real honor."

For more info:
Thanks for reading CBS NEWS.
Create your free account or log in
for more features.