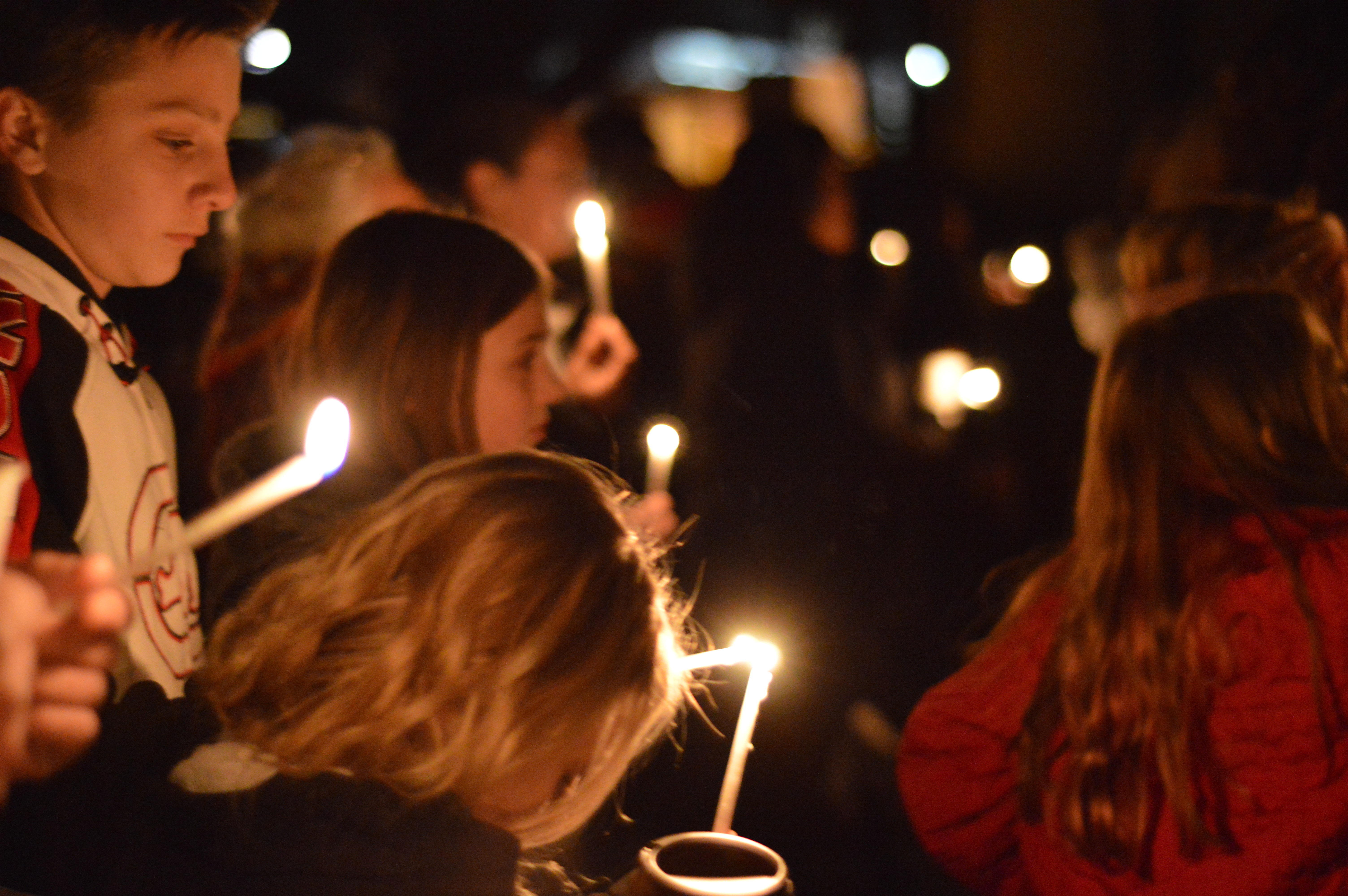 Motive in New Mexico high school shooting a mystery
AZTEC, N.M. -- Heaven Angelica Hughes and her classmates heard loud noises coming from the hallway just before bullets began flying through the window, striking a wall just over one student's head.
"Get down!" her teacher yelled. The 15-year-old freshman fell the floor and hid under her desk. Heaven then sent a text message: "There's a shooting here at school, mom."
Across the hallway, David Stone, 16, heard the same booms while in math class. His teacher herded the class into a closet and locked the door.
"This is not a drill," an announcer over the school intercom told students.
When the frightened students emerged Thursday from their hiding places at Aztec High School, they learned two of their classmates had been killed. The shooter also was dead and the close-knit community of 6,500 people was thrust into mourning as they became the latest to feel the sting of what seems to be a routine tragedy in the United States.
Why the shooter chose Casey J. Marquez and Francisco I. Fernandez remained a mystery as detectives combed through evidence. So far, they have released few details.
"I just thought it was a dream," said Sebastian McNeal, 18, who was waiting to board a bus for a basketball tournament. "I thought I was going to wake up and it's going to be all fine."
Then he saw an ambulance. "I knew it was real," he said.
Police arrived at the school less than a minute after getting the initial calls, which came shortly after the start of first period. With the school in lockdown, they got inside through a window and a door.
It was not clear if the shooter died by suicide or was killed by police. No other injuries were reported.
Hours after the gunshots, students and the community gathered in churches, community centers and then a park, braving frigid temperatures for a candlelight vigil.
Saying the eyes of the nation were on Aztec, community members at the vigil were determined to show their unity and strength, reports CBS Albuquerque affiliate KRQE-TV.
"For the ones who have lost their children, they need to see us. They need to see we care," said Jenni Van Herwaaden.
Into the night, hundreds showed they care at the vigil in Aztec's Minimum Park.
The grandparents victims Casey Jordan-Marquez spoke, KRQE notes.
"She'd love to see everybody here … to come see her. She loved everybody. If anybody was down, she was always there to try to bring them up," said Casey's grandfather.
Some were wearing shirts honoring the other victim, Paco Hernandez.
Community members are offering counseling through local churches in the coming days. Many are wearing stickers reading, "I Can Help," KRQE says.
At St Joseph's Catholic Church, residents came together to say a rosary in honor of the victims.
"Right now we need to keep each other in our hearts and thoughts and take care of each other," Aztec Mayor Sally Burbridge posted on her Facebook page.
Some residents waved American flags on busy streets.
"This is a tight community," Marsha Dodd, 51, said while holding a flag in front of Aztec's Safeway grocery store. "I don't want this in my community, just peace and love."
She stood next to Dennis Martinez, 24, who held a sign demanding that teachers be allowed to carry guns.
At the vigil near the town's main street, pastors from different churches urged students and their parents to pray and speak up if they felt pain. New Mexico Gov. Susana Martinez spoke briefly and told the crowd "all of New Mexico is with you."
David Stone and Heaven Angelica Hughes gathered with friends and raised their candles when a speaker urged them not to give in to fear. They tried to keep each other's candles burning. When it was all done, David admitted he may not return to Aztec High. "I don't know. Maybe I go to home school or something," he said. He kept replaying the moment when he and others were locked in the closet, not knowing if they were targets.
Aztec is in the heart of northwestern New Mexico's oil and gas country and near the Navajo Nation. Its main street is lined by old brick buildings that date back more than a century. Officials say it's a town where everyone knows everyone else and where homecoming festivities are enough to shut down the main street.
Officials say schools across town that shut down Thursday will stay closed Friday.
Sebastian said he didn't know when he could get his mind back to basketball this season.
"But Aztec will be back," he said. "We'll be stronger."
Thanks for reading CBS NEWS.
Create your free account or log in
for more features.