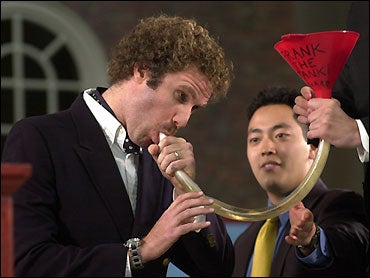 More Risks For Julianne Moore
Actress Julianne Moore is known for taking risky film roles.
She played a porn actress in the film "Boogie Nights," she followed Jodie Foster in the infamous role of FBI agent Clarice Starling in the sequel "Hannibal," and she also assumed a role originated by Vera Miles in Gus Van Sant's shot-for-shot color remake of "Psycho." More often than not, her risky projects have garnered critical acclaim.
On The Early Show, the Academy Award nominee discusses her new film "Far From Heaven" in which she plays a complex character who confronts the racial and sexual morals in 1950s suburbia.
Inspired by the great Hollywood dramas of the era, the film tells the story of the Whitakers, whose daily existence is characterized by carefully observed etiquette, social events and a desire to keep up with the Joneses. Cathy Whitaker (Julianne Moore) is the housewife, Frank Whitaker (Dennis Quaid) is the breadwinner husband, and Raymond Deagan (Dennis Haysbert) is the widower gardener.
As the story unfolds, boundaries of sexual and racial tolerance are broken.
Cathy finds out her husband is gay and her relationship with Raymond starts to evolve into something less innocent, but is frowned upon due to the difference in race.
At the 2002 Venice International Film Festival, Moore was given the Coppa Volpi Award for her role in "Far from Heaven."
The film is the second teaming of Moore with writer/director Todd Haynes and producer Christine Vachon. The three collaborated on the acclaimed 1995 drama "Safe."
About Julianne Moore:

Julie Anne Smith was born in Boston, Mass., Dec. 3, 1960

Moore graduated in 1979 from Frankfurt American High School in Frankfurt, Germany

She received her Bachelor of Fine Arts from Boston University in Boston, Mass., in 1983

1983: Moved to New York and had her television debut as Carmen on daytime soap opera "Edge of Night"

1985-1988: Played Frannie Hughes on CBS daytime serial "As the World Turns"; eventually played dual role of Frannie and her look-alike half-sister Sabrina; won 1988 Daytime Emmy Award

1987: Moore made her primetime television debut in the CBS miniseries "I'll Take Manhattan"

1988: Cast as Ophelia in a production of "Hamlet" at the Guthrie Theatre

1989: Moore made her television-movie debut, "Money, Power, Murder," on CBS

1990: Feature acting debut, "Tales From the Darkside: The Movie"; Met Andre Gregory while appearing in "Ice Cream With Hot Fudge" at The Public Theater in NYC; Cast as Yelena in Gregory's workshop of "Uncle Vanya" (date approximate)

1992: Moore made her first substantial role in a feature as the real estate agent friend to Annabella Sciorra in "The Hand That Rocks the Cradle"

1993: Caught the attention of Steven Spielberg with her three-minute role as a doctor colleague of Harrison Ford's Dr. Richard Kimble in "The Fugitive"; First film for Robert Altman, "Short Cuts"; garnered notoriety for a scene performed nude from the waist down; Worked with Al Pacino in a stage workshop production of August Strindberg's "The Father"

1994: Recreated the role of Yelena for Louis Malle's "Vanya on 42nd Street", a filmed version of Gregory's workshops

1995: First leading role in a feature, "Safe", directed by Paul Thomas Anderson

1996: Cast as Dora Maar in the Merchant-Ivory film "Surviving Picasso"

1997: Co-starred in the blockbuster sequel "The Lost World: Jurassic Park"; Played Mia, the uptight daughter in a highly dysfunctional family, in "The Myth of Fingerprints"

1997: Received first Academy Award nomination as Best Supporting Actress for her performance as a porn star in "Boogie Nights"

1998: Cast in the Coen brothers' "The Big Lebowski"; Assumed role originated by Vera Miles in Gus Van Sant's shot-for-shot color remake of "Psycho"

1999: Moore released five films. She re-teamed with Robert Altman to play an eccentric Southerner in "Cookie's Fortune"; Starred opposite Rupert Everett in the period drama "An Ideal Husband"; Played the pious British wife engaging in an adulterous relationship with a writer (Ralph Fiennes) in "The End of the Affair," directed by Neil Jordan; received a Best Actress Oscar nomination; Portrayed the mother of a child who drowns while in the care of her best friend in "A Map of the World"; Reunited with Paul Thomas Anderson to play the trophy wife of a dying television executive in "Magnolia"

2000: Appeared in the Neil Jordan-directed short film "Not I", from the Samuel Beckett play

2001: Assumed role of FBI agent Clarice Starling in the sequel "Hannibal"; Co-starred with Billy Crudup in "World Traveler", directed by Bart Freundlich; screened at Toronto Film Festival; shown at 2002 Sundance Film Festival

2001: Acted opposite Kevin Spacey in the film version of the award-winning novel "The Shipping News"

2002: In January, began appearing in TV commercials as a spokesperson for Revlon cosmetics; Moore has featured role as a Texas housewife in one of the three stories that comprise "The Hours". The movie is based on Michael Cunningham's Pulitzer-winning novel and directed by Stephen Daldry
Thanks for reading CBS NEWS.
Create your free account or log in
for more features.