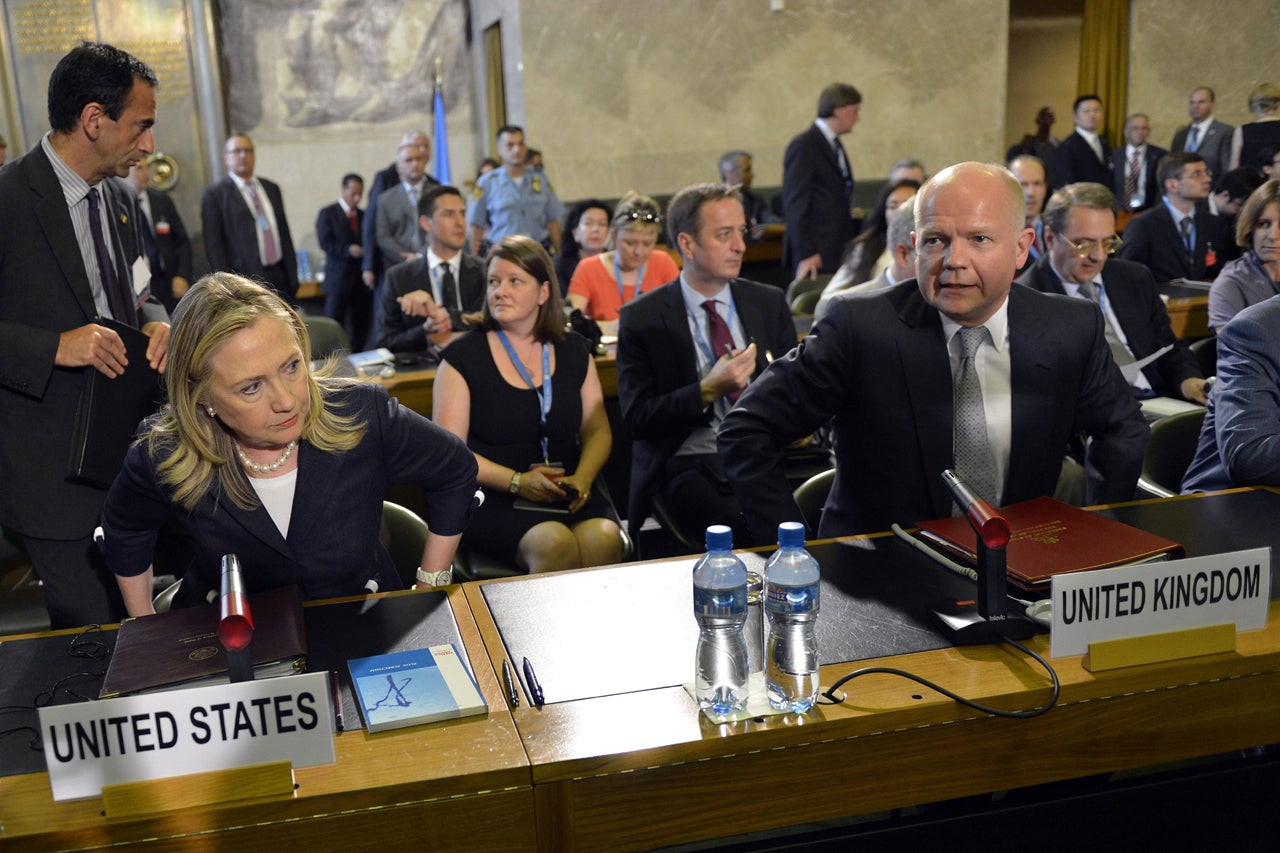 Mood pessimistic at Geneva meeting on Syria
(CBS/AP) GENEVA - A conference called by special envoy Kofi Annan to end the Syria crisis appeared on the brink of failure as it opened Saturday, with the U.S. and Russia still divided over a role for President Bashar Assad in a transition government.
There is certainly agreement that the war should end, but no consensus on how. The U.S., Europe and Turkey all think that a solution begins with the forced departure of President Bashar al-Assad and his top officials, but Russia and China don't agree, says CBS News correspondent Elizabeth Palmer.
If there was diplomatic tension over a solution for Syria, U.S. Secretary of State Hillary Clinton wasn't letting it show as she arrived at the conference.
But Britain's foreign secretary, William Hague, was blunt: "We haven't reached an agreement in advance with Russia and China. That remains very difficult. I don't know whether it will be possible to do so," though he said, it was in the interest of "saving thousands of lives."
Annan seemed confident of his plan a few days ago, but Russia has refused to back a provision that would call for Assad to step down to make way for a unity government, a stance that could scuttle the entire deal.
The envoy warned the permanent members of the U.N. Security Council — Britain, China, France, Russia and the United States — that if they fail to act at the talks hosted by the United Nations at its European headquarters in Geneva they face an international crisis of "grave severity" that could spark violence across the region and provide a new front for terrorism.
"History is a somber judge and it will judge us all harshly if we prove incapable of taking the right path today," he said.
Russia: No backing for any plan that calls for Syria's Assad to step down
Turkey sends heavy weapons to Syria border
U.N.: Syria violence as bad, if not worse, than before ceasefire agreed
He appeared to specifically aim his words at Russia, Syria's most important ally, protector and arms supplier, which insists that outsiders cannot order a political solution for Syria. The U.S. is adamant that Assad should not be allowed to remain in power at the top of the transitional government and there is little chance that the fragmented Syrian opposition would go along with any plan that does not explicitly say Bashar must go.
"While many spoke of united support for one ... some simultaneously took national or collective initiatives of their own, undermining the process. This has fueled uncertainty in Syria, in turn fueling the flames of violence," Annan said. "By being here today, you suggest the intention to show that leadership. But can you, can we follow through?"
He said that "the way things have been going thus far — we are not helping anyone. Let us break this trend and start being of some use."
Foreign ministers were rushed from luxury sedans into the elegant and sprawling Palais des Nations along with their legions of diplomats and aides and envoys from Europe, Turkey and three Arab countries representing groups within the Arab League.
A senior U.S. official — speaking on condition of anonymity due to the sensitivity of the ongoing negotiations — said the "discussions remain challenging. We're continuing to work this today, but we need a plan that is strong and credible. We may get there, we may not."
The question is still whether Russian Foreign Minister Sergey Lavrov and U.S. Secretary of State Hillary Rodham Clinton can rescue Annan's plan.
Russia and China, which has followed Russia's lead on Syria, have twice used their council veto to shield Syria from U.N. sanctions.
Major regional players Iran and Saudi Arabia were not invited. The Russians objected to the Saudis, who support the Syrian opposition. The U.S. objected to Iran, which supports Assad's regime. Lavrov predicted the meeting had a "good chance" of finding a way forward, despite the grim conditions on the ground.
Syria, verging on a full-blown civil war, has endured a particularly bloody week, with up to 125 people reported killed nationwide on Thursday alone. Since March of last year, the uprising in in one of the world's most unstable regions has killed some 14,000 people.
International tensions also heightened last week after Syria shot down a Turkish warplane, leading to Turkey setting up anti-aircraft guns on its border with its neighbor.
Without agreement among the major powers on how to form a transitional government for the country, Assad's regime — Iran's closest ally — would be emboldened to try to remain in power indefinitely, and that would also complicate the U.S. aim of halting Iran's nuclear goals.
At talks Friday night, top U.S. and Russian diplomats remained deadlocked over the negotiating text to agree on guidelines and principles for "a Syria-led transition."
British Foreign Secretary William Hague urged Russia and China, which is following the Russian lead, to join Western nations in speaking with one voice on Syria, though he acknowledged that will be a stiff challenge.
"We haven't reached agreement in advance with Russia and China — that remains very difficult. I don't know if it will be possible to do so. In the interest of saving thousands of lives of our international responsibilities, we will try to do so," Hague told reporters. "It's been always been our view, of course, that a stable future for Syria, a real political process, means Assad leaving power."
He tweeted that "President Assad and his closest associates cannot credibly lead the process of transition in Syria.
The negotiating text for the multinational conference calls for establishing a transitional government of national unity, with full executive powers, that could include members of Assad's government and the opposition and other groups. It would oversee the drafting of a new constitution and elections.
But the text that would serve as the framework for Annan's peace efforts also would "exclude from government those whose continued presence and participation would undermine the credibility of the transition and jeopardize stability and reconciliation."
"Ultimately, we want to stop the bloodshed in Syria. If that comes through political dialogue, we are willing to do that," said Khalid Saleh, a spokesman for the Syrian National Council, a coalition of Syrian opposition groups based in Istanbul, Turkey. "We are not willing to negotiate (with) Mr. Assad and those who have murdered Syrians. We are not going to negotiate unless they leave Syria."
Clinton said Thursday in Riga, Latvia, that all participants in the Geneva meeting, including Russia, were on board with the transition plan. She told reporters that the invitations made clear that representatives "were coming on the basis of (Annan's) transition plan."
The United Nations says violence in the country has worsened since a cease-fire deal in April, and the bloodshed appears to be taking on dangerous sectarian overtones, with growing numbers of Syrians targeted on account of their religion. The increasing militarization of both sides in the conflict has Syria heading toward civil war.
The civil war in Syria has now killed 14,000 people, and it's getting more violent as the numbers of rebel fighters grow.
Known as the Free Syrian Army, these men are getting better-armed and better-trained to fight Syrian government troops, who for their part continue to rain rockets and missiles into villages and towns across the country.
Syrian President Assad made a rare appearance last week on Iranian television, where he denied that foreign pressure would influence his handling of the war.
In Geneva, delegates at the conference don't believe it. They think Russia could convince Assad to step down and hand over power to a government of reconciliation - but, Palmer said, that is only if Russia wanted to.
Thanks for reading CBS NEWS.
Create your free account or log in
for more features.