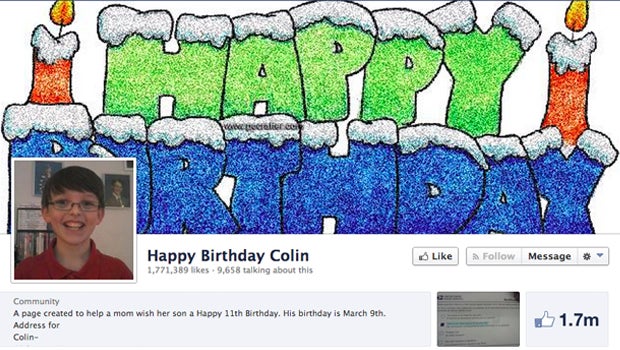 Mom's Facebook birthday surprise for son gets 1.7 million likes
When a Kalamazoo, Mich. mother wanted to throw her 10-year-old son Colin a birthday party, she was heartbroken when his response was there wasn't a point because he had no friends.
"He eats lunch alone in the office everyday because no one will let him sit with them, and rather than force someone to be unhappy with his presence, he sits alone in the office. So I thought, if I could create a page where people could send him positive thoughts and encouraging words, that would be better than any birthday party," Colin's mother Jennifer wrote on Facebook.
Jennifer created a Facebook page so that friends and family could wish her son happy birthday. She never expected it to go viral, but it quickly spread garnering hundreds of thousands of likes within weeks. The page currently has 1.7 million likes and countless messages from strangers.
Colin has a sensory processing disorder similar to autism and Asperger syndrome, Jennifer told WOOD-TV. His disorder makes it difficult for him to socialize and maintain friends.
Jennifer writes on Facebook that Colin is in the fifth grade, and that he aspires to be a pastor, comedian or missionary. His loves include Nintendo 3DS, Pokemon and Doctor Who.
Messages on the Facebook page come from Brazil, Norway and Australia. Most people wish him a happy birthday, while others share words of encouragement or stories of their children who are also suffering from similar disorders.
Jennifer is no longer doing press interviews and reminds fans that the page is to remain a surprise until Colin's 11th birthday on March 6.

"Several kids at school told him they saw him on the news, and he overheard a teacher saying to another teacher that she saw him on Facebook. Colin's dad and I were able to explain it away, but please be careful if you know Colin in real life," she writes on Facebook.

Thanks for reading CBS NEWS.
Create your free account or log in
for more features.