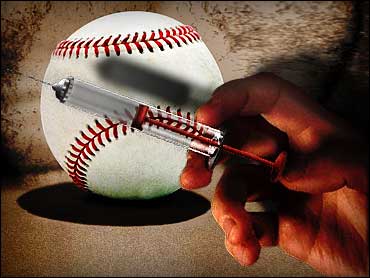 MLB Launches Steroid Investigation
Baseball launched its probe Thursday into steroids use by Barry Bonds and others, and right away the head of the investigation came under attack.
Commissioner Bud Selig said former Senate Majority Leader George Mitchell, a director of the Boston Red Sox, will lead the inquiry. Mitchell said he will not resign his position.
The probe will be limited to events since September 2002, when the sport officially banned performance-enhancing drugs. No timetable for the investigation was announced.
"Nothing is more important to me than the integrity of the game of baseball," Selig said.
Mitchell also is chairman of The Walt Disney Co., the parent of ESPN, which is a national broadcast partner of baseball. ESPN is airing a weekly behind-the-scenes look at Bonds, with the San Francisco star's cooperation. The show begins airing next week.
John Dowd, the Washington lawyer who headed baseball's investigation of Pete Rose's gambling in 1989, did not like the choice.
"Mitchell doesn't have a great track record with me. It doesn't look like he's independent," Dowd said in a telephone interview with The Associated Press.
Mitchell said his role with the Red Sox will not create a conflict.
"If, in any way, anyone associated with the Red Sox is implicated, they will be treated just like everyone else," he said.
The scandal has made the game's national sponsors squeemish. Bank of America and Home Depot have refused to support any celebration of Bonds' quest for the all-time home run record unless he's cleared of steroid use, reports CBS News correspondent Anthony Mason.
As he left the news conference at baseball's headquarters, Mitchell did not respond to a question about his role with Disney and the possible perception of a conflict of interest.
"While George Mitchell is certainly a man of great integrity, I believe that baseball would have been wiser to pick someone who is not as close to the game and may be able to take a more objective look into the facts," said Sen. Jim Bunning, R-Ky., a baseball Hall of Famer.
Rep. Cliff Stearns, a Florida Republican, praised the probe.
"This investigation should have started years ago; I am deeply concerned with the appearance that Major League Baseball resists taking action to cleanup the sport until it is overwhelmed with demands for action," he said.
Selig's decision to launch the probe came in the wake of "Game of Shadows," a book by two San Francisco Chronicle reporters detailing alleged extensive steroid use by Bonds and other baseball stars.
"I believe the timing on this proper given the charges, given the specificity of the charges for the first time," Selig said.

No matter what the findings of an investigation, it would be difficult for baseball to penalize anyone for steroids used before Sept. 30, 2002, when a joint drug agreement between management and the MLB Players' Association took effect.
Selig later added, "This information will be public."
Baseball began drug testing in 2003 and started testing with penalties the following year.
"Should Sen. Mitchell uncover material suggesting that the scope of the investigation needs to be broader, he has my permission to expand the investigation and to follow the evidence wherever it may lead," Selig said.
Bob DuPuy, baseball's chief operating officer, said baseball considered Mitchell's potential conflicts of interest.
"Given Sen. Mitchell's integrity, given his background, he was absolutely considered to be the perfect choice for this job," he said.
DuPuy said baseball had the power to force players to cooperate.
"We're assuming that when Sen. Mitchell asks to speak to players, the players will respond," he said.
Selig would not address possible discipline that could result from the investigation, "When this investigation is over ... that will be the time for me to make those kind of judgments," he said.
Bonds enters the season with 708 homers, trailing only Babe Ruth (714) and Hank Aaron (755) on the career list.
"I assume physical constraints notwithstanding, Bonds will play the whole year," DuPuy said.
Earlier Thursday, Victor Conte, founder of the Bay Area Laboratory Co-Operative, was released from a California prison. He spent four months there after pleading guilty to orchestrating an illegal steroids distribution scheme that allegedly involved many high-profile athletes.
Asked whether he gave Bonds steroids, Conte said: "No, I did not."
"I plan to provide evidence in the near future to prove that much of what is written in the book is untrue," Conte told the AP. He declined to list specific inaccuracies or what evidence he would provide, but said, "it's about the character assassination of Barry Bonds and myself."
Gene Orza, the chief operating officer of the Major League Baseball Players Association, declined comment Wednesday.
Earlier this month, former commissioner Fay Vincent called for an investigation and suggested it be headed by Mitchell or Dowd.
"It will be messy, because how far back do you go? If you throw out Bonds' record or feel that's impinged what do you do about (Mark) McGwire?" Vincent told Mason regarding the steroids controversy.
"Recent indications are up to 50 percent of the players in the 90s were using steroids," Vincent added. "It puts a real cloud over that period in baseball."
Thanks for reading CBS NEWS.
Create your free account or log in
for more features.