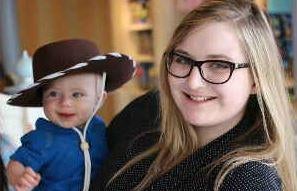 Missing mom, baby found amid alleged custody interference plot
MESA, Ariz. -- Authorities say a missing Arizona woman who allegedly conspired with her parents to avoid sharing custody of her infant son has been found in California with the child after almost four months on the run.
Police in the Phoenix suburb of Mesa say 19-year-old Madeline Jones was detained with her baby by a U.S. Marshal's task force Monday afternoon in Ramona, California.
Mesa police submitted charges to the Maricopa County Attorney's Office, alleging conspiracy to commit interference by Jones' parents.
Police say 1-year-old William Jones-Gouchenour is being reunited with his father, who was granted sole custody during the disappearance.
Police believe Roland and Cassandra Jones were aware that the father of the child -- Jacob Gouchenour, their daughter's ex-husband -- had recently been granted joint custody and allegedly helped their daughter flee with the child to deny Gouchenour access to his baby boy.
Mesa Police say the couple reported her and the child missing in June and gave "false and misleading statements" to detectives.
At one point Cassandra Jones told police she believed Gouchenour was involved in the disappearance, and at another point said she feared her daughter had been "dragged over a wall" on her property and referenced the high-profile kidnapping case of Elizabeth Smart, police documents said.
But the documents obtained by CBS affiliate KPHO say a family friend saw Madeline before she went missing looking at a website called "How to Disappear," and that Cassandra asked the friend to dye Madeline's hair. Madeline allegedly also told family she was planning to take a "vacation" with the child.
The documents also show Cassandra Jones took out a large amount of money before her daughter and grandson disappeared.
Police say Jones is being held at a detention facility in Santee, California pending extradition and is facing charges of custodial interference.
Thanks for reading CBS NEWS.
Create your free account or log in
for more features.