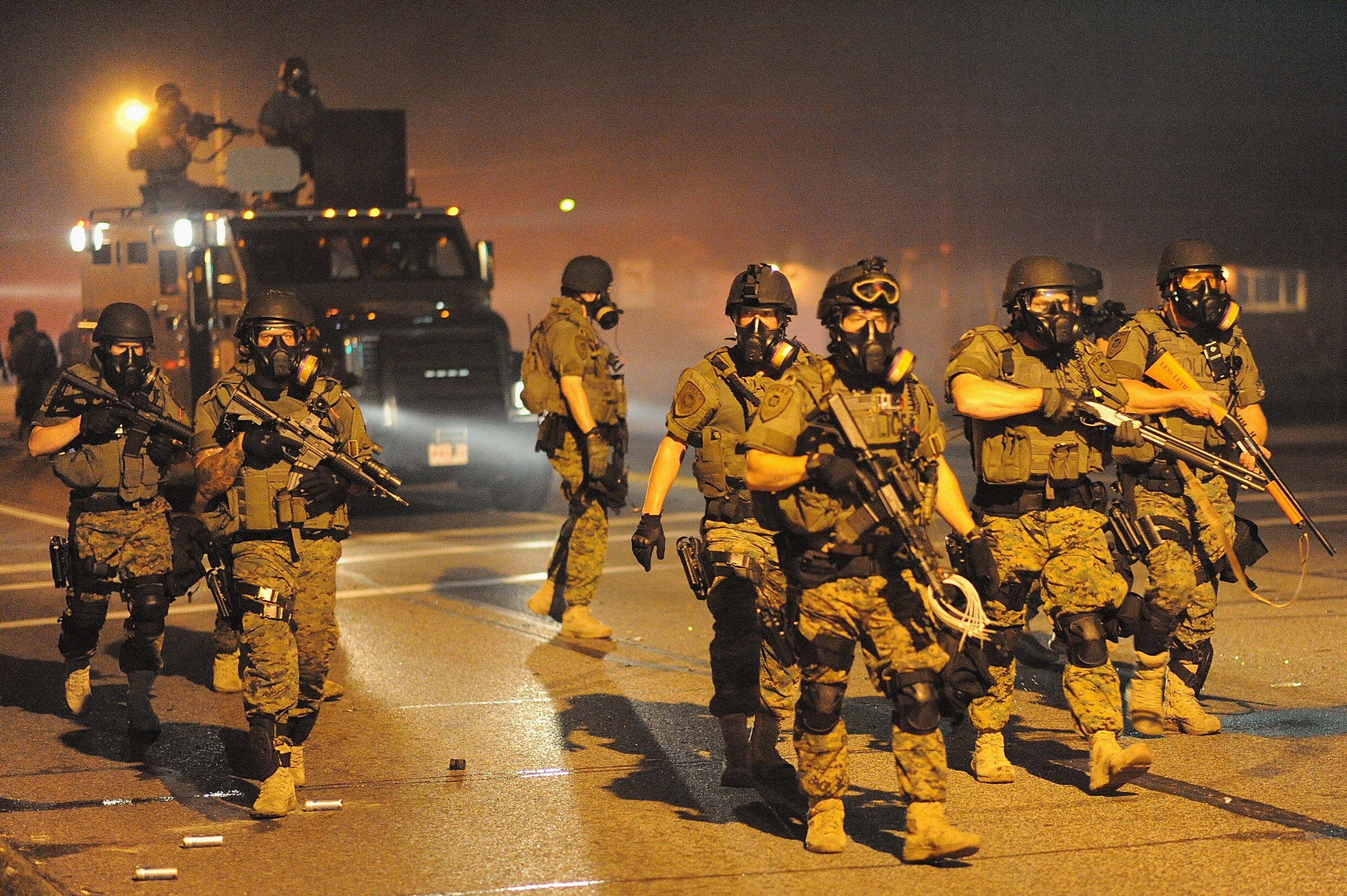 Militarized police forces come under congressional scrutiny
Members of Congress on Tuesday said they are considering doing more to monitor and hold accountable police departments across the United States that obtain sophisticated military equipment from the federal government.
The new scrutiny on Capitol Hill was prompted by weeks of violent conflicts between police in Ferguson, Missouri, and protesters upset about the fatal police shooting of unarmed 18-year-old Michael Brown. Most military equipment -- including rifles, flashbang grenades and armored vehicles -- is provided to local police under programs administered by the Homeland Security and Defense departments.
"These programs were established with a very good intention: to provide equipment that would help law enforcement perform their duties," said Sen. Tom Carper, D-Delaware, chairman of the Senate Homeland Security Committee. "The question is whether what our police receive matches what they truly need to uphold the law."
The White House had previously announced its own review of the police equipment program.
Sen. Claire McCaskill, D-Missouri, said legislation may be the only way to make significant changes to the programs. She said she was concerned that much of the equipment being transferred from the Pentagon to police agencies was new gear that the Defense Department bought but never used.
"What in the world are we doing buying things we don't use?" McCaskill asked. "I guarantee the stuff you are giving away you are continuing to buy."
McCaskill and others also questioned the logic of supplying equipment originally intended for use by combat soldiers, including the multi-ton Mine-Resistant Ambush Protected vehicles, or MRAPS.
"How do they decide an MRAP is appropriate?" Sen. Tom Coburn, R-Oklahoma, asked officials from Homeland Security, Defense and Justice departments. "It's not a truck. It is a ... offensive weapon."
Coburn said he had "real heartburn" over the federal programs equipping local police forces. "Our founders saw no role for the federal government in state and local police forces," he said.
Defense Undersecretary Alan Estevez told lawmakers that federal authorities rely on state coordinating officials to decide what equipment local agencies should receive and who will use it. He said all military equipment is stripped of most military tools, including .50-caliber guns on MRAPs, before the gear is passed on.
Training and how the gear is ultimately deployed is also largely left the states, Estevez said.
Some of the gear is distributed through the Pentagon's 1033 program, whi was approved by Congress in the 1990s and has since given police forces $5.1 billion worth of property, Estevez said. Only about 4 percent of the gear has military attributes, including MRAPs and military-grade weapons.
Additionally, police forces can buy equipment like drones and MRAPs with terrorism grants from the Department of Homeland Security. The department has doled out $34 billion in grants since the program started after 9/11.
Equipment bought with FEMA grants is intended to be used strictly for anti-drug or terrorism-related incidents, but Sen. Rand Paul, R-Ky., said he worried that police departments are relying on such equipment to tamp down riots, like in Ferguson.
"They think these are for riot suppression," Paul said. "There's been maybe two instances of terrorism and we've spent billions and billions of dollars. Really (this gear) shouldn't be on anyone's list of authorized equipment."
Rep. Hank Johnson, D-Georgia, has produced legislation that would put some constraints on the 1033 program. It would create more accountability, in part by prohibiting the Defense Department from giving any more equipment to an agency that couldn't certify the whereabouts of prior equipment it received.
Thanks for reading CBS NEWS.
Create your free account or log in
for more features.