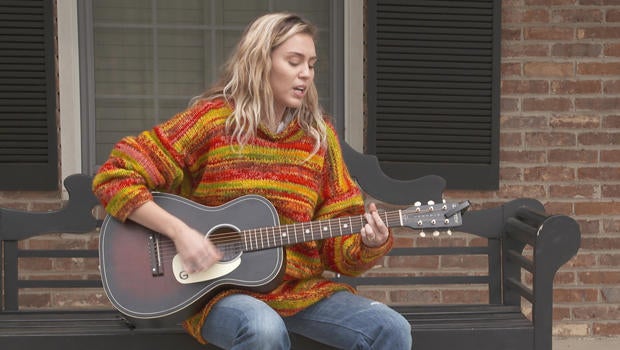 Miley Cyrus feels "Younger Now"
"Party In the USA" was a big hit back in 2009 for Miley Cyrus, already a star while still in her teens. So what's she up to now? She talks about that and more this morning with Anthony Mason, For The Record:
When asked when she started playing music, Miley Cyrus replied, "I never started making music. I just always made music."
The Cyrus family farm in Thompson's Station, Tenn., is called Singin' Hill. This is where Miley learned the family trade.
"My first song I wrote was called 'Pink Isn't A Color, It's an Attitude.' It was very deep!" she laughed.
Miley's country star-father, Billy Ray Cyrus, bought the 500-acre spread with the profits of his 1992 smash, "Achy Breaky Heart." Miley was born the year of her father's breakout hit. Growin up at Singin' Hill, Billy Ray was her best friend, Dolly Parton her godmother.
So even out here, a life of stardom never seemed strange: "It felt so normal, 'cause my Dad, Dolly Parton," she told Mason. "You get up, you go have breakfast with my Dad and then go play a show for 20,000 people. That's normal.
"That's probably what's also wrong with me!" she laughed. "This is therapy. We are figuring out what's wrong. So many people have sat in your chair and tried to figure this out, and we couldn't get to it."
To watch Miley Cyrus perform "Younger Now" from her latest album, click on the video player below.
Everyone, she says, seems to have an opinion about Miley Cyrus: "America feels like my aunt -- 'You've grown up so much, and we don't want to see you grow up!'"
About her talent ... about her tongue ... about her twerking.
At 24, she's already had five #1 albums and amassed 37 million Twitter followers, and is now a judge on "The Voice."
Her breakthrough came at age 13, on the Disney series, "Hannah Montana." She played Miley Stewart, who lived a double-life as pop star Hannah Montana.
It made her the biggest child star in the country.
"It's striking to me to think that this is, for you, half a lifetime ago," said Mason.
"Yeah, don't remind me," she replied. "I think why people loved 'Hannah Montana' was because Hannah Montana did feel real. And that's 'cause I was under there.''
"Do you look back on it now as a good time?"
"I definitely look back on it as a good time. I think what was hard for me was balancing everything. I think it got harder when I started touring as both -- I toured as Hannah Montana and as myself."
"How did you sort that out?"
"I think that's probably what's a little bit wrong with me now!" she laughed. "I mark that up to doing some extreme damage in my psyche as an adult person."
But with her album "Bangerz," released in 2013, Cyrus took a wrecking ball to her old image:
"I didn't realize that it was going to shift me into truly being my own person. It changed my life. I felt like that divide, that boundary was very clear."
"Wrecking Ball" was her first #1 song. The now-infamous video has been viewed more than 900 million times.
The notoriety gave her a platform. Mason asked, "When did you realize you had that power?"
"At the 2013 VMAs when everyone in the entire world knew that I had dressed up as a teddy bear and danced with Robin Thicke and everyone talked about it for a really long time."
At the MTV Video Music Awards that year, Cyrus created a pop culture moment both uncomfortable and unforgettable.
"I woke up and, you know, it was on every news channel," she said. "And everyone had their opinion about it. At that time it was like, 'Oh my God, she's dressed as a bear with no pants on.' Bears don't wear pants!
"I was just doing what I wanted to do, And I wasn't hurting anybody. So that was a good thing."
Miley's parents -- Tish, who kept a close eye on her daughter growing up, and Billy Ray, who played Miley's father in "Hannah Montana" -- say the controversies never concerned them. "Her cornerstone is solid," Billy Ray said. "She knows. Her heart is good. Her mind is good."
Miley said, "My priorities come from growing up on this farm, from growing up with my family, about treating people with respect."
But she also found an odd power in making people uncomfortable: "I made Paul McCartney feel uncomfortable one time. I was inducting Joan Jett into the Rock & Roll Hall of Fame and I, like, went and introduced myself with nipple pasties on. And he turned bright red. Like he looked so red, and that I really liked."
"Why did you like it?"
"'Cause I just like that I freaked out Paul McCartney! 'Cause I would be so freaked out to meet Paul McCartney, that then he was freaked out to meet me! So the roles just reversed."
But she has paid a price for being provocative. "Everyone, you're welcome. I took all the slaps for you!" she said. "Everything that anyone could have been mad at, I've done it all, so nothing seems that bad compared to all the things I've done."
"Having taken all those slaps, you don't seem to have been bruised by it," Mason said.
"No. I have a quote in a place where I do yoga. And it says, 'The more that you love your own decisions, the less you need other people to love them.' And I've learned from a lot of people that have gotten knocked down to get back up, so I'm okay with that."
"Did you feel like you got knocked down?"
"I don't feel like I got knocked down, but I got that women-judgment double-standard in a heavy dosing. And I'm okay with that. You know, I just recently read Hillary Clinton's book. And now I think of things in a whole different way. I always think, if she can lose an election, I can do this."
Last month, Cyrus released her sixth solo record, "Younger Now."
To watch Miley Cyrus perform "Malbu," from her latest album, click on the video player below.
The first single off the album, "Malibu," is a love song to the beach, and to her fiancé, the actor Liam Hemsworth. "I'm in a really different place," she said. "But I feel like all the people that I've ever been are just sitting right here in, you know, inside. And I feel those ways, too."
The pop star has eclipsed the child star, but as the title track says, Miley Cyrus actually feels younger now:
"In the beginning it says, 'Feels like I just woke up, like all this time I've been asleep. Even though it's not who I am, I'm not afraid of who I used to be.' And then it says, 'No one stays the same.' Everything we've sat here and talked about is what that song means."

For more info:
Thanks for reading CBS NEWS.
Create your free account or log in
for more features.