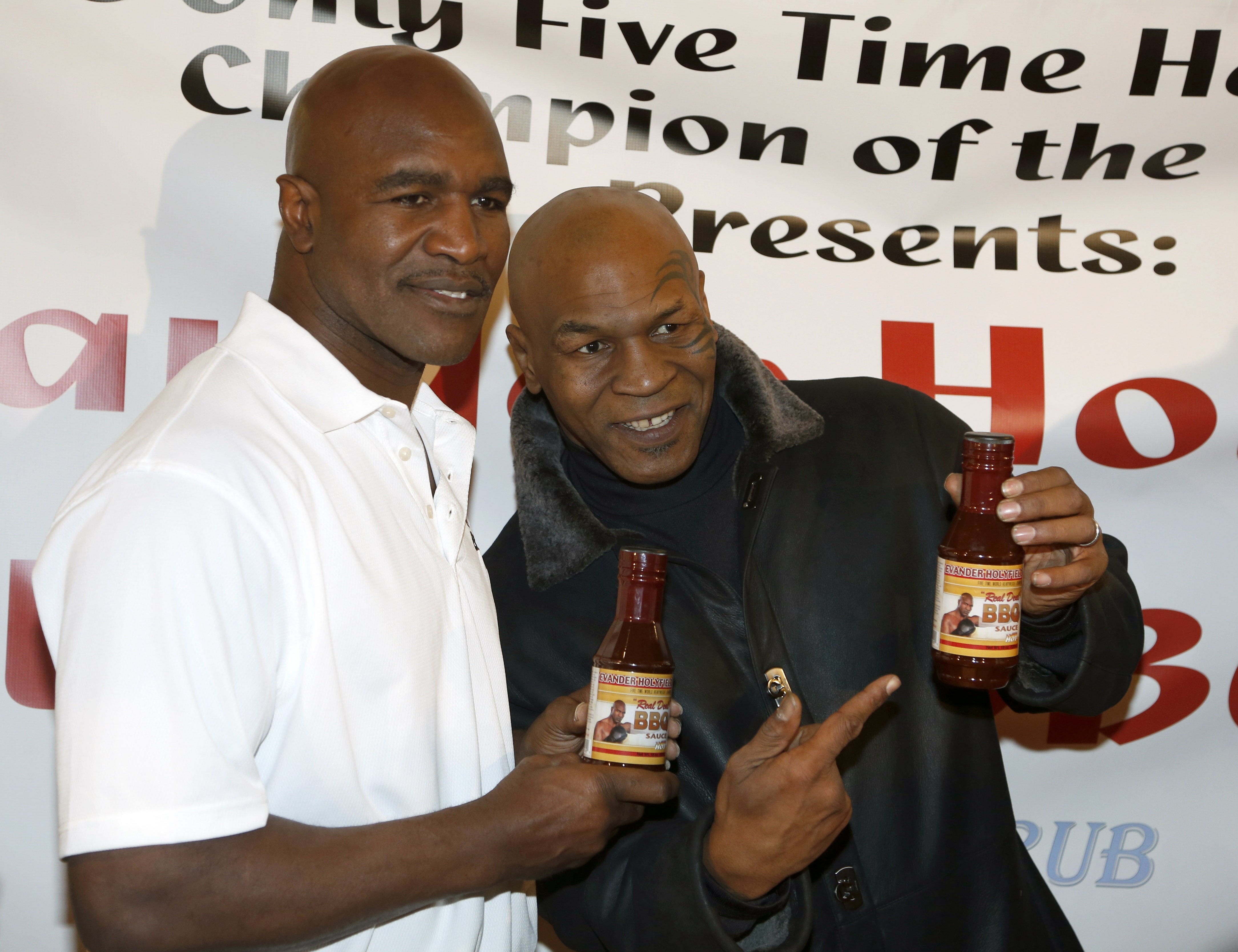 Mike Tyson, Evander Holyfield meet again
CHICAGO Mike Tyson and Evander Holyfield stood toe to toe again, only this time there were hugs and smiles — and no bites to the ear.
The ill will that marked the former champions' rivalry was nowhere in sight. Instead, they were like old friends meeting in a supermarket, which is exactly what they did on Saturday.
They were at a Jewel-Osco on Chicago's South Side, where Holyfield was signing autographs and promoting his barbecue sauce. Tyson, in town performing his one-man show, made a cameo.
"I just wanted to see Evander, man," Tyson said. "I love Evander. I'm forever linked with him for the rest of my life."
Hard to believe those words came from the man who bit off a piece of Holyfield's ear during a fight, but the former "Baddest Man On The Planet" is showing a different side.
He's baring his soul on stage, documenting his rise from Brooklyn's streets to the heavyweight championship and subsequent fall from grace. It's all there, from his drug use to his relationships to ex-wife Robin Givens, new wife Kiki, promoter Don King, trainer Cus D'Amato and, of course, a rape conviction that left him behind bars for three years in the 1990s.
He's taking it to 36 cities after a run on Broadway. Saturday night was the second of two scheduled performances in Chicago. And before he hit the stage, he hit the supermarket.
He wrapped Holyfield in a big hug and was all smiles as they chatted and posed for pictures, the fans going wild the whole time.
"The show is good," said Holyfield, who saw it in Las Vegas. "The show is showing his way of coming back, being able to come to an agreement, come to an acknowledgment of what he'd done good and what he'd done wrong and to get over it. When people don't get past their problems, they never come to an understanding."
What did Holyfield think of the parts that involved him?
"I think he was letting people know that he was wrong and what happened, happened," he said. "He appreciates that I forgave him. He's forgiven himself. That's how you make adjustments in life."
The 50-year-old Holyfield would still like one more title fight against one of the Klitschko brothers, either Wladimir or Vitali. But unless one of them has a change of heart and agrees to it, his career is over.
"Now that it's confirmed that the Klitschkos really don't want to do it, that's it," Holyfield said. "I'm not trying to go back and fight someone 24, 25. But the Klitschkos being 37, 38, that's my age."
He's not clinging to that possibility, nor is he holding any hard feelings for Tyson. They reconciled on Oprah Winfrey's show in October 2009, and for that, Tyson is grateful.
In his mind, it even turned that infamous bite into something positive "because love and forgiveness is involved."
"We're both at a stage in our lives where we can work together and make really a good thing happen," Tyson said. "He's a beautiful person. I've known Evander since I was 15."
Now Tyson is putting it out there on stage, warts and all. He has made it clear this is not an apology tour, that it's simply his story.
He says he spends two hours a day rehearsing the script that his wife wrote, and the show is directed by Spike Lee. More are scheduled for cities such as San Francisco, Los Angeles, Houston and Washington, and the tour could be extended if it goes well.
When he's not rehearsing, he's working for his charitable organization, Mike Tyson Cares. The organization helps underprivileged and homeless children receive medical treatment, find shelter, help with school expenses and assist with job placement.
But he still can't quite escape the drama.
In December, Tyson told a TV show he was "high on cocaine" during filming of the movie "The Hangover." In November, a Polish court ordered him to pay $48,000 to the organizer of a boxing gala after Tyson did not show up.
In October he was banned from travelling to New Zealand because of his rape conviction. That country's immigration authorities initially granted him a visa so he could give talks about overcoming adversity in his life, but a charity withdrew its support and officials reversed their decision.
"I just want to live my life this way," Tyson said. "It's more advantageous to me and my children and the people that I care about to live my life this way."
Thanks for reading CBS NEWS.
Create your free account or log in
for more features.