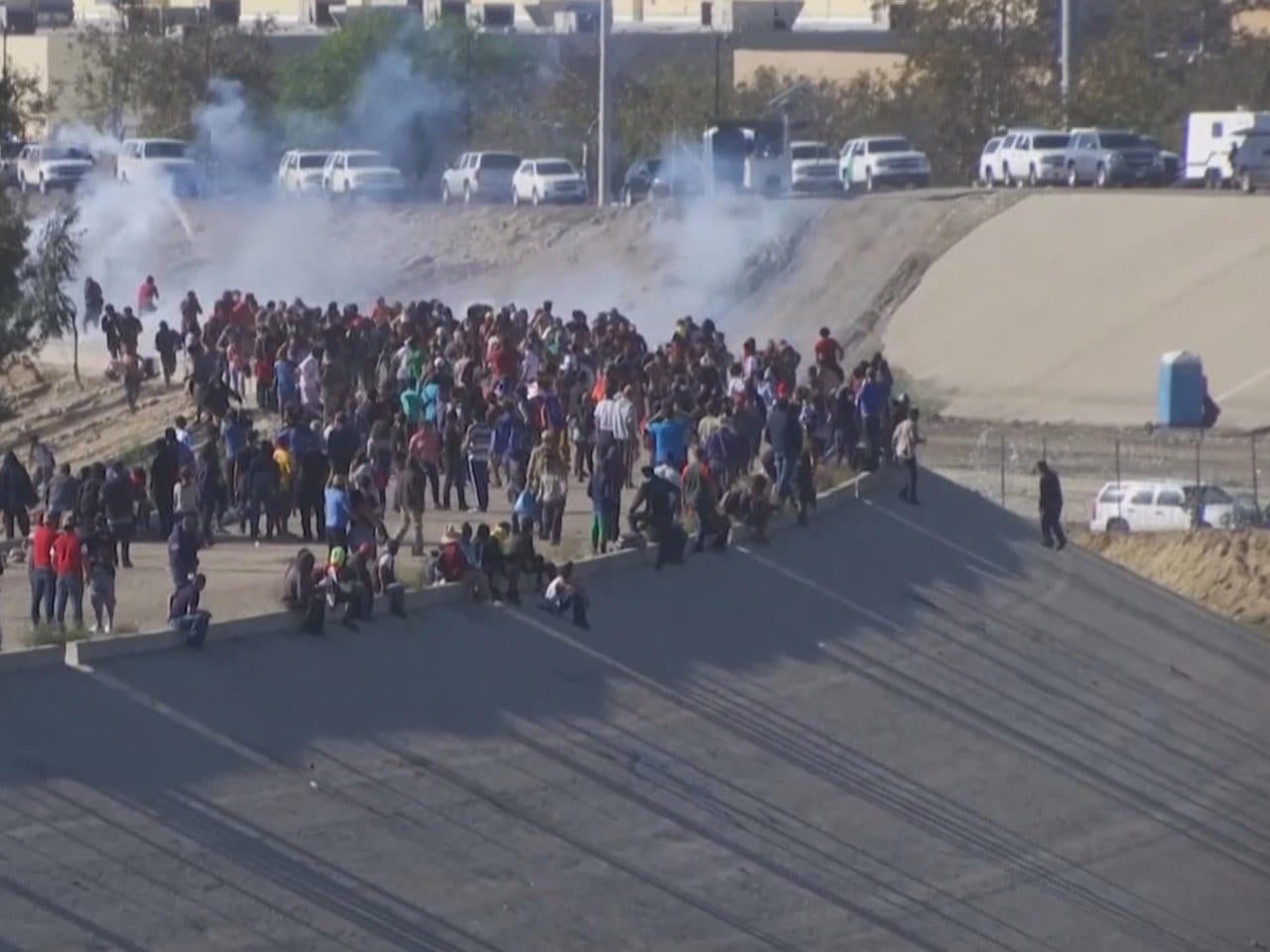 Busiest U.S.-Mexico border crossing reopens after violent clashes
The busiest U.S. border crossing is open again this morning, after a confrontation forced it to close temporarily Sunday, as frustration among thousands of migrants upset by the slow pace of the U.S. asylum process boiled over. Yesterday, U.S. Customs and Border Patrol agents fired tear gas at hundreds of people, including women and children, after some of them tried to force their way across the border between San Diego and Tijuana, Mexico.
Reporting from Tijuana, correspondent Mireya Villarreal said that the official port of entry was closed for about five hours yesterday. Violence erupted as Mexican police attempted to break up the protesters, and some made a run for the border between Tijuana and San Diego, California.
One migrant from Honduras said, "They started throwing tear gas at us. There were many children who fainted."
Video from a Mexican news channel appears to show an American border patrol agent yelling at migrants nearing the border to get back. He then fires rubber bullets, and people scatter.
"It was like something out of a movie," one woman said. "Everyone started running."
Mexico's interior ministry said around 500 migrants tried to "violently" enter the U.S. Sunday. U.S. authorities claimed some of the migrants threw rocks and other projectiles at U.S. Customs and Border Patrol.
In recent weeks, thousands of mostly Central American migrants have arrived in Tijuana by caravan. More than 5,000 migrants have been camped out in and around a sports complex, hoping to soon seek asylum in the United States. But fewer than 100 asylum petitions a day are being processed at the San Ysidro port of entry.
On Monday morning President Trump tweeted that many of the migrants are "stone cold criminals," and threatened to close the border permanently.
After clashes near the official port of entry yesterday, it was quickly closed in both directions by border agents, an unusual move at the end of a busy holiday weekend. People on foot and in cars waited in long lines for several hours. The port averages around 70,000 vehicle and 20,000 pedestrian crossings a day.
Late Sunday evening, the port was reopened, and as cars began filing in, people cheered.
Mexican authorities said 39 migrants were arrested yesterday, and said they plan to deport those who tried to enter the U.S. illegally.
Mexico's government says since mid-October, when the first caravan arrived, they have sent 11,000 Central Americans back to their home countries.
On Thursday, the Mexican government issued a statement saying it was requesting help from the United Nations's Office for the Coordination of Humanitarian Affairs (OCHA) in dealing with the crisis in Tijuana. However, OCHA spokesman Russell Geekie told CBS News on Sunday that neither OCHA nor the U.N.'s Resident Coordinator in Mexico had received any requests for help.
Thanks for reading CBS NEWS.
Create your free account or log in
for more features.