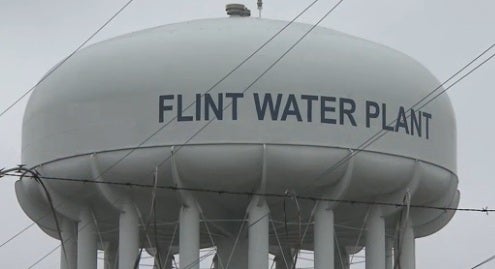 Michigan governor declares emergency in Flint over water crisis
DETROIT -- Michigan Gov. Rick Snyder declared a state of emergency in Flint on Tuesday over problems with lead in the city's drinking water, the same day federal officials confirmed they're investigating the matter that prompted a local public health emergency.
Snyder's action follows emergency declarations by the city and Genesee County, which requested help from the state. Michigan's declaration makes available state resources in cooperation with local response and recovery operations.
U.S. Attorney's spokeswoman Gina Balaya said in an email that the federal investigation is "an effort to address the concerns of Flint residents," but she couldn't say whether it is a criminal or civil investigation.
The city switched from Detroit's water system to Flint River water in a cost-cutting move in 2014, while under state financial management. That was intended as a temporary step while a pipeline was built from Lake Huron.
Residents complained about the water's taste, smell and appearance, and children were found to have elevated levels of lead due to the water supply. Exposure to lead can cause behavior problems and learning disabilities in children.
The city returned to Detroit water in October.
"When I hear my son get up at night and cry because his bones hurt and there's nothing I can give him, there's nothing I can do for him to take away his pain, I feel completely helpless," Melisa Mays told "CBS This Morning" in December.
For nearly five months, Mays and her family drank the water from their tap, unaware there was lead in it. Mays said she noticed a change in her three children: convulsions, skin lesions, memory and hair loss.
"My heart breaks, because fact of the matter is, I handed them the glasses of water," Mays said.
The city's water problems started in the spring of 2014, when Flint moved its water supply from a source in Detroit to the Flint River. The switch was supposed to save the city about $15 million a year.
But the lead levels detected in Flint's children under the age of five nearly doubled, according to a study by a local medical center.
Officials say the state will use its own resources during the emergency, but Snyder could request federal help if Michigan is unable to handle demands.
Last week, Snyder apologized and Michigan's top environmental regulator resigned after a task force created by Snyder blamed problems on his agency. Administration officials have pledged to cooperate fully with any federal requests.
Flint Mayor Karen Weaver welcomed the governor's declaration, saying it's what "Flint deserves."
The state initially downplayed lead concerns but ultimately had to commit $10.6 million to reconnect Flint to Detroit and to respond with filters, testing and other services.
The city's request for a disaster declaration includes roughly $50 million in aid, most of which is taken up by $45 million to replace 15,000 lead service lines -- "one of the most cost-intensive endeavors related to ameliorating water contaminants" in its system, according to the application. It also seeks $2 million in reimbursement costs for reconnecting to Detroit's system.
Thanks for reading CBS NEWS.
Create your free account or log in
for more features.