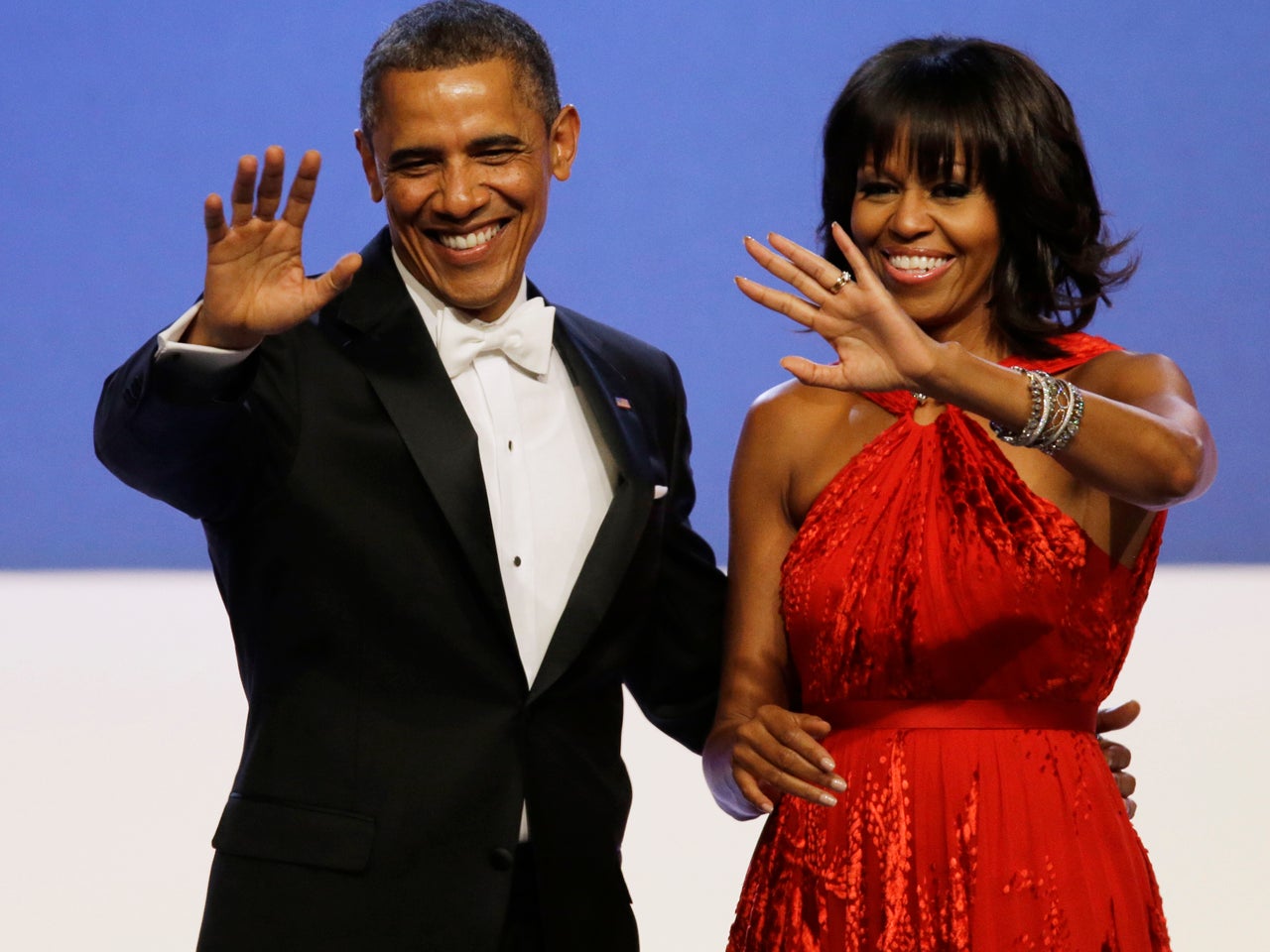 Michelle Obama wears red Jason Wu gown to inaugural balls
First lady Michelle Obama made it a fashion tradition Monday night, wearing a custom-made Jason Wu gown to the inauguration balls.
The ruby-colored chiffon and velvet dress was a follow-up to the white gown Wu made for her four years ago when she was new to Washington, the pomp and circumstance, and the fashion press.
She paired the dress with a handmade diamond embellished ring by jewelry designer Kimberly McDonald, and shoes designed by Jimmy Choo. At the end of the inaugural festivities, the first lady's outfit and accompanying accessories will go to the National Archives.
"I can't believe it. It's crazy," said Wu, reached at his Manhattan studio. "To have done it once was already the experience of my life. To have a second time is tremendous."
President Barack Obama also struck a similar style chord to his first-term inaugural balls: He wore a white tie with his tuxedo.
The red halter dress was the only one Wu, who went from fashion insider to household name on this night in 2009, submitted for Mrs. Obama's consideration. He collaborated with McDonald on the jeweled neckline. "For this occasion, it had to be real diamonds," Wu said.
He said he felt the dress showed how he has grown up as a designer -- and how Mrs. Obama's style has evolved to be even more confident.
President Barack Obama called his wife to the stage, referring to her as "my better half -- and my dance partner," before the two danced as Jennifer Hudson sang a live rendition of Al Green's "Let's Stay Together."
"She makes me a better man and a better president," Mr. Obama said of the first lady. "I'm lucky to have her."
Earlier in the day, Mrs. Obama wore a navy-silk, checkered-pattered coat and matching dress by designer Thom Browne.
An expected 40,000 people crammed into the Washington Convention Center for Monday evening for the two official inaugural balls, which promised plenty of star power in the entertainment lineup.
Alicia Keys wearing a flowing red gown, planted herself before a piano and dished up reworked lyrics to "Girl on Fire," declaring, "Obama's on fire." Brad Paisley, too, revised his lyrics to fit the occasion, and began by thanking the troops "for keeping us safe."
Others expected: Chris Cornell, Jamie Foxx, Mana and Marc Anthony.
Thanks for reading CBS NEWS.
Create your free account or log in
for more features.