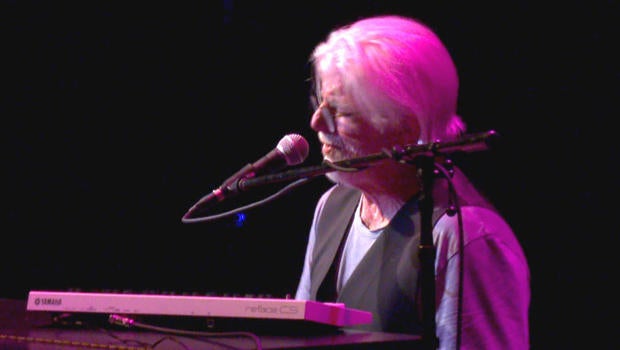 Michael McDonald is back with "Wide Open"
"Sweet Freedom" was a huge hit back in 1986 for Michael McDonald, who enjoys a large and loyal following to this day -- and he's not about to rest on his laurels. Jim Axelrod has a Sunday Profile:
The hair is now white, but the voice is still solid gold.
At 65, after four decades as soft-rock royalty, having sold tens of millions of albums, Michael McDonald could easily choose to dial it back and live the good life at his home in the hills of Santa Barbara.
Instead, he's hitting concert halls across the country, touring with Amy Holland -- his wife of 34 years -- and conducting a rock 'n' roll reality check.
"You start to look at the world around you and you start to wonder, 'How out-of-step with all of this am I getting,' you know?" he told Axelrod. "And you catch yourself at times. You know, like driving down the freeway at 40 miles an hour with your blinker on in the left lane! And you go, 'Oh my God, I'm that guy.'"
That's right: after five Grammys; after half-a-dozen years fronting the Doobie Brothers at the peak of their popularity … after having his vocals sought after by old-school performers like Christopher Cross and his melodies sampled by hip artists Warren G and the late Nate Dogg … Michael McDonald is wondering if he still has it.
His new album "Wide Open" -- his first collection of original songs in 17 years -- asks the question straight-up: "Does the sound of my voice still carry any kind of message still important to you?"
To hear Michael McDonald perform "Hail Mary" from the album "Wide Open," click on the video player below.

Axelrod said, "You're asking the question: No matter what you've accomplished in your life, no matter how many millions of records you've sold, there comes a point where you're still wondering if you have relevance."
"Yeah, I think everybody -- not just singers -- everybody's asking that question at some point in their life."
You can't blame McDonald if it took him longer to get to that question than most of us. His run of success in the music business started early. As a young teenager he was already backing up all kinds of acts in clubs around his hometown of St. Louis.
At age 14 he was backing Chuck Berry. "His manager sent down an acetate, which is the old, what they used to press records from. And [Berry] goes, 'I just recorded this song. I wanna play it tonight. And I want you guys to learn it.'
"And so from what I can figure, we were probably the first band to ever play 'No Particular Place to Go' live in front of an audience with Chuck Berry."
He was playing piano at clubs in southern California in April of 1975 when a friend floated his name to a group looking for a singer: The Doobie Brothers gave him a two-song tryout.
"I played those same songs two nights before in a club in Glendale -- 'Long Train Runnin'' and 'Listen to The Music,'" he laughed. "And I remember thinking, 'Gosh, I just played these songs.' And so, you know, everything changed in that moment for me."
The guy who'd been playing covers two nights before in Glendale never looked back.
To watch the Doobie Brothers perform "Long Train Runnin'," click on the video player below.

But imagine the whiplash. Suddenly, established stars like Kenny Loggins were dropping by.
"My sister was cleaning up the house, 'cause she wanted to meet Kenny Loggins," McDonald recalled, strumming a little tune he'd been working on at the time. "And so I played that little thing for her. I said, 'Well, what do you think? Should I play that for Kenny?' She goes, 'Yeah, play that for him. And he happened to be at the door."
Loggins overheard McDonald playing what would eventually become "What a Fool Believes."
"Before anything else, he goes, 'What were you just playing on the piano?' And I go, 'Well I was just actually playing that for my sister. It was an idea I was gonna play for you.' He goes, 'That's what I want to work on first.' It was the first time we'd met."
To watch the Doobie Brothers perform "What A Fool Believes," written by McDonald and Loggins, click on the video player below.

McDonald was now strapped to a rocket, launching into a rare orbit.
The ride up did get a bit bumpy. "Probably some of the most miserable years of my life were grappling with some definition of what success was," he said.
"'What a Fool Believes ' sells three-million copies, wins four Grammys, and you're miserable?" asked Axelrod.
"I think when you're not prepared for something, success can be as crippling a thing as failure to people. I think it touches whatever insecurities you have, that you may not be as in touch with you as you should be, or whatever."
Drowning those insecurities in booze, he bottomed-out in the mid-1980s, before getting sober and regaining his bearings -- topping the charts with Patti LaBelle in 1986 with "On My Own," and then backing it up with another Top 10 hit, "Sweet Freedom," that same year.
To watch the music video for Michael McDonald's "Sweet Freedom," click on the video player below.

He also earned the kind of ribbing that's a backhanded compliment reserved for only the boldest of our bold-faced names:

He said he tells his son, also a songwriter, "'You know, listen, when your music becomes less relevant, your pathetic comic value may be of some use! Don't laugh too hard!'"
Actually, Michael McDonald is nowhere close to giving up yet. Talk to him these days, and you'll hear a man who seems to be wrestling his doubts to the ground. "I don't know that we ever overcome doubt," he said. "We just have to remember that it's more than likely a poodle in the bushes, and not a grizzly bear."
Axelrod asked, "What is it that you've accumulated over the last four decades that is informing what you're doing now?"
"I think it's what everybody accumulates with that time, if they live long enough, about the things they love … a greater appreciation, a greater gratitude, and a greater understanding of why it makes them happy," he replied.
And perhaps in that message is the relevance Michael McDonald has been searching for.

For more info:
Thanks for reading CBS NEWS.
Create your free account or log in
for more features.