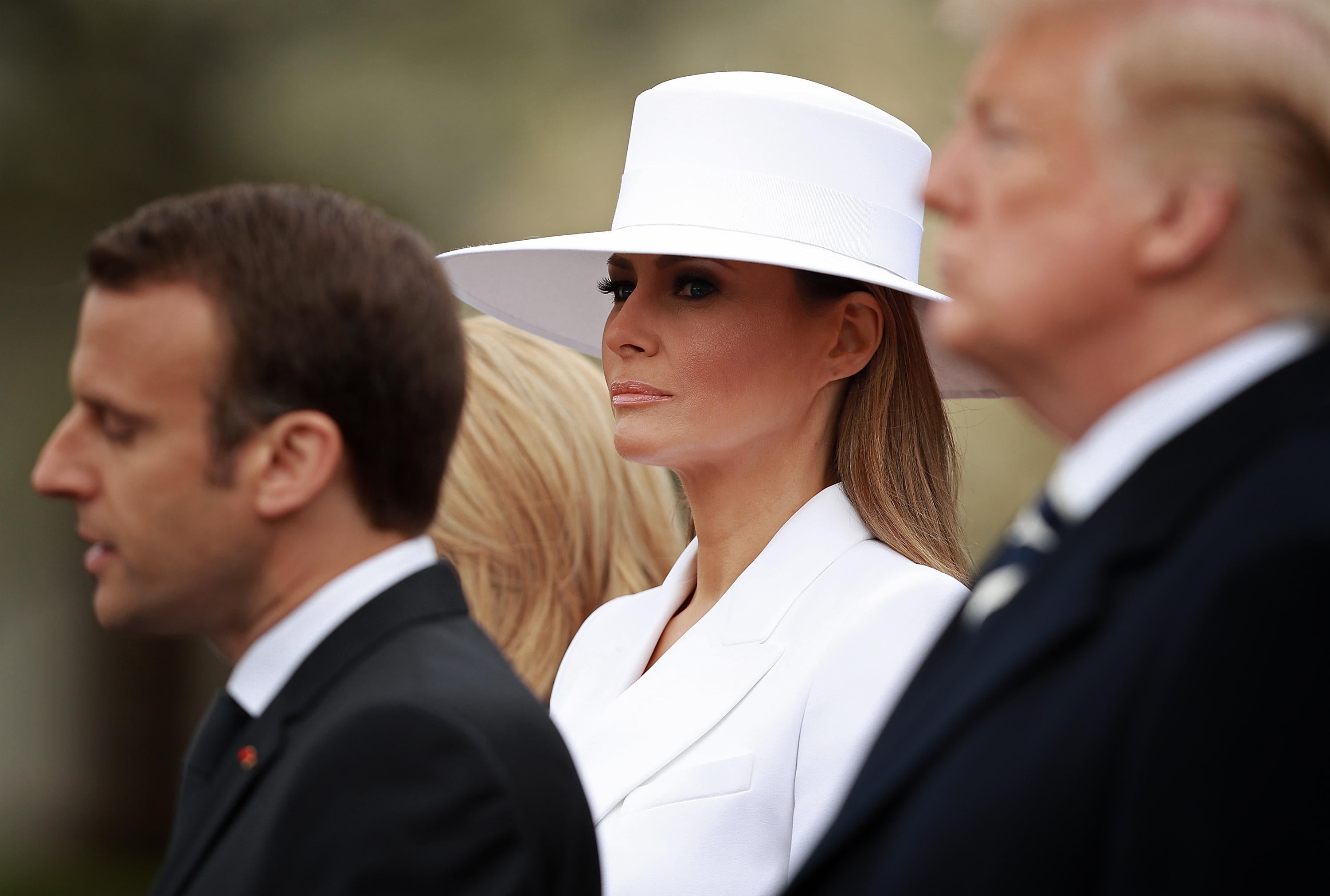 Melania Trump's hat has the internet in formation, comparing her to Beyoncé
On Tuesday evening, President Trump hosts French President Emmanuel Macron for the first formal state dinner of his administration. This morning, the president and first lady gathered on the South Lawn of the White House with members of the Cabinet to greet Mr. Macron and his wife, Brigitte, in a traditional arrival ceremony featuring a 21-gun salute and a review of troops. The festivities were brimming with nearly 500 members of the five military branches, but that's not the brim that caught the internet's attention.
No, that honor goes to first lady Melania Trump, who arrived at the ceremony in a wide-brimmed white hat that now has social media users across the globe in formation.
Two white suits

At the arrival ceremony on the South Lawn of the White House, both the U.S. and French first ladies chose tailored white skirt suits. In doing so, while their husbands presented a united front on issues like the recent military strike on Syria, Melania Trump and Brigitte Macron subtly accentuated that united front with aesthetics.
While the French first lady opted for a more classic Chanel-style boucle dress and matching jacket, first lady Melania Trump made fashion waves by pairing a $2,195 Michael Kors Collection asymmetric belted crepe blazer and skirt suit with a trendy wide-brimmed Michael Kors Collection hat. Both completed their looks with sky-high stiletto heels.
The American first lady is no stranger to white suits. In fact, she lit up the internet earlier this year by selecting a white Dior pantsuit for her husband's first State of the Union address. That outfit, though certainly memorable, did not conjure Beyoncé comparisons, which could quite possibly be the highest form of flattery that social media users in 2018 have to offer.
What's more, the pop culture references inspired by Melania's hat did not stop there.
On Monday evening, President Trump and the first lady dined with the Macrons at Mount Vernon. For the dinner, Melania Trump donned one of her signature Dolce & Gabbana dresses with a Givenchy wool tuxedo cape (seen below), a choice many are viewing as a deliberate move to honor French fashion.
Less than 24 hours later, she gifted the internet with her white hat. So, while details on her gown for tonight's state dinner will remain tight-lipped until the evening, who knows? With two fashion successes already under her Michael Kors belt, she just might go for a hat trick.
Thanks for reading CBS NEWS.
Create your free account or log in
for more features.