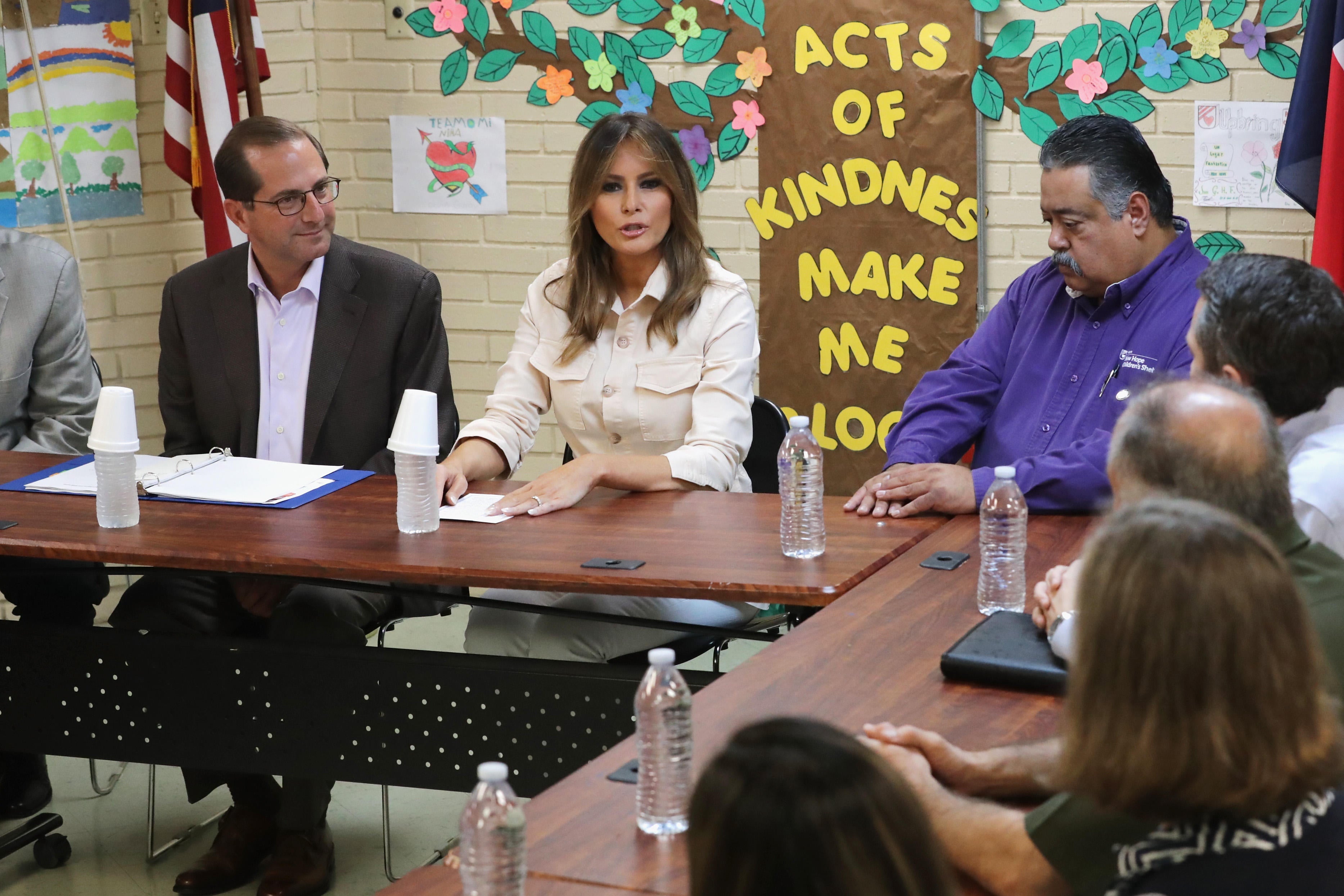 Melania Trump visits detention center in Texas
First lady Melania Trump visited a detention center in Texas housing immigrant children separated from their parents at the U.S.-Mexico border. As part of her Thursday visit, she toured the facility and participated in a roundtable with the facility's staff to learn more about the plight of the children. She asked the staff, "How I can help ... these children to reunite with their families as quickly as possible?"
Trump expressed concern about the physical and mental well-being of the children. During her visit, she asked how often they're able to communicate with their families. Children who have verified family members are allowed to speak to their families 10 minutes, twice a week.
"We all know they are here without their families and I want to thank you for your hard work, your compassion, and your kindness you are giving to them in these difficult times," she said, addressing the staff.
The Upbring New Hope Children's Center in McAllen, Texas, currently houses 55 immigrant children between the ages of 12 and 17, although the facility is licensed to care for children as young as 6.
The visit was Trump's idea.
"Her goals are to thank law enforcement and social services providers for their hard work, lend support and hear more on how the administration can build upon the already existing efforts to reunite children with their families," the White House's Office of the First Lady said in a statement.
Trump first spoke out against separation at the border on Sunday, saying that she "hates" seeing children taken away from their parents.
On Wednesday, her husband signed an executive order ending the policy of immediately separating immigrant families who cross the border illegally. Under the administration's zero-tolerance policy, all adults caught illegally crossing the border are to be prosecuted. While adults await prosecution, their children are put in the custody of a division of the Health and Human Services Department.
The president's executive action is not a permanent fix. It does not override the Flores consent decree, which means that the children could still likely be separated from their parents after 20 days.
Images and audio depicting children in these detention centers crying for their parents, who face deportation and other illegal immigration processes, have prompted a nationwide uproar.
Republican and Democratic lawmakers and governors alike object to the policy. And all five living first ladies have spoken out against the measure, which stems from Attorney General Jeff Sessions' zero-tolerance policy of illegal immigration at the southern border.
Thanks for reading CBS NEWS.
Create your free account or log in
for more features.