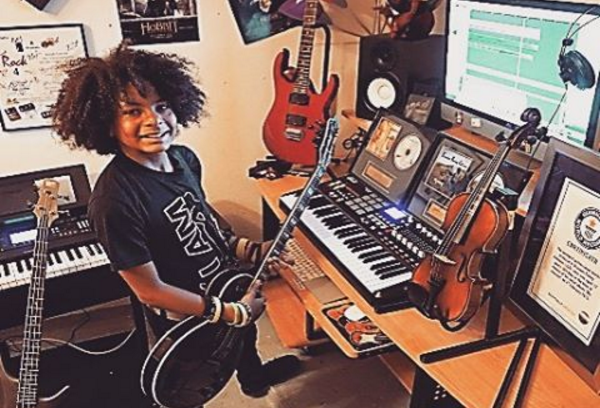 It's official! Meet the world's youngest professional music producer
EL PASO -- On the streets of El Paso, Brandon Bailey Johnson rolls like any other 13-year-old. But in the family garage, he rocks.
Brandon is a one man band, shredding on the guitar, playing the violin, and banging on the drums. He even plays the piano.
And just above that piano is a certificate from Guinness, recognizing Brandon as the world's youngest music producer. He wrote the songs, arranged the music, played all the instruments, and recorded his first album at the age of 12.
The album is called "My Journey." Its debut came at an El Paso pizza place.
"It's what I like to do so, it's not really work," Brandon said -- although he did get paid for his first album.
Brandon's been jamming since he was in his jammies. He performed his first show at the age of 7. One of his idols growing up was legendary performer Prince. When the artist passed away last month, he posted a tribute video that has racked up over 15,000 views.
The teenager is so good, older artists like 25-year-old Damien Munoz come to his garage to fine tune their music.
"Right now, he's still so young so he has time to progress," Munoz said. "But he's already at that 'Hey, I'm as good as you guys' level."
He performs at giant musical festivals. One concert was in front of 45,000 people at El Paso's Sun Bowl stadium.
"Sometimes I'll get really nervous if I see a cute girl in the audience," Brandon told CBS News.
Brandon's parents, Nancy and Terry Johnson, don't play any instruments themselves, but they serve as roadies, tech advisers and his biggest fans. "We're ecstatic. It's just amazing."
"I'm just happy and excited that people are getting to see him and know him," his mom said. "I'm mom, but he's a talented, cool kid and I couldn't be happier."
Brandon hopes someday to make his own movie, but for now the world's youngest music producer is happiest making records ... and setting them.
Thanks for reading CBS NEWS.
Create your free account or log in
for more features.