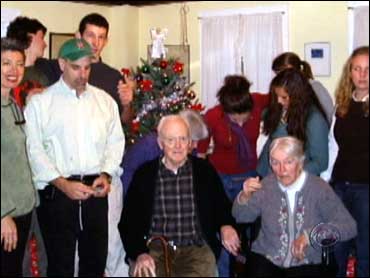 Mediators Save Caregivers' Relationships
Sarah Burrows lights up while describing how her parents used to be: vigorous, outdoorsy, adventurous, CBS News correspondent Thalia Assuras reports. Her father, Belton, was a prominent Boston physician. Her mother, Dorinda, was an artist.
"Their lives are very simple right now," Sarah says.
Ten years ago, her mother developed Parkinson's. Five years ago, Alzheimer's came to her father. Sarah and her five siblings found themselves responsible for their parents' care. "Years ago we weren't thinking, 'oh, in 20 years I'll be taking care of my folks,'" says Allyn, a New York actor.
"Everything that we take for granted we have to do for them," says Warren, a North Carolina physician.
---

Read mediation resources for caregivers.


---
For siblings Allyn and Warren, and Sarah, a college instructor, and for others in Boston, Kansas and Israel, the issues were daunting: Who would manage their parents' finances? Who would care for them physically? And, most contentious: Should remain in the family house?

"My father didn't want to leave the house that they were in," Allyn says.

Six opinionated siblings struggled to work together in a tense tug of war that lasted for years.

"Lack of communication" was getting in their way, Allyn says.

"There were times when the discussions got heated," Sarah adds. "On some issues it could be pretty raw," Warren says.

So the Burrows opted for mediation. It's fairly common in divorces and business deals gone bad, but it's something new for families struggling with how to care for aging parents.

A training video from Pennsylvania's Montgomery County Mediation Center shows how mediation works. The parties meet face to face and lay out their issues. The mediator restates them and helps families separate issues from emotions.

Sarah says it works. "There's an outside person there. You have to behave yourself," she explains.

Blair Trippe of Boston's Elder Decisions Agency was the Burrows' mediator. After a face-to-face session, she produced a document spelling out the tough issues in black and white.

"It matters a lot. Family relationships are incredibly important," Trippe says.

After mediation, the family reached an agreement to sell their parents' beloved-but-unmanageable home and moved them to a smaller house.

"It got us moving; not that we weren't moving before, but it got us to focus," Warren says.

Still, the Burrows haven't solved everything and say mediation was no more than a catalyst. They give credit to one constant.

"Staying together as a family and having relationships with one another was the endgame," Sarah says.

Thanks for reading CBS NEWS.
Create your free account or log in
for more features.