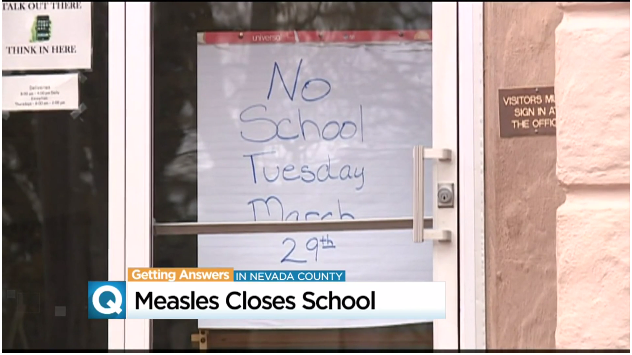 Measles case shuts down California elementary school
A case of measles shut down a California elementary school as officials try to prevent an outbreak in an area with one of the lowest vaccination rates in the state, CBS Sacramento reports.
Yuba River Charter School in Nevada County, northeast of Sacramento, was closed on Tuesday, extending its spring break by a day, after reports that an unvaccinated student came to school infected with measles before the break.
The school planned to reopen on Wednesday, but only for students who have been vaccinated. School officials will be checking records before students go inside. Students who have not been vaccinated will not be allowed back until at least April 8.
The Nevada County Health Department confirmed the measles case, saying it's associated with international travel and an unvaccinated individual.
Gina Herbert and her daughter showed up for school on Tuesday only to find the doors closed.
"I'm not really interested in vaccinating her, though, because I'm more concerned with problems that could cause her harm," she said.
She's not alone in that sentiment.
According to school records, there were 225 students at school on the day of the exposure, and 124 of them do not have vaccinations. Last year, vaccination rates came in at 43 percent.
Many parents refuse to vaccinate their children because they believe vaccinations are linked to autism, despite decades of medical research that has found no evidence of a connection.
The disease was declared eliminated in the U.S. in 2000, but pockets of unvaccinated children have led to outbreaks in recent years, including one last year linked to Disneyland.
Experts say low vaccination rates continue to raise concern.
"We've been without measles for a long time," Dr. Ken Cutler said, "and a lot of parents who are making decisions about vaccinations have not seen the consequences of these vaccine preventable diseases."
Thanks for reading CBS NEWS.
Create your free account or log in
for more features.