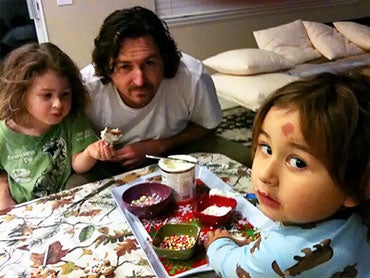 McStay Family Update: FBI Joins Search for Missing Family
FALLBROOK, Calif. (CBS/AP) The McStay family's dogs were left hungry and food was spoiling in the kitchen when Joseph McStay's brother checked on their house. The family's car was found in a parking lot near the Mexican border. The McStays had disappeared.
PICTURES: McStay Family Missing
Two months after Joseph McStay, his wife Summer and their two young sons were last heard from on Feb. 4, the search for the missing family continues, but now with the help of federal agents.
The FBI will be briefed on Friday about on the case and lend their resources in Mexico, where San Diego Sheriff's investigators are focusing their search.
Surveillance video may have captured images of the McStays crossing the border on foot. Their white Isuzu Trooper was found in a nearby parking lot.
PICTURES: McStay Family Missing
Investigators also found e-mails indicating the McStays had asked about passport requirements for traveling to Mexico with children shortly before they disappeared.
Relatives said it's uncharacteristic of the McStays to simply pick up and leave the country without telling family members.
Tracy Russell, Summer McStay's sister, said the idea that the family may have planned to go to Mexico has made her even more worried.
"I know I should feel a little bit better, but I don't," Russell said. "My mother is distraught. I don't think my sister would torture my mom like that."
Neither of the McStays is fluent in Spanish, relatives said. Summer McStay's passport is expired. Their youngest son's birth certificate, required for re-entry to the United States by minors under 16, is with a grandmother, relatives said.
Detectives have no evidence that the family had financial problems or were facing threats.
If you have information on the case, call Sgt. Dave Martinez at 858-565-5200.
MEDIA
PICTURES: McStay Family Missing
MORE ON CRIMESIDER
March 9, 2010 - McStay Family Update: Border Surveillance May Have Caught Family on Tape
March 3, 2010 - McStay Family of Four Still Missing, Cops Searching
February 24, 2010 - McStay Family of Four Vanishes Near Mexican Border

Thanks for reading CBS NEWS.
Create your free account or log in
for more features.