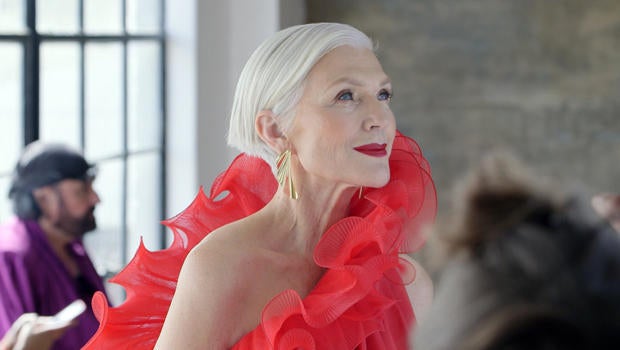 Maye Musk, the silver cover girl
She's SEVENTY ... and she's in Harper's Bazaar! Alina Cho talks with a model mom:
Even without makeup, Maye Musk is radiant. But after an hour in the chair with a top hair and makeup team, along with a glamorous selection of gowns and shoes, she's ready for her closeup.
"Yeah, I know, at age 70 I think it's about time I was in Harper's Bazaar!" she laughed.
Yes, last month, Musk celebrated her 70th birthday.
"Seventy years young – how's it feel?" asked Cho.
"Fabulous. I feel great."
And how many grandmothers would dare to do this?
"Standing on an apple box, and the gown low down, and I'm saying, "Have they no respect for age?" she chuckled. "I mean, what's this about?"
Apparently, these days, it's all about Maye. Not only is she featured in this month's Harper's Bazaar, she's also in the June issue of AARP. She walked the runway at a recent Dolce & Gabbana show, and even made an appearance in a Beyoncé video…
And then there's this TV commercial – as the oldest Cover Girl ever.
"They say at a certain age you just stop caring. I wonder what age that is."
Cho asked, "Did you ever think that, at 70, you'd still be modeling?"
"If I'd said that when I was 28, they would have said, 'We can't use her again. She's a bit crazy,'" Musk laughed. "So, no, you don't think that at all. And now, at 70, I'm doing the best work I've ever done."
Most fashion models are considered over the hill in their 30s. "Actually, I was told, at 15, that I'll be over the hill at 18!"
There may be another reason you know her name: Maye Musk is the mother of Elon Musk, the billionaire entrepreneur, founder of high-end electric car maker Tesla, and Space X, the largest private maker of rockets.
Exploration is in their genes. Maye's adventurous parents picked up and moved the family from Canada to South Africa when she was just two.
Her father was a pilot: "An extraordinary one, the only person to fly from South Africa to Australia in a single-engine plane. My mother was the navigator. So, they went all the way up Africa. Now, this is with a compass and a map."
She started modeling at age 15. Along the way, she fell in love with Errol Musk, an engineer. They wed when she was 22.
"I got married and fell pregnant on honeymoon," she said. "So then I had the three kids."
Three highly-accomplished children: Elon; younger brother Kimbal (now a pioneer in the farm-to-table movement); and the youngest, Tosca (a film producer and director).
Cho asked, "At this point in their lives, do they listen to you?"
"If there's something they're doing that I'm not happy about, I would certainly say it. I do discipline my grandchildren!" Maye laughed. "They have to show good manners. And not only do they clear their plate, they have to clear my plate and anybody else's plate, too. But the kids are good. I don't want them to feel entitled."
"You might have been a disciplinarian with your children," said Cho.
"Yeah, I'm thinking I probably was. Because I don't tolerate bad manners."
Raising the kids wasn't always easy. After nine years of marriage, she divorced and eventually returned to Canada, where she and the children lived in a rent-controlled apartment, paycheck-to-paycheck.
"I would say, anyone who knows me says they don't envy my life. I've just been through very hard times," Maye said. "I had to pay the rent. I needed the roof over our head and food for us to eat."
"You said, 'Poverty makes you work hard,'" Cho said.
"Yes. People asked, why was I motivated? I would say, I wanted to survive."
She worked part-time as a model while earning her second master's degree in nutritional sciences – not always listening to her own advice. She actually 50 to 60 pounds, and for a while worked as a "plus-sized" model.
"Well, what happens is, I was really under stress. Ice cream, chocolate, fries, burgers, I loved it!" he laughed.
"And then, at some stage, my weight will stop going up. And it didn't. It just kept on going up until I got over 200 pounds."
Cho asked, "At what point did you decide, 'I'm going to lose the weight?'"
"When I was increasing my risk for disease."
Even today, she says it's still a struggle.
Cho asked, "You don't trust yourself?"
"No! You can't trust yourself! You know how weak you are. When someone brings a box of chocolates to me, they say, 'You can have one every day.' It's not in my genes. I'm incapable of having one chocolate a day."
Watch Maye Musk dance to Beyoncé's hit song "Single Ladies," and you see a woman at the top of her game, and quite content with being, well, single.
When asked about her love life, Musk said, "Well, I'm really too busy for that, yes. And secondly, yeah, I haven't met someone that's of interest to me, who would tolerate my schedule."
Cho asked, "Are you open to it?"
"No."
"Oh, come on."
"I know! I just don't see – when would I have time?"
"Maye, if the right man came along …"
"'If the right man …'" she laughed. "But I've never met the right man. Never."

For more info:

Story produced by Jay Kernis.
Thanks for reading CBS NEWS.
Create your free account or log in
for more features.