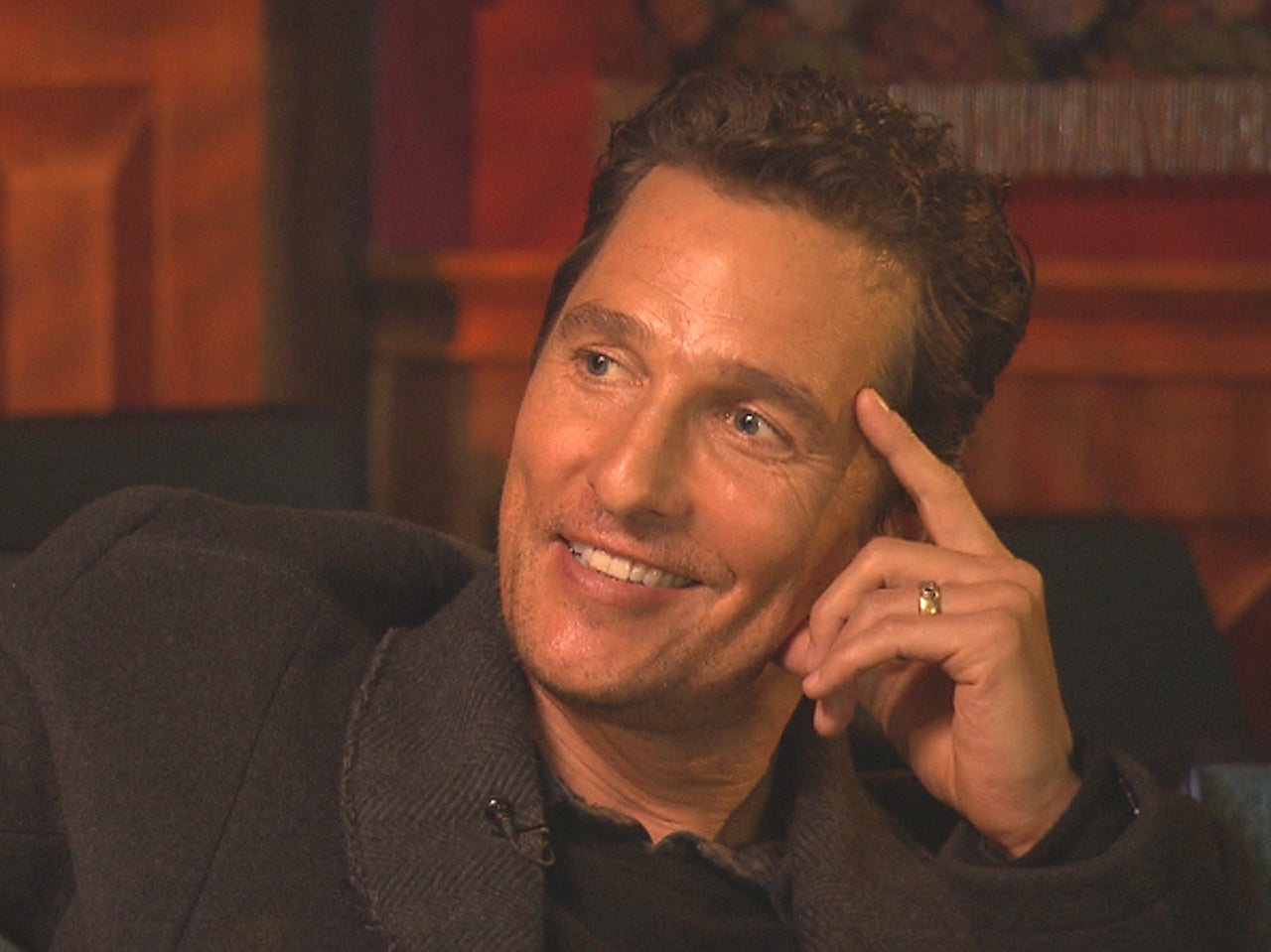 Matthew McConaughey: Finding comfort in uncomfortable roles
Matthew McConaughey shared scenes with Leonardo DiCaprio in "The Wolf of Wall Street," but it's his role in another film that could win him an Oscar when they ask for "the envelope, please..." next month. He talks about that and more with Lee Cowan:
The University of Texas has a lot of famous alumni, but few get a reaction quite like this:
"Are you Matthew McConaughey? WHAT? Oh my God, oh my God, oh my God!"
Matthew McConaughey was just about the age of these students when he landed his first film role … and he fell in love with acting from Day One.
"It was so much fun, and people were saying, 'Hey, you're good at this.' And I was like, 'Well, I love it! I mean, great! Invite me back tomorrow!'"
At 44 he's been at it more than 20 years, so he's no stranger to a red carpet. But this year is different.
"Alright, alright, alright!"
He's won a string of Best Acting awards, and been nominated for his first Oscar, all for a character most studios didn't want to touch.
"Dallas Buyers Club" is based on the life of Ron Woodroof, a homophobic cowboy-turned-crusader after he finds out he's HIV positive.
How many times was the film turned down? "Hundred and thirty-seven times," said McConaughey."That was the final tally."
"Why was it such a hard picture to get made?" asked Cowan.
"You read that one liner -- period piece, AIDS, drama with a homophobic hero -- those ingredients don't make anyone go, Oh I'm gonna really hear the change in my pocket. I'm gonna really be making money on that!"
His performance was one thing; McConaughey's physical transformation was another. He lost 47 pounds over four months. "I think that adds up to, like, three-and-a-half pounds a week," he said.
"You just didn't look skinny though, you really wanted to look sickly?"
"That's what I needed to do," said McConaughey. "That's where Ron was. I was measuring myself and also quietly measuring other people's reactions. And it went from, 'Oh, you're losing weight,' to, 'Oh, man, you look really skinny,'
"And then it got to a point that people are like, 'Oh my God, are you okay?' And that's just what I needed to be for Ron."
It's not his only role people are talking about. His new HBO mini-series, "True Detective," with Woody Harrelson, is getting attention, too.
And there there's his cameo in "The Wolf of Wall Street." McConaughey plays the chest-thumping, cocaine-snorting mentor to Leonardo DiCaprio.
"So the chest thumping is actually a ritual for you, right?" asked Cowan.
"It's something I do to relax myself, to try to get my voice down low," he replied. "I'd be sitting there, hhhmmm hmmm hmmm, just to stay in it. Stay in my zone, and keep the rhythm."
It was DiCaprio's idea to incorporate McConaughey's rhythm into the scene.
"The last few takes, I don't think we spoke English to each other," he laughed."
The familiar drawl is all Texas, where he was born and raised. He lives in Austin with his wife, Camilla Alves, and their three children.
He thought he'd be a lawyer, but a few years into his stint at the University of Texas, while in his fraternity house, he decided storytelling was more up his alley.
"I was the only fraternity guy in film school, maybe ever at that point," McConaughey said. "Maybe still."
He got his first shot not far from his frat house, when he landed the part of stoner David Wooderson in "Dazed and Confused."
"That's what I love about these high school girls, man: I get older, they stay the same age!"
Director Richard Linklater says he saw something in McConaughey right away: "I saw a great actor, someone who could just take a character and completely go into that character."
He put him in his very first scene in a parking lot at the Top Notch Drive-in:
"Alright, alright, alright!"
"And boy, that night changed the whole production," said Linklater. "From then on, I heard crew, the grip kinda going, 'Alright, alright, alright!' It's like when the player on the team makes a great play and the whole team goes in that direction. That's what we did from this moment on."
But during production McConaughey's father died unexpectedly.
"I was lost at that point," he said. "I didn't understand. I didn't think my dad could die. No, he's the Abominable Snowman, you know? It's like, he can't, that was my dad, man. He's untouchable that way."
His father never saw his son's rocket to stardom. It came just three years later, when McConaughey starred opposite Sandra Bullock in "A Time to Kill." It hit big.
"'I became famous over a weekend," he said. "There was an imbalance to how the world was the Friday before that film came out to the Monday it did come out. The world changed."
A string of romantic comedies followed that may have disappointed the critics, but not him.

"For a while," said Cowan, "the headline on you was the sexy, shirtless guy, living on a beach having a good life, doing a lot of rom-coms. So what changed?"
"What changed? I was going fine in my career, I was enjoying my career," McConaughey said. "My life started to feel more exciting than my career, which I was happy that it goes that way instead of the other way. But I said, I'm gonna have to stop doing what I've been doing."
"'Cause that was sort of your fastball."
"That was my fastball, sure,"
But it was time for a change-up.
"The first thing was saying no to the things that I was doing," he said. "I got together with my wife. We said, 'Look, we're financially okay. We're gonna eat and pay the rent. It's gonna be dry for a while. Don't know how long.' That was sort of scary. We didn't know how long.
"I just wanted to spice it up. I wanted to shake things up for myself. I wanted to go down to do some roles that shook my floor, that made me uncomfortable."
For two years he turned down all the comfortable roles, while waiting for those floor-shaking ones . . . and eventually they came.
He was cast as a hit man in "Killer Joe"; a roving attorney in "The Lincoln Lawyer"; a tree-dwelling eccentric in "Mud"; and a male strip club owner in "Magic Mike."
"All of a sudden now, I became somebody's good idea," McConaughey said.
"It's like you wiped the slate clean?"
"Right -- I un-branded, I think is the best way I could say it," he added.
Some have called his change the "McConaissance" … whatever it is, it's made McConaughey as popular as ever.
Although he is decidedly un-sexy in his most-heralded role so far, there is still plenty of passion.
"I've been choosing the experience, and I've been loving the experience of it," he said, "and I've noticed that if I stick to the process and love the process and what I'm doing, head down, but not thinking about results -- I really haven't been thinking about results for some time -- it's interesting, because now more results are coming my way."
For more info:
Thanks for reading CBS NEWS.
Create your free account or log in
for more features.