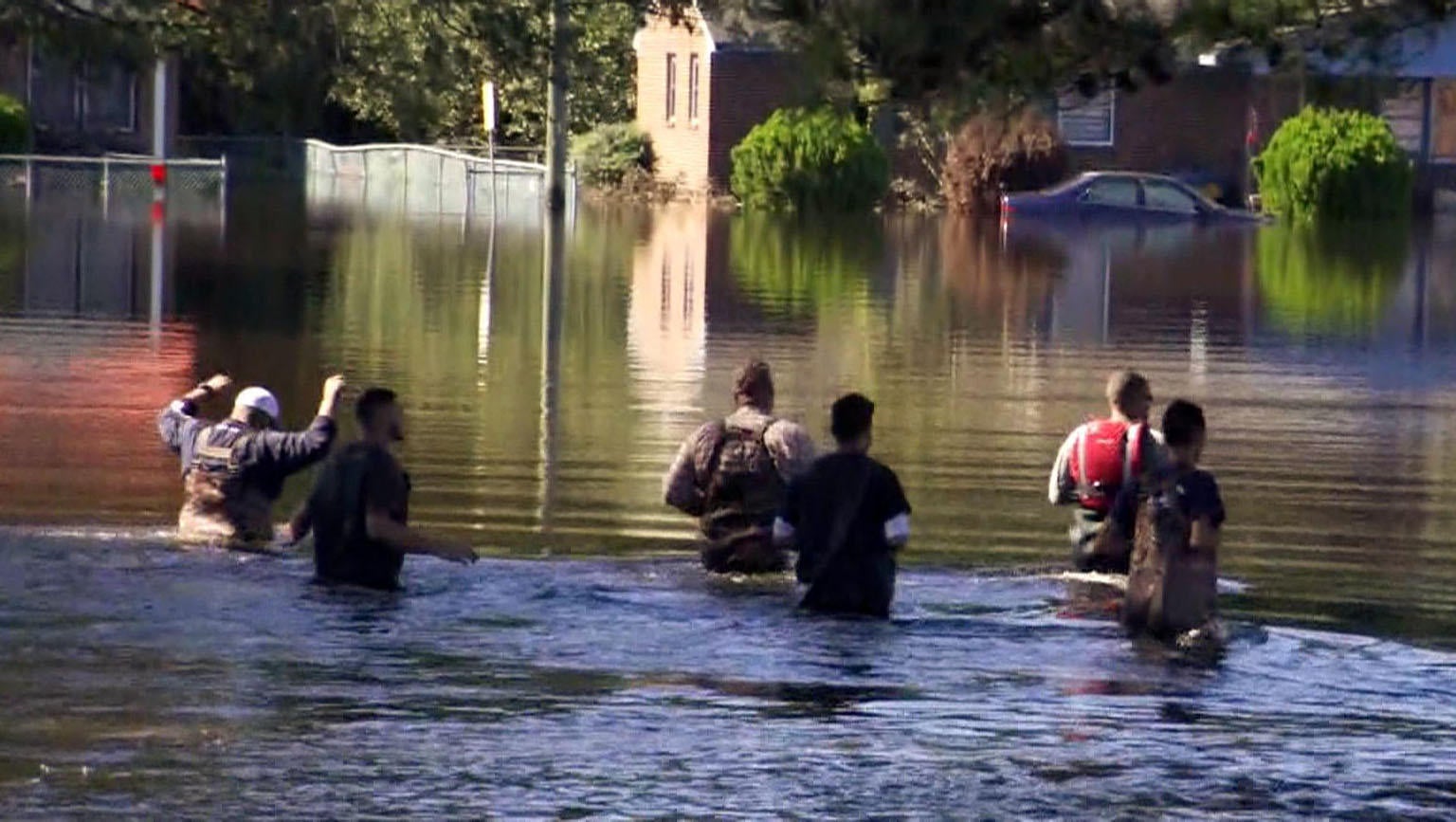 Matthew flood rescues continue as water rises in N.C.
RALEIGH, N.C. Rescue teams have now reached hundreds of flood victims in Lumberton, reports CBS News' Mark Strassman. In much of the city, the water is waist-deep and rising because the surging Lumber River nearby has yet to crest.
Most of the stranded have been reached. These are now targeted rescues, responses to tips or calls, for chief Jimmy Hunt's team of volunteer firefighters.
"It's pretty horrific what we've seen out here," Hunt said. Their five-ton truck has ferried dozens of people to dry ground.
"When you see folks come out. Double-amputees. No legs. And we are able to get those folks out of their houses it just makes you feel warm on the inside."
But rescue teams somehow missed Joanie Gaddy trapped in her flooded home since Saturday.
"Alligators and snakes, water up to your knees in my house and when you step off the porch, up to your neck. Water up to my neck," Gaddy said, crying.
Her son, Jim Floral, got worried he hadn't heard from her. He drove 16 hours from Michigan, and with a cousin's help, rescued her in a borrowed boat.
"It's mom, what would you do? You only get one," said Floral.
There have been 33 deaths across North Carolina, South Carolina, Florida and Georgia due to the storm. North Carolina Gov. Pat McCrory said 17 of those deaths were in his state, reports CBS affiliate WNCN.
McCrory said at Tuesday evening's press conference three more deaths were confirmed. One person died in Columbus County and two died in Robeson County, McCrory confirmed.
The governor said a federal disaster declaration has been approved for 31 counties. He is working to make sure Sampson, Harnett, Bertie, Johnson, Wilson, and Wayne counties are included to get FEMA assistance.
Another tragedy occurred in Lumberton approximately 8:30 p.m., McCrory said. A confrontation between a North Carolina State Highway Patrol officer led to a fatal shooting.
A 15-mile stretch of Interstate-95 in Harnett and Cumberland counties is now open but a segment of I-95 near Lumberton remains closed.
Matthew left behind flooding, power outages and residents who went missing or who were in need of being rescued from their homes.
The governor said Tuesday that there has already been more than 2,000 water rescues using 79 boat crews across the central and eastern portions of the state. The majority of the rescues have been in Robeson and Cumberland counties. FEMA Swift Water Rescue teams have executed the rescues.
There have been 26 rescues by North Carolina helicopter rescue teams, seven of which occurred overnight.
To date, 94 air rescues have been made by the U.S. Coast Guard, McCrory said.
On Monday, Cumberland County officials said initial reports had four people are unaccounted for due to high water.
Three of those originally reported as missing have been found.
McCrory said Tuesday that three people are still missing — two in Cumberland County and one in Johnston County.
The two who were missing in Cumberland County — Christy Woods, 45, and Boris Sebastian Abbey, 43, were both located and are safe.
There were a number of people who were feared missing shortly after flood waters started rapidly rising. Many of those reported missing were in areas with high flood waters.
There has been concern about dams breaching and levees breaking throughout central and eastern North Carolina following torrential rains that dumped as much as 15 inches on Goldsboro and more than a foot in Fayetteville.
Evacuations are currently underway in parts Greeneville, where McCrory says "the airport is flooding as we speak." Other areas of focus are the town of Princeville, in Edgecombe County, where McCrory says the next 24 hours will be "difficult."
"Get out. Get out now," McCrory said to those in the area of Woodlake Dam in Moore County.
South Carolina slowly recovered from Matthew on Tuesday, President Barack Obama declared 13 counties disaster areas, opening the way for federal aid to help local governments and state agencies recover from the storm. Aid for individuals is not now included.

Residents of Hilton Head Island finally got to return to their homes four days after the storm and about 290,000 electric customers around the state remained in the dark.
Gov. Nikki Haley said South Carolina has gone from battling a hurricane to dealing with flooding and warned the flood threat, especially in the Pee Dee, may not ease for days.
In Nichols, about 10 miles from the North Carolina line, McDowell, her husband Tim and two sons, ages 10 and 14 were having a late lunch Sunday after Matthew was headed to sea and thought they had safely weathered a storm that had dropped 15 inches of rain in the area.
"We were fine from the storm. There was no water," she recalled Tuesday.
That's why what happened next was so unexpected.
In only 45 minutes the Lumber River more than a mile away rose so quickly the water covered the driveway of their modest ranch house north of town. Just over an hour after that they grabbed some belongings and drove to the nearby hospital where they both work, spending the night with their family in two unoccupied patient rooms.
This week about 150 people from Nichols, a community of only 400, were rescued from rising waters. On Tuesday the National Guard had closed all roads leading to the small business district where buildings stood in several feet of water.
Georgia's governor is extending a state of emergency for six coastal counties.
Gov. Nathan Deal issued the order Tuesday, extending the state of emergency for three days in Bryan, Camden, Chatham, Glynn, Liberty and McIntosh counties.
Deal says the extension allows the state to issue any necessary orders, rules or regulations in those counties as they continue to recover from Hurricane Matthew. Deal also prohibited price gouging in the six counties and said the state will provide any resources needed to help the region. The extension ends late Saturday night.
In a separate order Tuesday, Deal also extended his suspension of numerous federal regulations on truck shipping to "ensure the uninterrupted supply of emergency or disaster-related materials" and other supplies to the area. The order affecting trucking ends late on Oct. 20.

Thanks for reading CBS NEWS.
Create your free account or log in
for more features.