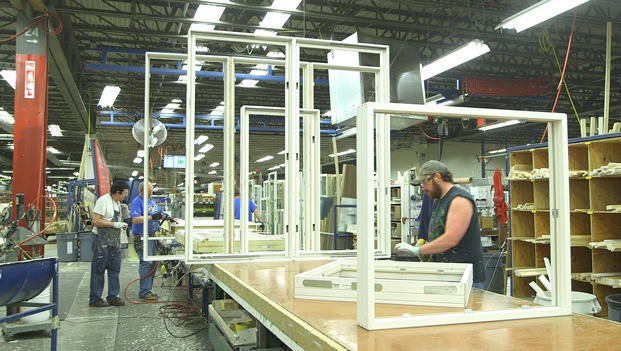 A window company's clear vision
This Labor Day is all about honoring workers -- but sometimes a job is more than just a job. When there's a shared vision, it can make all the difference. Connor Knighton takes us to a manufacturer in Minnesota to see for himself:
The pieces of pine may not be much to look at. But after they're sliced into different sizes, sorted and stacked, shaped and sanded, they start to transform into something you might look through.
The windows that eventually end up inside of homes are formed inside of a two-million-square-foot factory, the headquarters of the Marvin Window and Door Company. Every product here is made to order, and made in America. Just barely!
Marvin is located six miles away from Canada, in the tiny town of Warroad, Minnesota.
About 2,400 people work Marvin in Warroad -- that's more than the town's population of about 1,700.
Paul Marvin is the company's CEO. For the past four generations, his family has been this small town's largest employer.
"When Great-Grandpa George was starting up Marvin Lumber and Cedar Company in 1912, he went on the record a few years later as saying, 'You know, the reason I did it is because some of my friends couldn't find jobs, and if I didn't find jobs for them, they were gonna leave Warroad,'" Marvin said.
The company moved from lumber into windows, but it never left Warroad. Not when the factory burned to the ground in 1961 … not when the construction business collapsed in 2008.
Marvin's dedication to the local community has brought it national attention.
In a December 6, 2011 speech, President Barack Obama spoke of the family business in Warroad: "They did not lay off a single one of their 4,000 employees when the recession hit."
Kermit Jensen has been at Marvin for 32 years. He's held a variety of titles, but he'd be the first to tell you, they don't really matter.
"What we do doesn't define what we are," Jensen said. "It's who we are that defines what we do."
And what Marvin employees did, during the recession, was cut back on hours and perks so that newer employees like Tiffany Runnels could stay on the job. "Working here, you almost feel like it's a community within a community," Runnels said.
In a small community like this, when your co-workers are your neighbors, business is done a little differently.
"Whether we see them in church or at the grocery store or at the hockey rink," Marvin said, "and we do, we want to be able to look 'em in the eye and say, 'We did right by you.'"
A quick note about that hockey rink, by the way: It's huge! Warroad's other major export is hockey. Eight Olympians, several NHL stars, and more college players than they can count.
But it's the work that's kept people in this town -- that, and the views worth building a wall of windows to take in.
"Not everybody's a friend or neighbor, but there's a lot of people that treat you as a friend or a neighbor," said Bob Marvin. When he retired from the family business, he couldn't imagine living anywhere else. He stayed in Warroad to serve as mayor.
The trucks that leave the factory each day are carrying windows destined for homes all across America. But Marvin will always have one home: Hockeytown, USA … Warroad, Minnesota.

For more info:
Thanks for reading CBS NEWS.
Create your free account or log in
for more features.