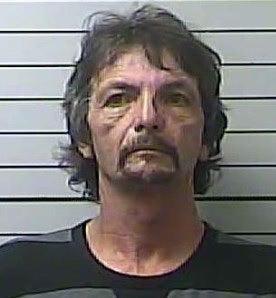 Miss. man bombs Walmart over Confederate flag: police
TUPELO, Miss. -- A man known for flying a 4-foot-long Mississippi state flag on his car has been accused of bombing a Walmart because the chain stopped selling the flag, the police chief said Monday.
The explosive made a loud bang but did no damage when it was thrown early Sunday into the 24-hour Walmart in Tupelo, Police Chief Bart Aguirre said Monday. He said bomb technicians reported that the package held enough explosive to damage the store if it had been assembled differently.
Marshall E. Leonard of Tupelo, a northeast Mississippi city of 34,500, was jailed on a charge of detonating an explosive, and police were searching his car and home, Aguirre said.
Walmart is among retailers that stopped selling merchandise bearing reproductions of the Confederate battle flag - which makes up the upper left section of the Mississippi state flag - after the June 17 killing of nine black worshippers at a church in Charleston, South Carolina.
Some Mississippi cities and institutions also have stopped flying the state flag.
"He's a strong supporter of keeping that flag flying. ... This is his way of bringing attention to that," Aguirre said.
Leonard did not yet have an attorney who could comment Monday, Aguirre said. His bond hearing probably will be held Tuesday, and the judge will appoint an attorney if Leonard, who lives alone and has no job, cannot afford one, the police chief said.
Aguirre says Leonard allegedly lit a newspaper-wrapped package and threw it into the store around 1:30 a.m. Sunday.
"An employee was sitting the vestibule taking a break. He told the employee to run - that he was going to blow the place up. He throws this package into the front entrance of Walmart. He flees and the employee flees," Aguirre said.
He said Leonard's silver Mazda is bedecked with stickers of the Mississippi state flag and the Confederate battle flag, and it sports a big state flag on a flexible pole. Leonard was arrested about 2 a.m. for running a red light near the Walmart, Aguirre said.
The state of Mississippi got swept up in the debate over the Confederate flag that erupted after a young white supremacist shot and killed nine in a black church in South Carolina. It has been among the most recalcitrant of Southern states to remove that and other Confederate symbols from the public sphere.
The University of Mississippi recently took the historic step of removing the state flag, which still sports a depiction of the Confederate flag.
"As Mississippi's flagship university, we have a deep love and respect for our state," the university president said. "Because the flag remains Mississippi's official banner, this was a hard decision. I understand the flag represents tradition and honor to some. But to others, the flag means that some members of the Ole Miss family are not welcomed or valued."
Since 1894, the Mississippi flag has had the Confederate battle emblem in the upper left corner - a blue X with 13 white stars, over a field of red. Residents chose to keep the flag during a 2001 statewide vote.
Thanks for reading CBS NEWS.
Create your free account or log in
for more features.