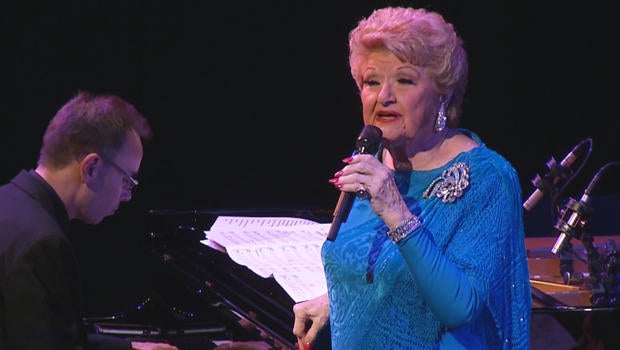 Marilyn Maye, proudly "old school"
Time now to Meet Marilyn Maye... the Grammy-nominated singer from another era who's enjoying a well-deserved comeback. Mo Rocca makes the introduction:
I'm gonna love you like nobody's loved you,
Come rain or come shine…
I guess when you met me
It was just one of those things.
But don't ever bet me
'Cause I'm gonna be true if you let me…
If this is the first you're hearing about singer Marilyn Maye, well, it's about time!
For over seven decades she's crisscrossed the country, playing hundreds of clubs, cabarets and joints.
At this year's star-studded Jazz at Lincoln Center gala in New York, it was Maye who owned the room. "There was a real sense that when you came on and performed that they responded like, 'This is the real thing,'" said Rocca.
"Oh, thank you," Maye said. "Oh, my! Don't cut that out of the interview!"
For Maye, the secret of connecting with an audience comes down to a simple preposition: singing to them, not for them … a lesson she imparts to her students between gigs. "It's very important to connect with the audience," she instructed.
Rocca asked, "You're not shy about making eye contact?"
"Oh, no. That's the whole purpose, is to tell you the story of the song."
Her story began in Kansas, where her mother got her into singing at age three. "And did your mother have to push you?" Rocca asked.
"She wasn't a stage mother. If she had been, I probably would have been a star. No, I wanted to sing."
She was singing in a club in Kansas City when she was discovered the first time, by talk show host Steve Allen. Then, RCA gave her a record deal.
In 1966, years before Liza Minnelli recorded it, Maye had a hit with the song "Cabaret."
The year before, she was nominated for the Grammy for Best New Artist. She was 37. Who else was nominated that year? Sonny and Cher, Herman's Hermits, The Birds, and Tom Jones.
"What a category. Is that nuts?" Maye laughed. (Tom Jones took home the trophy.)
While there's no question Maye's always had rhythm, her timing hasn't been so lucky.
"I was too late," she said. "I wish I'd been recording in the '40s, 'cause that was all my era."
The music world was moving in a different direction, and things at home weren't exactly looking up.
I don't iron his shirts,
I don't sew on his buttons,
I don't know all the jokes he tells,
Or the songs he hums.
Though I may hold him all through the night,
He may not be here when the morning comes.
"Three marriages. All alcoholics, but couldn't I fix 'em? Of course I could!" she laughed.
"In your stage show, you don't talk a lot about your personal life."
"I think they come to hear the music," she said. "I don't think they need to hear your troubles. They've got their own. I just think what we have to tell them is in a lyric."
"A lot of people would say, 'That's old school.'"
"Uh-huh, it is old school. I see nothing wrong with that," said Maye.
Some gigs along the road paid better than others, such as the jingle for Lincoln Mercury:

Rocca asked, "How important was the song you sang for Lincoln Mercury?"
"That was the paycheck," she said. "And they used it for four years, and gave me a new car every year. That was nice. Then I got to turn it back in."
And she always had the respect of her peers. Ella Fitzgerald called her "the great white girl singer." And Johnny Carson was a big fan -- she's been on "The Tonight Show" 76 times.
But as clubs started closing, Maye struggled to make ends meet.
Rocca asked, "During certain stretches, did you think, 'Oh boy, if things had worked out differently, I'd be a bigger star'?"
"Yeah. But I was too busy answering the phone trying to get the gig!" she laughed.
Then, after a 2006 gig at New York's Metropolitan Room, she was discovered all over again … at age 78.
"You're 78 when you make your big comeback in New York?" Rocca laughed.
"I know. Crazy, crazy. But I was working!"
It's the sheer love of singing that keeps her working, in venues big and not-so-big. Every summer for more than six decades, she's performed at an inn at Iowa's Lake Okoboji. "This is my 61st year here," she said. "I know. Four generations!"
This past summer, she was joined on stage by Rocca, and she even let Rocca sing along to "My Best Girl."
As she approaches a very big birthday (let's just say it begins with a 9), Marilyn Maye may finally be peaking.

For more info:
Thanks for reading CBS NEWS.
Create your free account or log in
for more features.