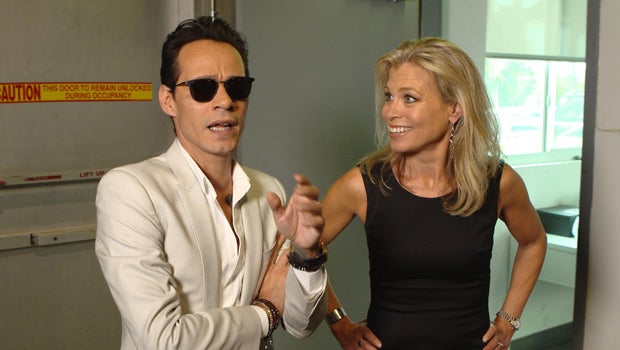 Marc Anthony: I regret not being a stay-at-home dad
Marc Anthony is one of the music world's biggest stars, but he regrets the time chasing his career took away from being a father, he tells Tracy Smith in an interview for CBS' "Sunday Morning."
"The one regret would be that what I chose to do took so much of my time. What I would have done to have been a stay-at-home dad, and, you know, witnessed every second of everything," Anthony told Smith, in an interview to be broadcast on May 1. "I would have loved that. Didn't work out that way. So it's the one thing that just tugs at me ... that's the biggest sacrifice. And you sort of start to wonder, was it all worth it? Was it worth it?"
In a wide-ranging interview, the Grammy-winner talks about his childhood growing up one of eight kids in New York City's Spanish Harlem. Anthony dreamed of getting out of the neighborhood, but to do so, he says, he had to change who he was.
"To my mom, I was a pain in the ass. To my dad, I was the light of his eyes. And to me, I was awkward," he said. "I had glasses. I weighed two pounds. My dad always told me, and as God's honest truth, 'Son, we're ugly. Work on your personality.'"
He says it was the "best thing" his father ever told him.
It worked. Anthony has sold more than 12 million albums worldwide, has a line of clothing at Kohl's, owns a piece of the Miami Dolphins, and has recently launched his own company, Magnus Media, to help fellow musicians and athletes target the $1.5 trillion that Latinos spend each year.
"This started as a dream and it became a reality," Anthony says of the business.
Anthony also talks in the interview about his former marriage to Jennifer Lopez, and his decision to speak out against Donald Trump during a performance at Madison Square Garden.
The Emmy Award-winning "Sunday Morning with Charles Osgood" is broadcast on CBS on Sundays beginning at 9:00 a.m. ET. Executive producer is Rand Morrison.
Follow the program on Twitter (@CBSSunday), Facebook, Instagram (#CBSSundayMorning) and at cbssundaymorning.com. You can also listen to "Sunday Morning" audio podcasts at Play.it.

For more info:
Thanks for reading CBS NEWS.
Create your free account or log in
for more features.