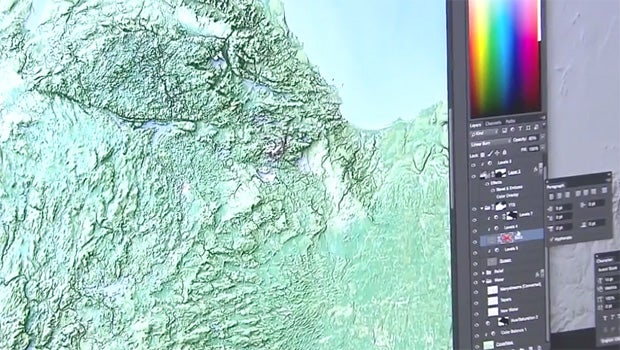 ​Mapmakers plot a new direction
Memorial Day weekend -- the unofficial start of summer -- is just a week away. And with driving costs at a six-year low, AAA says 55 percent of Americans are likely to take holiday road trips.
Thanks to turn-by-turn directions available on our smartphones, few travelers are likely to use paper maps to find their way.
Nearly a century after Rand McNally started making drivers' atlases, in 1924, driving directions have mainly gone digital.
"In 100 feet, turn left at the light."
So if everyone has digital directions on their dashboard, who still needs a paper map? Have GPS and Google put traditional map-makers out of business?
Hardly, as correspondent Mark Albert discovered.
Daniel Huffman is a cartographer who lectures at the University of Wisconsin-Madison, considered by many to be the cradle of academic map-making in the United States.
Albert asked, "Does anyone use a paper map anymore?"
"Oh, certainly," Huffman replied. "There's a swing back, I think, to paper mapping."
According to Huffman, his students don't sit around in the market very long. "They tend to get snapped up," he said. "I'd say that cartography is stronger than it's been in a long time, job placement-wise."
In just five years, the number of students in the program has doubled, to 160. And in the fall, the university is launching an online masters program for the first time. There are 30 slots; nearly 60 have applied.
The demand is being driven by those who need a growing number of specialty maps for disasters, relief work, search and rescue, military and topography.
Cartography has also plotted its own route into the future, and that future is data mapping, such as maps created by students illustrating how schools in sunnier states lead to more sports championships; and which farmers' markets are most accessible to low-income families.
"It's a Wild West right now," said Huffman. "Our students and the instructors here are paving the way in terms of learning and teaching these new technologies."
John Hessler is a curator of the Library of Congress' collection of 5.5 million maps -- the world's largest -- stored in a secure, climate-controlled vault under Independence Avenue in Washington, filling a room two-and-a-half football fields long.
But Hessler isn't living centuries in the past; he's on board with change so fast, it'll make your globe spin.
Like the increasing trend of using motion in maps to plot wind patterns in North America, for example; or the ongoing Syrian refugee crisis.
"Today with modern mapping, what we're looking at is all sorts of data being spatialized," Hussler said. "Cartography now is really about those sort of temporal complex visualizations."
Vintage maps, says Hessler, will allow people in the future to look back on how we perceived ourselves.
New York Times columnist Roger Cohen is looking at his old maps differently, too. Cohen recently wrote about his initial decision to throw away the maps he's hoarded through three decades as a foreign correspondent and editor.
Maps of countries that don't exist anymore, like Yugoslavia, aren't worth much.
But Cohen realized they were too valuable to toss.
"I thought, what do I need these for? You go to a new country and you just look at your smartphone," he told Albert. "And I felt this tightening in my stomach and this emotional reaction, and the feeling that these maps were things that I didn't want to dispose of."
"A lot of people, when they hear a specific song, it takes them back to a specific time," Albert said. "Are maps like that for you?"
"Yeah, very much so. I was looking at maps in Italy, I was a correspondent in Italy. Suddenly I was back in Sicily. I was in France, where I once owned a house, back in that house, thinking about a particular cheese I eaten at a certain point. Maps are pleasurable. A GPS is not pleasurable."
Cohen describes it as a love affair with maps -- a love affair that, for many, has not yet come to the end of the road.
Thanks for reading CBS NEWS.
Create your free account or log in
for more features.