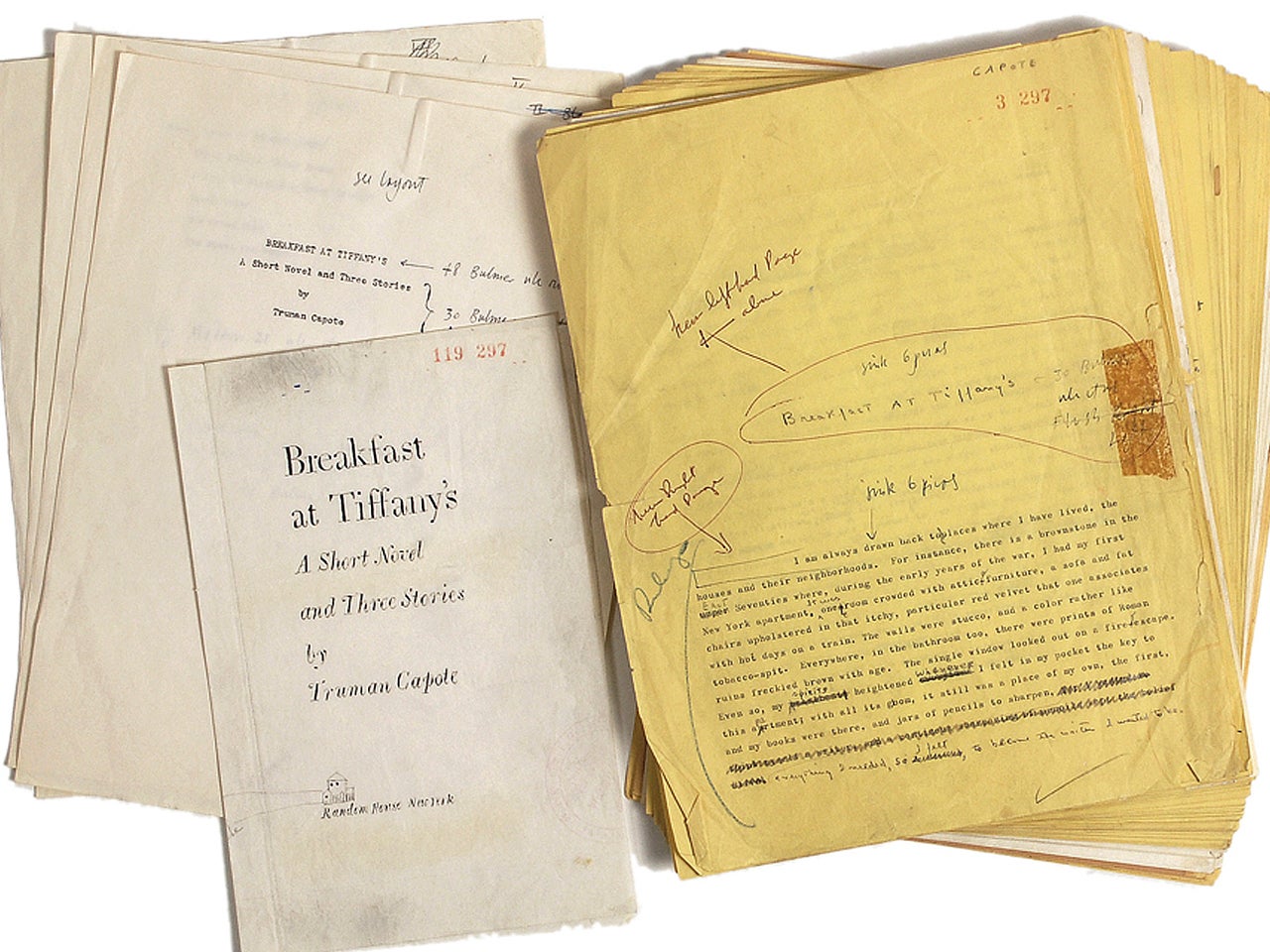 Manuscript of "Breakfast at Tiffany's" up for auction
CONCORD, N.H. Truman Capote's 1958 typed manuscript of "Breakfast at Tiffany's" is rife with the author's handwritten edits — most notably changing the femme fatale's name from Connie Gustafson to the now-iconic Holly Golightly.
Its plot — built around a young woman who supports herself through trysts with various wealthy lovers — was controversial. Harper's Bazaar bought serialization rights for $2,000, then balked at its explicit content and profuse profanity. Esquire magazine purchased it from Harper's and launched it to its 1961 silver screen adaptation starring Audrey Hepburn.
The manuscript is being offered for sale by a New Hampshire auction house and is expected to net at least $250,000 later this month.
It is the centerpiece of hundreds of Hollywood-themed items offered by RR Auctions in its online auction April 18-25. Other items include memorabilia autographed by James Dean, Humphrey Bogart, Clark Gable, Carole Lombard, Judy Garland and Lucille Ball. Also offered is an 8 mm film of Marilyn Monroe visiting Army troops in South Korea in February 1954, shot by a lieutenant with the 24th Infantry Division.
"It's obviously quite a treasure, quite a find for us," RR Auctions vice president Bobby Livingston said of the Capote manuscript. He said the source of the manuscript wants to remain anonymous, but linked it to the estate of a "very famous" Madison Avenue autograph collector.
Livingston said Capote made changes throughout the 86-page manuscript, including crossing out every reference to Connie Gustafson and replacing them with Holly Golightly. On the first page of the manuscript he handwrote the title.
"He was about to turn it in (to Random House) and he was inspired to change that name," Livingston said.
Livingston said the auction was not timed to a new Broadway adaption of "Breakfast at Tiffany's" now playing at New York City's Cort Theater, saying that was just "serendipitous."
Capote — in creating his Holly Golightly character — is said to have found inspiration in his close friendships with designer Gloria Vanderbilt and Oona O'Neill, daughter of playwright Eugene O'Neill.
"Breakfast at Tiffany's" was not Capote's debut. He had received critical acclaim for his novel "Other Voices, Other Rooms," a decade earlier.
But when "Breakfast at Tiffany's" was published, Norman Mailer wrote that he didn't know Capote well but thought of him as "the most perfect writer of my generation. ... I would not have changed two words in `Breakfast at Tiffany's."'
Thanks for reading CBS NEWS.
Create your free account or log in
for more features.