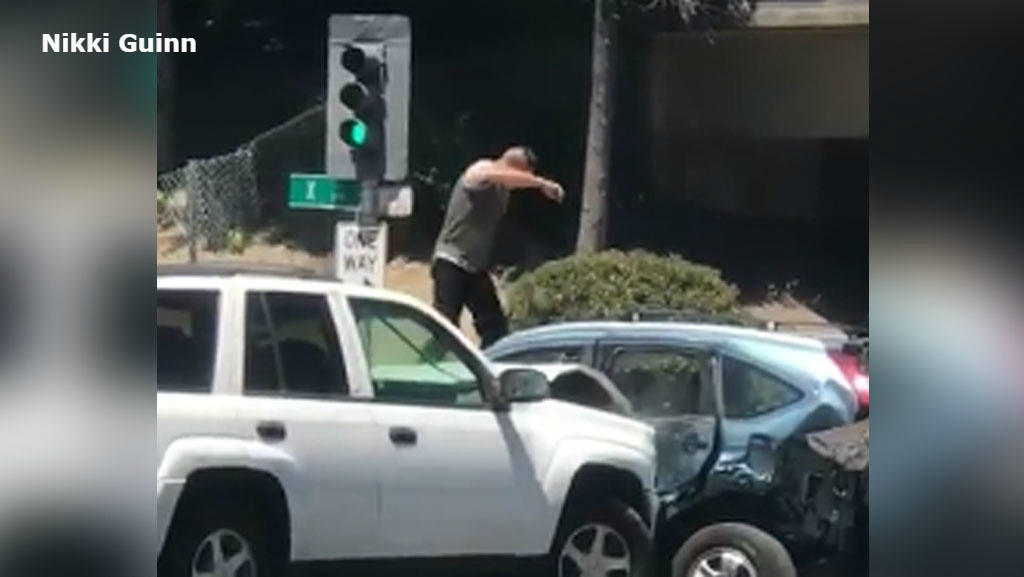 Man repeatedly rams SUV, jumps on roof in bizarre road rage incident
SACRAMENTO -- A road rage incident shut down a busy Sacramento road as a man rammed a vehicle multiple times, CBS Sacramento reports. The man also jumped on the car and tore off parts during the incident Monday afternoon.
The driver can be seen on video ramming his SUV into another SUV and eventually pushing it into the roadway.
Police aren't identifying the suspect yet, but say he appears to be a male Hispanic adult.
"It felt unreal. It's like something out of a movie," said Nikki Guinn, a witness.
Guinn lives across from the intersection and captured the incident on camera after hearing commotion outside.
"He backs up but doesn't attempt to hit anyone else. He's really just focused on the blue CR-V," Guinn said.
The man continued ramming the SUV then jumped on top and began hitting the CR-V with his hands and feet.
"There definitely seemed to be a disconnect because he wasn't communicating to anybody," Guinn added.
A splintered power pole and debris scattered on the ground marked the aftermath of the incident. But he was also allegedly involved in a separate altercation on a highway.
"The initial call was that someone was behind a driver and upset for some reason after a disturbance on the freeway," said Sgt. Vance Chandler with the Sacramento Police Department.
The suspect ended up on 5th and X streets, where police say he rammed the car he was allegedly following on Business 80. From there, officers say the suspect became fixated on the Honda CR-V.
"This person was in a crisis, obviously," Chandler said.
Police stood back, waiting for the clearly agitated suspect to calm down.
"They were unable to get him to cooperate or speak to them," Chandler added.
The video shows the suspect eventually falling from the top of the CR-V, and officers quickly moving in to detain him.
Officers say they're waiting for the suspect to be medically cleared from the hospital before he's booked into the Sacramento County Jail on charges of vandalism and felony assault.
You can watch more of the incident in the YouTube video below or by clicking here:
Thanks for reading CBS NEWS.
Create your free account or log in
for more features.