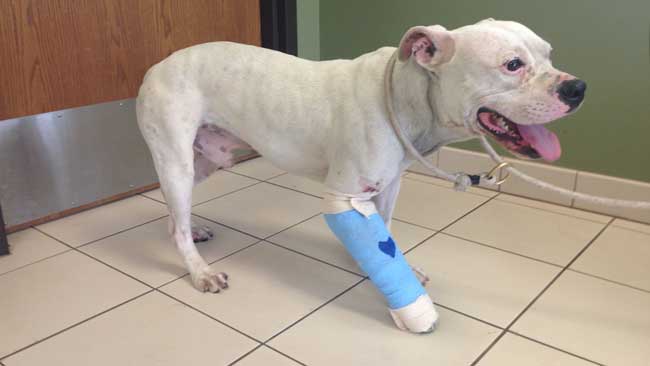 Man in Milwaukee shoots dog after mistaking it for lion
MILWAUKEE -- It's been a rough 24 hours for a dog now being called Simba. The dog was wandering on a street in Milwaukee when animal control says a person mistook him for a mountain lion, pulled out a gun and shot him, reports CBS affiliate WDJT.
"The bullet went through his leg, fractured his bone," said Karen Sparapani, executive director of the Milwaukee Area Domestic Animal Control Commission.
Milwaukee police said a woman reported seeing a lion Monday afternoon in her north side neighborhood. Police Chief Edward Flynn said his officers were given cellphone video of an animal that appeared to be a "lion-ish creature."
"It's true that they're more afraid of us than we are of them. They just want to eat their food and make their babies," Sparapani said.
Officers checked the neighborhood, but didn't find anything. The Wisconsin Department of Natural Resources was notified and dispatched an employee to check it out. Flynn says it was "theoretically possible" a wild cat had made its way south from northern Wisconsin.
The DNR said mountain lions are one of three wild cats native to the state.
Simba seems to have been a causality of everyone being on high lion alert. He now has a full cast for six weeks, stumbles along, and will need medication for pain, WDJT reports.
"Please do not discharge a firearm, because often beside from maybe not shooting the right animal, a human can be injured," said Sparapani.
William Nolen, who saw the reported mountain lion, told CBS affiliate WDJT in Milwaukee: "He was in the bushes and made a dart for it going west. We're close to the river so we do see deer, fox, all that type of stuff a lot of times, but not a lion though. This is just unusual."
Animal control is now warning others to be cautious, but not reckless. They're grateful the situation wasn't worse. Simba is a stray and MADACC hopes someone comes forward as the owner.
Thanks for reading CBS NEWS.
Create your free account or log in
for more features.