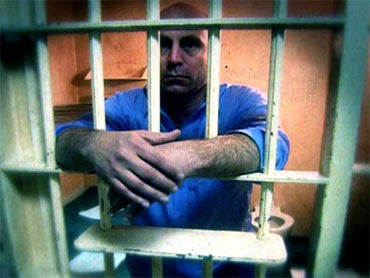 Man imprisoned for 26 years; Did an LAPD cop lie?
Bob and Dorka Lisker had everything. He was a successful Hollywood attorney; she was a film cutter for Hollywood movies. They had careers, friends and a house with a swimming pool. They had everything but a child of their own.
"My dad and my mom had tried to have kids. She became pregnant but miscarried. And so… they wanted kids," Bruce Lisker tells "48 Hours Mystery" correspondent Erin Moriarty.
Then, one day, Bob came home and presented Dorka with a baby boy that one of his clients had put up for adoption.
"And she was like, 'What?'" Bruce laughs, "[She] was sort of thrown, but came to just love it. It was just a delight to her."
It was no surprise then that Bob and Dorka spoiled the child they named Bruce. There was the idyllic suburban childhood: Little League in the park and excursions to Disneyland and faraway places.
"I remember going to Hawaii Volcano National Park," Bruce recalls. "We just had a blast."
But the good times faded early. Bruce was only 11 when he began a long and destructive romance with drugs.
"By the time I was about 15, 16, I was smoking pot or drinking every day," he explains.
As Bruce's drug use escalated, his grades plummeted. His relationship with his mother got so bad and the screaming matches so upsetting, his parents finally made a tough decision and set him up in his own apartment nearby. Bruce dropped out of high school and surrounded himself with some tough characters, including Mike Ryan, a 15-year-old with a criminal record who bragged about getting into knife fights.
Bruce liked to think he was on his own, but says he was really just a spoiled kid whose parents were still taking care of him. "I was entirely subsidized by my parents. My mom shopped for me. She did everything."
Bruce Lisker: A Life In Photos
All that would change forever one March morning in 1983. Bruce, who was just a few months from turning 18, says he started his day in typical fashion: "Got up, got stoned, got high. I smoked some pot… and then I had done some speed."
Around 11 a.m., he says, he drove from his apartment to his parents' house. "Whenever I would come over, my mom would come out on the front porch," Bruce says. "On that day, she didn't show up."
Bruce says when he knocked on the door, there was no answer.
"But I'm like, 'OK, I just want to go and see.' So I start walking around the house," he tells Moriarty. "I make my way to the living room window and I look as far as I can. And I thought I saw her feet. So I go to the next window, which is the dining room window, and I look in and… I could see the top of my mom's head. …she was on the floor."
Bruce says he searched for the hide-a-key, but it wasn't there. "And the last way that I knew to get in was the way that I had come in when I was a kid and I would miss curfew."
He says he entered the house through a window, but only after carefully removing the louver panes. Once inside, he made his way to the entry hall. "…and the scene that greeted me when I got to that final door was one that I don't wish on my worst enemies."
His mother lay sprawled on the floor, beaten almost beyond recognition.
"She was covered in blood. She had two knives sticking out of her back," he tells Moriarty. "She was unconscious… But she's heaving. She's breathing. She's alive."
Bruce pulled the two kitchen steak knives out of Dorka's back and then ran through the house, he says, to make sure the person who did this was not still there. Then he called for help.
Bruce: Help me, please! I need an ambulance right now! Hurry! My mom, she's been stabbed! She's been stabbed!
911 Operator: Quiet down…
Police arrived to find a hysterical teenager high on drugs and screaming to get the paramedics to rush his mother to the hospital.
Police subdued him. Bruce says, "They did a chokehold. They handcuffed me behind my back." They believed Bruce Lisker was not just a distraught son, but was his own mother's attacker.
"I mean, Bruce, here they have a young man who has said to people that he hated his mother, fought with his mother, was on drugs," Moriarty points out. "They get to the house and you've got blood on your hands. You're crazed. You're a pretty good suspect."
Bruce acknowledges, "I was somebody who needed to be looked at. I was somebody who needed to be talked to."
At the police station, Det. Andrew Monsue listened to Bruce's story, and then told him it was nothing but lies from beginning to end.
"He said, 'Well, none of that fits. None of that works… You're lying. I think you did somethin' to your mom.' And I'm like, 'This nightmare just got worse.'"
Bruce's father arrived from the hospital and told Bruce his mother had died. Then Bob Lisker asked the detective when he could take his son home.
"Detective Monsue said, 'Oh, he's not going home. He's under arrest. You can come see him at Sylmar Juvenile Hall.' And he was silent, was silent. He didn't even know what to say," Bruce recalls of his father's reaction.
Bruce swore he was innocent. He and his father urged police to look into his troubled friend, Mike Ryan, who had gone to the house to see Bruce's mother the day before. But Det. Monsue was focused on Bruce as the killer. And he was ready to hand the prosecutor an open-and-shut case."The cops said that I beat my mother, I stabbed my mother, I choked my mother. I didn't touch my mother," Bruce Lisker says [adamantly]. "I loved my mother and my mother loved me."
In 1983, 17-year-old Bruce Lisker's denials fell on deaf ears, says Los Angeles Times reporter Scott Glover.
"The police zeroed in on Lisker from day one," Glover says. "Detective Andrew Monsue just kept his sights locked on Lisker for the entire case."
Monsue, then a young detective making his name, was determined to put Lisker in prison, telling the judge at a hearing that the pattern of blood spatter on Bruce's T-shirt showed he'd been standing over his mother at the moment he bludgeoned her.
Bruce tells Moriarty the detective's statement "guaranteed that I would be tried for this crime."
Monsue continued building an airtight case - a case that even included a confession.
"Bruce Lisker told me he did it. He murdered his mother," says Robert Hughes.
In 1983, Hughes was another prisoner housed in the cell next to Bruce. He says Bruce gave him a blow-by-blow description of the gory murder.
"It was this Jekyll and Hyde thing goin," Hughes says. "It got kind of weird. It got vicious."
Faced with overwhelming evidence, Bob Lisker - always at his son's side - urged Bruce to take a deal. In exchange for getting a five-and-a-half year sentence in a juvenile facility, Bruce Lisker made an astonishing statement: he pleaded guilty.
"If you're an innocent man why would you plead guilty?" Erin Moriarty asks.
"Because of the reality of the matter," Bruce replies. "They were trying me for first-degree murder. First-degree murder carried 25 years to life… At some point, your family knows the truth and they say, 'Do whatever you have to to get home to us as soon as possible.'"
"Even admitting to killing your mother?"
"It wasn't an admission, it was a false statement. It was a lie."
But Bruce appeared so violent, so lacking in remorse to a team of psychologists, they advised against him going to a juvenile facility.
Their evaluation was a deal breaker; the teenager would be tried as an adult after all. Bruce Lisker was allowed to withdraw his guilty plea and enter a new plea of not guilty.
Phillip Rabichow, now retired, prosecuted the case. He says he was "absolutely positive" that Bruce Lisker killed his mother.
Rabichow believed Bruce's account of the murder was riddled with lies, and he put on his star witness to prove it.
"The prosecution's key witness was Det. Andrew Monsue," Scott Glover explains. "He testified that Lisker would not have been able to see his mother from the rear of the house on the day of the killing as he claimed he had."
According to the detective's testimony, the sun's reflection would have created a mirror effect and blocked Bruce's view. To prove it, the prosecution showed a picture of Det. Monsue's reflection in the window.
When asked how important that bit of evidence was, Glover replies, "It was the foundation of the prosecution's case. If he was lying about that, he was lying about everything."
Rabichow argued that Bruce had the opportunity - he was there - and he had a motive: money.
"I think he went over there to get money for drugs and that a confrontation ensued and got outta hand," he says.
One-hundred-and-fifty dollars was reported missing from Dorka Lisker's purse. That money was never found and would remain the one hole in the prosecution's case.
Asked what he thinks happened to the $150, Rabichow replies, "That it had been hidden somewhere."
"By whoever killed her?" Moriarty asks.
"By Bruce Lisker," he says.
Bruce insisted there was someone else in the house that day - an intruder who killed his mother. But prosecutors argue the key footprints, including a bloody one in the bathroom, appeared to match Bruce Lisker.
"There was no evidence of anyone else that could have killed Dorka Lisker," Rabichow says. "If you're trying to blame someone else, where's the killer's footprints?"
After a three-week trial, Bruce's fate was in the hands of the jurors. They deliberated for three days before reaching a verdict.
"I remember going in and just feeling physically ill. Just sick to my stomach. And the bailiff read "Guilty," says Bruce, pausing before saying, "That was it. My life's over."
His sentence: 16 years to life.
The years passed, the teenager became a man, and all of his appeals failed. But one thing remained constant. Bruce says the case "consumed me. I mean, it consumed all of my time. It was my every focus."
Throughout it all, the one person who continued to believe in him was his dad.
"I would call him everyday at 10:00 a.m.," says Bruce.
The calls would end when Bruce was 30 years old.
"I called and his secretary said, 'He'd had a heart attack and he didn't make it.' And that was the most difficult point… my dad was all I had. And then he was gone."
Bob Lisker left his son one last gift: $184,000. The money enabled Bruce to keep hope alive despite his diminishing legal options.
"Hope is an interesting thing. It's dangerous for a prisoner. If you have it too close, you'll suffer greatly. If you let it die, then you'll begin to die in prison," Bruce tells Moriarty. "And I was not gonna die in prison."
In 1999, 16 years after his mother's murder, Bruce Lisker took one more leap of faith and hired a man who would change his life: a bear of an ex-cop turned private investigator Paul Ingels.
Of his first reaction to the case, Ingels tells Moriarty, "If you're to believe what these officers are saying on the stand, he's guilty. He was guilty… guilty as the day is long."
Then, Ingels began taking a closer look at the evidence - including a shirt that Det. Monsue says was covered with blood.
"There is no blood. You can see there is no blood on it," Ingels says. "When it was tested, there was no blood on it at all, none. It was covered only in grease…"
As Ingels continued looking at the case, he says he came to a stunning realization about Det. Monsue.
"He's a liar. Monsue's a liar," Ingels tells Moriarty. "I now know beyond any shadow of a doubt Monsue's a liar."
Ingels says that told him that Bruce Lisker "may be innocent."
So began a 10-year investigation. Together, the unlikely duo - an ex-cop and a convicted killer - took on one of the most powerful police forces in the country: the mighty LAPD.
"I started learning more about the case and it was like this snowball that just keeps getting bigger and bigger, rolling faster and faster," says Ingels.
And along the way, they found an unlikely ally.
"I lived and breathed the LAPD, and I believed in the criminal justice system until the case of Bruce Lisker came across my desk," Sgt. Jim Gavin says. "And that changed me forever."Over the years, Paul Ingels, the tough nosed private eye became convinced of Bruce Lisker's innocence. But he knew he could never convince a judge without the critical crime scene photos and other evidence locked away inside the Los Angeles Police Department.
"I would wake up at three in the morning trying to figure out how to get my hands on the evidence to prove that Bruce Lisker was innocent," Ingels explains.
On one of those sleepless nights, Ingels came up with a plan; a slightly crazy plan. Ingels had Bruce file a complaint against Det. Andrew Monsue, accusing him of falsifying evidence.
"What's the chance that the LAPD is going to take a complaint from a convict seriously?" Moriarty asks.
Ingels replies, "It was a shot in the dark, but you gotta take it. Because it was our only chance to get to those photographs. And you never know whose desk that puppy's gonna land on."
The complaint landed with Sgt. Jim Gavin. A 17-year veteran of the force, Sgt. Gavin prized three things above all else: his wife, Carol - a sergeant and third-generation police officer, their four boys and the LAPD.
"I lived and breathed the LAPD," Gavin says. "I believed in everything they did."
As an internal affairs investigator, Gavin looked into allegations of misconduct against police officers, which is exactly what he did when he got Bruce Lisker's complaint against Det. Monsue.
When asked what made the case unusual, Gavin says, "He had supporting documents. It wasn't just a piece of paper that said, 'Hey, I didn't do it.'"
One document in particular caught Gavin's eye: a letter Det. Monsue wrote to the parole board 15 years after the murder. In it he claims to have found proof that Bruce Lisker stole the money from his mother's purse. The new owners of the home, he wrote, told him they found the money hidden in the attic.
There was just one problem. The new homeowner, Mort Borenstein, has no memory of speaking to Det. Monsue or of finding the money in the attic.
"I don't like calling a police officer a liar, but in this situation, it's hard to avoid that conclusion," Borenstein tells Moriarty.
Sgt. Gavin checked to see if Monsue had booked the $150 into evidence, the normal procedure. He hadn't.
"When you realized he didn't book the money, what's the concern at that point?" Moriarty asks Gavin.
"That he may have submitted a false report to the parole board," he replies. "It's very serious… If he lied here, is there a possibility that he may have lied in other places."
Gavin turned his attention to the footprints, some of the most condemning evidence at trial.
"In the closing arguments… the deputy D.A. said, 'Look at all the footprints in the house. They're the same as Bruce Lisker's. If somebody else committed this murder, where's their footprints? Where's their bloody footprints?'"
But Gavin discovered those footprints had never been analyzed. So he sent them to the LAPD's own analyst. He then called Paul Ingels with the results.
"He says, in a nutshell, the bloody shoeprint that they used to convict Bruce excludes him… it's not his shoeprint," Ingels tells Moriarty.
"I'm getting goose bumps right now," Ingels says of his reaction to the results. "I didn't know whether to cry or yell…but now we're cooking."
"Here's concrete confirmation that what I've been saying all along is the truth. And it came out of the mouth of a LAPD analyst. It's huge," adds Bruce.
When asked what he realized at that moment, Sgt. Jim Gavin says, "That maybe we actually convicted the wrong person. That maybe what Bruce Lisker was saying was the truth."
Paul Ingels believes the real killer was under Det. Monsue's nose the whole time.
"Absolutely, Mike Ryan. John Michael Ryan is the murderer of Dorka Lisker," he says.
Ingels believes Mike Ryan, Bruce's violent young friend, should have been the prime suspect from the start.
"Mike Ryan had talked to Dorka Lisker and asked for money and odd jobs just the day before the murder," Ingels explains. "Mike Ryan had a history of violence… a fascination with knives."
Prior to the murder, Ryan was so broke he was sleeping in carports. Then, says Ingels, "The day of the murder he all of a sudden had enough money to rent a hotel room."
Mike Ryan then gave himself a phony alibi by lying about the time he checked in, says Ingels. And, as heard in an audio recording between the detective and Ryan, Monsue knew it:
Det. Andrew Monsue: See, the other problem that you've got, coming here, you says you checked into the motel on Thursday morning around 11:00. So that's [BS]. I went to the hotel. You checked in, it was 3:00 in the afternoon.
Mike Ryan: Yeah, it was somewhere around 3:00. I don't remember
Monsue then drops it and lets Ryan off the hook.
Det. Monsue: I don't think you would have helped kill his mom. I think Bruce killed his mom. I've never thought you killed his mom.
Detective Monsue never questioned Mike Ryan again. Paul Ingels and Jim Gavin never got the chance, because Ryan committed suicide before either could talk to him.
Ingels did get a chance to speak with Ryan's father.
"He was thoroughly and totally convinced that his son had committed the murder," Ingels explains. "And he said, 'You know, I was happy when my son committed suicide, because the world is a safer place with him gone.'"
As the private eye and the LAPD sergeant continued tearing down the state's case, Sgt. Gavin discovered a piece of evidence that, unbelievably, no one had ever noticed before.
"I was looking at the autopsy photos. And right above Dorka Lisker's ear was what I saw and I believed was a footprint - like a stomping, like somebody had placed their foot on her head," he explains.
Both Gavin and Ingels knew what they had stumbled upon 20 years after the murder.
"Only the killer would stomp on the back of her head," Ingels says. "So that shoe print could be, like, awesome for Bruce Lisker or it could be really horrible."
But before they could test that footprint - what could be the most definitive piece of evidence in the case - Gavin's investigation took a stunning turn.When asked if he believes Bruce Lisker got a fair trial based on what he knows today and if the jury heard the real evidence of the case, Sgt. Jim Gavin tells Erin Moriarty, "No."
"Did the jury hear the real evidence in this case?" Moriarty asks.
"No, they didn't," he replies.
It wasn't what the Los Angeles Police Department wanted to hear. Neither was this:
"I think Bruce Lisker was framed. I think the lead detective had fabricated evidence," Sgt. Gavin tells Moriarty. "I realized what I had, was the key to somebody being released from prison."
Sergeant Gavin was about to hand over the results of his investigation to the district attorney when his lieutenant took the case out of his hands.
"He goes, 'You're done. This mother f----- is gonna stay in prison. Do you understand me, Sgt. Gavin?' People up the chain of command decided that they were gonna decide the fate of Bruce Lisker. They decided he was guilty."
And the new evidence that might prove otherwise, Gavin feared, would never see the light of day.
"I knew that this was gonna be placed in a box and stored away, never to be seen again," he says.
Bruce Lisker received notice that his letter of complaint against Det. Andrew Monsue was unfounded and, therefore, denied.
"…in prison, you come to expect disappointment. You're not given a lot of hope. And so when they denied me, I was like, ahh, I kinda knew it," Bruce says. "But Paul said, 'No. Screw that. That's not where it's ending. No.'"
Paul Ingels knew there was only one way left to get Bruce Lisker a new trial. He paid a visit to Scott Glover and Matt Lait, two award-winning investigative reporters at the Los Angeles Times.
"Our first reaction, seriously, was to try to prove his guilt, look for a place where he had lied," says Lait.
The reporters embarked on their own seven-month investigation. Eventually, Sgt. Gavin made a courageous decision to reveal the evidence he had uncovered, putting his own career at risk.
"As I sit here now, I don't know why," Gavin says of not walking away from the case. "Something inside me told me to do it. So I did it."
Glover and Lait shared their findings with the toughest critic they could find: Phil Rabichow, the prosecutor who sent Bruce Lisker to prison.
"I walked away from that meeting worried that I had convicted an innocent person," Rabichow tells Moriarty.
Then, just as Glover and Lait were about to publish, the LAPD came up with disturbing news. The LAPD told the reporters that the shoeprint - the one seen on Dorka Lisker's head in the autopsy photo discovered by Sgt. Gavin - belonged to Bruce Lisker.
"It's hard for Bruce to explain how his shoeprint is on his mother's head," says Lait.
But, as it turns out, the LAPD had never even tested it.
When the footprint was finally sent to the lab, the result was astounding: it was not Bruce Lisker's footprint after all.
"It means that someone else kicked Dorka Lisker. Not Bruce Lisker," Rabichow says of the man he put away. "After I heard that, I said, 'That's it. I have a reasonable doubt as to his guilt.'"
On May 22, 2005, 20 years after Bruce Lisker was sent to prison for the murder of his mother, the L.A. Times ran Glover and Lait's exposé questioning the evidence of Andrew Monsue, the detective who put Lisker behind bars.
"After it ran, Monsue abruptly retired. Just left the department," says Glover.
L.A. Times Coverage: The Case of Bruce Lisker
Andrew Monsue refused "48 Hours'" requests for an interview. And he was in no mood to explain himself when approached by Moriarty recently.
"Detective Monsue, can I just ask you some questions about the Bruce Lisker case?" Moriarty asks.
"You just screwed up, lady…" he replies.
But Monsue wasn't the only prosecution witness against Bruce Lisker.
Robert Hughes testified that Lisker confessed to him through a hole in the wall from his adjoining jail cell. As Glover and Lait discovered, Lisker was placed next to Hughes in the notorious "snitch tank."
"Robert Hughes had actually in the span, I think, of 18 months, claimed to have heard three murder confessions," says Lait.
For his testimony against Lisker, Hughes got out of jail a couple of months early.
Two months after the L.A. Times article ran, Bruce Lisker finally got the break that had eluded him for two decades. A federal judge granted a hearing to consider new evidence in the case.
"That was the first time I went, 'Oh, my God. Oh, my God.' The thought that I could see the outside of a prison cell and I could get beyond those fences that I'd been looking at the inside of - the wrong side of - for over two decades was so overwhelming."
The only way to win freedom was to convince the federal judge that no reasonable juror could now find him guilty. And that meant discrediting one last piece of evidence: what the prosecutor said was Bruce Lisker's biggest lie.
"Phillip Rabichow, in his closing arguments to the jury, said, 'His most condemning lie is that he could see his mother through the dining room window..." says Ingels.
The L.A. Times reporters had already been to the Lisker home to recreate the crime scene. Now, Ingels and lawyers from both sides went to conduct their own examination.
Ingels retraced the path Bruce says he took that morning at the same time of day, going first to the window Det. Monsue claimed was impossible to see through because of the glare.
"But Paul, I can see her feet," says Moriarty, while standing at the window where the crime scene was recreated.
"It looks like feet," Ingels explains. "But it's hard to tell for sure 'cause there is a little bit of reflection."
That's when Bruce says he walked to the other window for a better look. From here, Rabichow told the jury, it would have been impossible for Bruce Lisker to see his mother's head on the floor.
"You are looking at exactly what Bruce Lisker saw the morning of March 10, 1983," Ingels tells Moriarty as they stand outside the other window.
"He wasn't lying. You can see. You could clearly see," says Moriarty.
Twenty years after confidently telling jurors this was Bruce Lisker's big lie, Rabichow acknowledges, "My strongest piece of evidence, I do not feel exists anymore. I can't say that it was a lie."
"Every piece of evidence that the prosecutors showed at trial has been proven to be false," remarks Ingels.
It would take four more long years, but finally, in August 2009, Bruce Lisker heard an answer to his pleas. A federal judge ruled Bruce was convicted on "false evidence" and that he must be retried or set free.
Bruce Lisker was vindicated. "It was a validation… a statement by somebody outside, not working for me, that, yes, everything that you say is true."
But, incredibly, the district attorney refused to give up. Bruce Lisker would face a second trial for the murder of his mother. At 7 a.m. on Aug. 13, 2009, after 26 years behind bars, Bruce Lisker says his dreams came true. A federal judge orders him free on bail pending his new trial.
"This is just absolutely amazing. Overwhelming. Overwhelming. It hasn't hit," Bruce says after being released from prison.
There to pick him up is Paul Ingels, the man who helped free him.
"It was really pretty cool, you know," Ingels says, getting emotional. "He was standing under a tree, and he's staring at this tree and I looked over at him and I said, 'Bruce, you look really weird looking at that tree.' He goes, 'I haven't seen a tree in 26 years.'"
Despite the joy of the moment, Bruce knew his freedom could disappear quickly. Six weeks after his release, he goes back to court.
"Well, we saw the District Attorney walk in, and he didn't have any boxes in his hand…" Ingels explains.
The district attorney says he still believes Bruce Lisker killed his mother, but too much time had passed to retry the case.
"...and they had no choice but to dismiss the charges," Ingels explains.
Bruce is a free man.
Both the LAPD and the District Attorney's Office declined to answer questions about the Lisker case, citing a lawsuit Lisker has now filed against the city.
"What did Bruce miss out on?" Erin Moriarty asks Ingels.
"Oh, my goodness - a career, a family, marriage, college," he says. "How do you get that back? There is no way."
Bruce Lisker wasn't the only one to pay a heavy price. Sgt. Jim Gavin says doing the right thing cost him his career. He describes himself as "ostracized" within the LAPD.
Gavin is still working at the LAPD and was promoted to lieutenant after excelling on the civil service exam. But in a lawsuit, he claimed the LAPD retaliated by sidelining his once-promising career. The LAPD argued that Gavin, who had no training as a homicide detective, acted well beyond his area of expertise. Gavin lost the suit.
He says he is even taking a risk talking to "48 Hours."
"I would honestly be surprised if I am not disciplined for doing this." But, he tells Moriarty he's doing it "'…'cause I want people to know this could happen to you. This could happen to your loved ones. This should not happen."
"Do you think, if you had known then what you know now, Bruce Lisker would ever have been convicted?" Moriarty asks prosecutor Phillip Rabichow.
"Well, I wouldn't have prosecuted him if I knew - knew then everything I know now," he replies.
Yet, even so, some of the evidence in the original case troubles prosecutor Rabichow to this day. Like Lisker's story of seeing his mother lying on the floor and then getting into the house by carefully removing the louvered kitchen windows.
"It's more consistent with somebody who snuck into the house than it is with somebody who is breaking in to the house to save his mother's life," he remarks.
When asked who he thinks killed Dorka Lisker, he replies, "I still think there's a lot of evidence that points towards him and that he did it. I'm just not sure. I just don't know."
For anyone who still has questions, Bruce Lisker maintains he had nothing to do with the death of his mother.
"I would bet everything I own, my eyesight, my life - everything," Ingels tells Moriarty. "I know that Bruce Lisker did not murder his mother. I'm absolutely convinced of it. There's no doubt in my mind."
Paul Ingels never gave up.
"Of all the cases you've had, where would you put this?" asks Moriarty.
"Oh, it's No. 1," he replies. "It's a dream come true. Dream come true."
Jim Gavin put his career on the line. Asked if he would do it again, he says, "Unfortunately, knowing me, I would do it again."
Twenty-six years ago, a frightened teenager disappeared into the California prison system. Today, against all odds, the man who vowed he would never die behind bars finally walks free.
What's next for Bruce Lisker? "Everything…"
---

Incredibly, one year later, the state asked the court to return Bruce Lisker to prison. The reason, not based on any evidence, but on a technicality - arguing Lisker was late filing his petition for release. A judge rejected that motion just last week.

Bruce Lisker remains free… for now.
---

Web Extras:
Bruce Lisker: A Life In Photos
Bruce Lisker Meets Jurors
Sensory Overload: A Day Shopping
Produced by Liza Finley and Greg Fisher
Thanks for reading CBS NEWS.
Create your free account or log in
for more features.