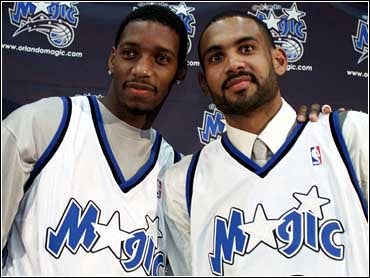 Magic's Strength No Illusion
Heart and hustle will only carry a team so far in the NBA.
Championships are won with talent, and the Orlando Magic felt they took a significant step toward title contention Thursday night when Grant Hill and Tracy McGrady joined them in two sign-and-trade deals.
The Magic endeared themselves to fans last season with a relentless, scrappy style of play that produced a surprising .500 record, despite the absence of a marquee name on a roster of role players.
Hill and McGrady both signed seven-year, $92.8 million contracts before being sent to Orlando from Detroit and Toronto, respectively,
The Magic sent free agents Ben Wallace and Chucky Atkins to the Pistons and the Raptors got a future conditional first-round draft pick.
The Magic also addressed the need for a power forward to replace Wallace by trading Matt Harpring to the Cleveland Cavaliers for Andrew DeClercq.
Hill is a five-time All-Star who averaged 25.8 points, 6.6 rebounds and 5.2 assists for Detroit last season. McGrady, drafted out of high school three years ago, is coming off his most productive season averaging 15.4 points, 6.3 rebounds and 3.3 assists.
Hill never led the Pistons past the first round of the playoffs, but he looks forward to the challenge of helping the Magic accomplish a goal of getting back to the NBA Finals without Shaquille O'Neal and Penny Hardaway.
"I don't really look at it as pressure. I look at it as opportunity. I had six years in Detroit. There were great times. I had a lot of great relationships," Hill said.
"I think sometimes to embrace the future, you have to let go of the past. The good and the bad that's happened, it's time to move on. ... I'm looking forward to establishing new relationships and establishing and accomplishing new things with this organization."
The sign-and-trade agreements with the Pistons and Raptors enabled the Magic to cement the deals, however the team wound up committing more money to Hill and McGrady than general manager John Gabriel anticipated it would take to land the two.
The maximum first-year salary the players could receive was raised from $9 million to $9.6 million and by moving to Orlando via trade, instead of signing outright as free agents, Hill and McGrady will get annual raises of 12.5 percent rather than 10 percent.
Hill initially sought a four-year deal, which would allow an him an opportunity to renegotiate a more lucrative contract after his 10th season ithe league. McGrady originally intended to sign for six years and $72 million.
"I kind of felt all along that if I was to leave Detroit, this is where I wanted to go," Hill said. "I've been a big fan of this organization from afar. But I think coming down here, the first day and just being around the different players, it was really impressive."
The signings capped a year of wheeling and dealing by Gabriel, who gutted the roster last summer to create salary cap room after deciding the best way to rebuild the Magic into a championship contender was to basically dismantle the team and start over from scratch.
Doc Rivers was hired as coach, inheriting a team returning one starter - Darrell Armstrong - to training camp after Gabriel traded Hardaway, Horace Grant, Nick Anderson and Ike Austin.
The moves left Orlando with a roster full of role players who embraced Rivers' "heart and hustle" philosophy and parlayed it into a 41-41 record that brought the former player and broadcaster coach of the year honors.
Gabriel began the busiest offseason in franchise history by selecting Florida sophomore Mike Miller with the fifth pick in the draft, then launched an all-out effort to recruit Hill and Tim Duncan to become the new cornerstones of the franchise.
When Duncan opted to stay with the San Antonio Spurs, the Magic focused on getting a commitment from McGrady, who grew up in nearby Auburndale and wanted to play close to family and friends.
"My heart is here. There's no place like home," McGrady said.
The Magic also announced the signing of Dee Brown, a teammate of McGrady's the past three seasons in Toronto. The team plans to re-sign two of its own free agents forward Bo Outlaw and center John Amaechi by the end of the week.
Brown has lived in Orlando during the offseason for several years and Amaechi spurned a more lucrative offer from the Los Angeles Lakers to remain with the Magic. With Wallace committed to leaving for Detroit, re-signing Outlaw also became a higher priority.
"All of this is gratifying, but we're not finished," Rivers said. "Now we've got to go out and win."
©2000 The Associated Press. All Rights Reserved. This material may not be published, broadcast, rewritten, or redistributed
Thanks for reading CBS NEWS.
Create your free account or log in
for more features.