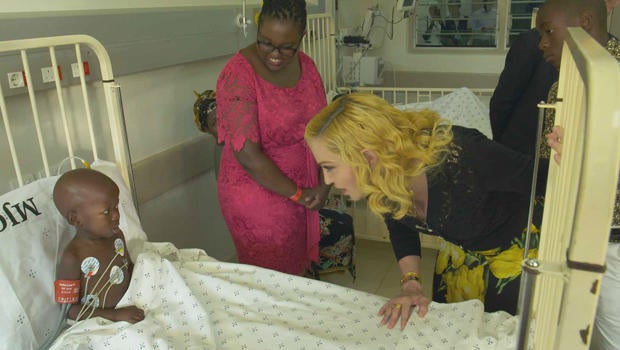 Madonna's song of hope for Malawi's children
In the world of entertainment, only a few stars are big enough to be known far and wide by just a single name. And it turns out that one of the biggest of those one-name stars has a whole second calling ... a mission of hope and healing in a place that badly needs it. Tracy Smith reports our Cover Story:
Malawi, a landlocked African nation of 17 million, is about the size of Pennsylvania, and one of the poorest countries on Earth. Disease is rampant here -- and pediatric health care is almost unheard of. But this past July, Malawi's children got some help.
To you and me, she's Madonna. But to people in the city of Blantyre, she's the lady behind the new hospital, and she was there for opening day, along with Mercy, Esther, Stella and David, four of her six children (and all from Malawi).
It was the first time she'd seen the finished building. "Oh my gosh, what a beautiful hospital!" said Madonna. "It's the brightest, most cheerful hospital entrance I've ever seen."
The Mercy James Pediatric Surgery Center (named for her adopted daughter) has new operating rooms and a children's ICU.
"Pretty amazing," she said. "Yeah, it's gorgeous. It's kind of awesome. I mean, if you're gonna get sick, come here."
And there are few other options: hospital beds in Malawi are scarce, and children often have to compete with adults for thinsg like intensive care.
Madonna didn't know much about Malawi when she made her first trip there in 2006. "I did have to look it up on a map, I'm not gonna lie," she said. "This is a very small country, bordered by Mozambique and Zambia. And it was the best trip I ever made."
"Why?" Smith asked.
"Because it changed my life.
Horrified by what she saw ("[The] orphanage is crowded and dirty. It felt like a small city run by kids"), Madonna made a documentary, "I Am Because We Are," and went on to found Raising Malawi, a charity dedicated to child education and health care.
She also met, and adopted, a critically-ill baby, David Banda, and a girl, Mercy James, after clearing legal hurdles for both: "I made that promise to Mercy that I was gonna come back and make sure that she didn't grow up in an orphanage."
This year she adopted twin girls. Madonna also has two older children -- Lourdes, 20, and 17-year-old Rocco, who was on hand at the new hospital painting a mural.
When asked if her family is complete with six children, Madonna replied, "Who knows? Yeah, I never say never."
"Does becoming a mom heal you in a sense, too?" Smith asked.
"Of course, it does. I get to become the mom I never had."
Madonna was only five years old when she lost her mother to breast cancer in 1963. She says the trauma of that loss fueled her rebellious nature, and her famous desire to push the envelope.
"When I was younger I just used to say things, do crazy things," she said.
"Just to be provocative?" asked Smith.
"Just to be a punk. Just to irritate people."
Why? "I don't know. 'Cause that's part of growing up, isn't it?"
Watch Madonna perform "Like a Virgin," her 1984 hit from her second studio album:
Her spirit is the same, but her focus has changed: In Malawi, the U.N. estimates that around a million adults have AIDS, and that around half a million children are orphans because of it. Madonna says her desire to help them was shaped by what she saw happen to AIDS patients in New York in the 1980s:
"I went to St. Vincent's Hospital and I saw emaciated men dying in beds by themselves. Nobody touching them, nobody holding them. And I just started laying down on beds with them and putting my arms around them and taking care of them, showing them love and warmth and affection. And so that stayed in my head.
"So when I came here and found history repeating itself, I also felt like it's my responsibility. I have to take care of these kids."
At the hospital they're not so much concerned with how Madonna chose Malawi, only that she did.
When asked what he knew about Madonna before meeting her, Dr. Eric Borgstein said, "Not an awful lot."
A pediatric surgeon, Dr. Borgstein grew up in Malawi. For most of his career, he's had too many patients and too little to treat them with. So when he got to know Madonna, he asked for the moon.
Did he figure she might reply "No"? "Well, no," he said. "We thought she might say 'Yes.' We hoped, yeah."
He now has the means to train new surgeons, so doctors like Tiya Kapalamula can get the experience they need. "The more you operate, the more experience you get, and the more good you become," said Dr. Kapalamula.
"So you're just going to become a better and better doctor?" Smith asked.
"Exactly."
Dr. Borgstein said the hospital represents a huge investment in the lives of its young patients: "You get it right in the beginning of their lives. And, you know, they go through life normally."
"And that's the hope, is that these kids will just be able to lead normal lives?" asked Smith.
"Absolutely, yeah. As is their right."
She's admittedly a control freak, but at 59 Madonna says the experience of building a hospital here has taught her patience.
"I've learned to embrace feeling uncomfortable," she said.
Which wasn't always the case. "Well, I just used to get really upset. And didn't you watch 'Truth or Dare'?"
"Of course I did," Smith replied.
"Okay, well, then it watch it again!" she laughed.
You may recall that she blew up over a faulty microphone in the 1991 documentary. "Me freaking out about my sound going bad, oh my God, that's like, every night."
Still, though? "Yeah."
"Does it still have to be perfect in that sense?"
"It really depends how much sleep I've had, what's going on in my life," Madonna responded. "But I do think I'm able to handle things with a little bit more grace than I used to."
Grace, maybe, but the Madonna we met was as feisty and combative as ever. "Resistance makes you stronger," she said. "If everyone says yes to you all the time, eventually you're just gonna stop trying."
"But it must be exhausting?"
"It is, but I'm tough. Come on, let's duke it out!"
"Oh no. I'm not gonna take you on."
"I'm the embodiment of 'Whatever doesn't kill you makes you stronger.'"
The new center is relatively small, only around 50 beds. But what they've really been able to build here is hope.
"It's a good beginning," said Dr. Borgstein. And he adds, it definitely could not have been done without Madonna. "No way."
Smith asked the singer, "What do you hope the name Madonna means?"
"Mother of God. Isn't that what it means?"
"In your case, what do you hope it means, when people hear that name?"
"Oh. I don't know -- lots of words are popping in my head."
"You can say them all. It doesn't have to be a one-word answer."
"Okay. 'Tough girl from Detroit. Good mother. Resilient. Tenacious. Made a difference.'"

For more info:
Thanks for reading CBS NEWS.
Create your free account or log in
for more features.