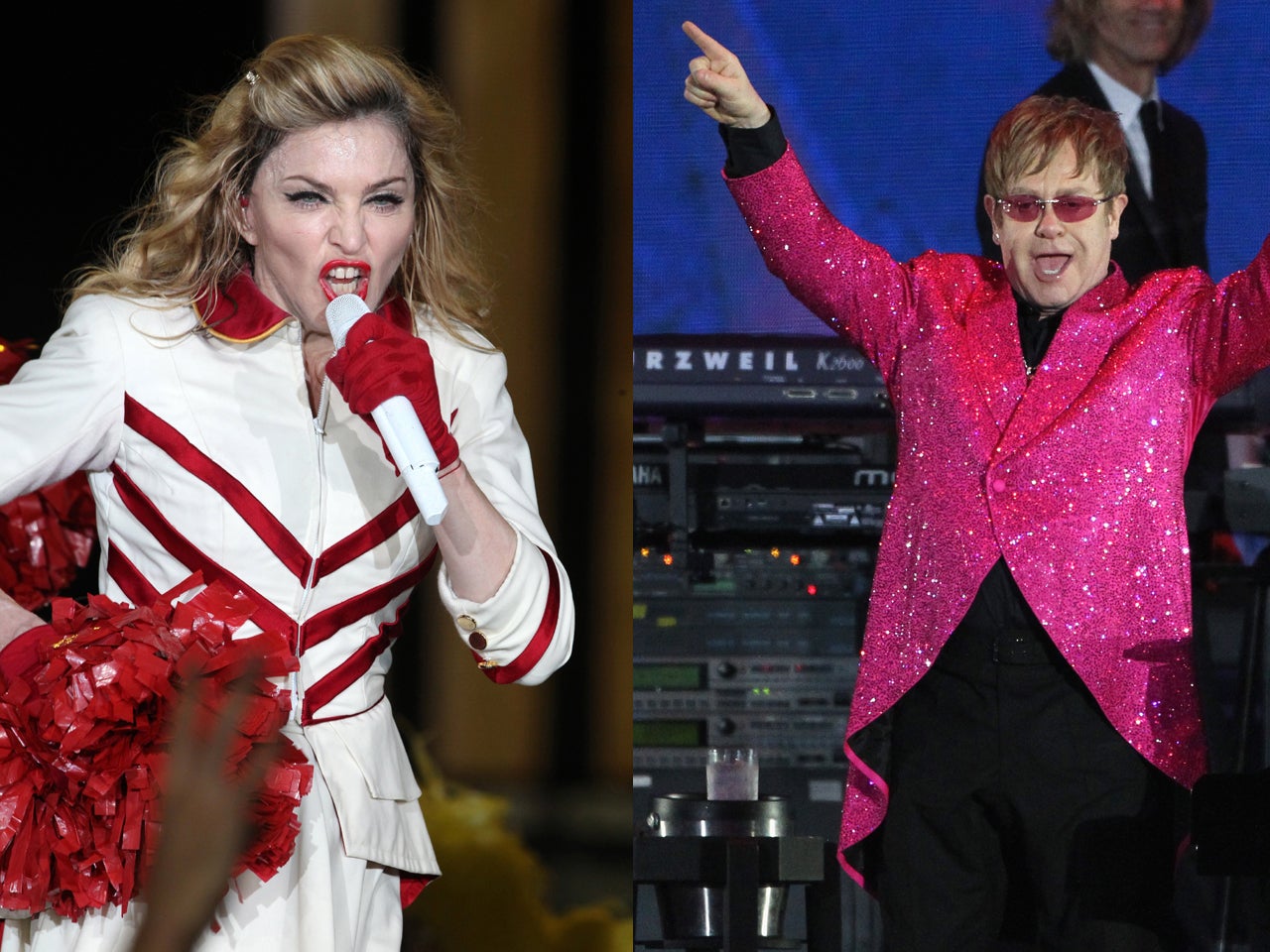 Madonna and Elton John: Inside their decade-long feud
(CBS News) Madonna and Elton John's latest feud is nothing new. For years, their remarks have been playing out on a public stage.
John, for one, doesn't hold back when he talks to the media, oftentimes spewing controversial comments about the "Queen of Pop."
Pictures: Madonna
Pictures: Elton John's wedding
Pictures: The famous and their feuds
Just this month, he said Madonna's "career is over," calling the 53-year-old singer a "fairground stripper."
Here's a look at what has gone down between the two stars -- and one-time friends -- over the past decade:
November 2002 - John bashed Madonna's theme song for the 007 movie, "Die Another Day," calling it "the worst Bond tune ever."
"It hasn't got a tune," John, 65, told the U.K.'s Sky News. "James Bond themes are usually very camp and this one's different ... They should have gone for somebody like Lulu and Shirley Bassey, or maybe I'm in that league?"
He added, "I don't think it's the best Madonna record and I'm a big fan."
October 2004 - John famously slammed Madonna at the 2004 Q Awards in London. During the show, hosted by British music magazine Q, John said he was surprised to see Madge nominated in the best live act category.
"Since when has lip-synching been live? Anyone who lip-synchs in public on stage when you pay 75 pounds to see them should be shot. Thank you very much," he said while accepting the classic songwriter award. "That's me off her Christmas card list, but do I give a toss? No."
Madonna's spokesperson Liz Rosenberg released a statement shortly after, explaining: "Madonna does not lip-synch nor does she spend her time trashing other artists. She sang every note of her Re-Invention tour live and is not ashamed that she was well paid for her hard work ... Elton John remains on her Christmas card list whether he is nice ... or naughty."

John then spoke with Access Hollywood about his comments, saying he was "unfair."
"You know, I just said what I said and I've been meaning to say it for a long time," John said. "It was probably a bit unfair on Madonna, because a lot of people lip-synch worse and their whole show is lip-synched. Her show is not wholly lip-synched but there's an element to it." John went on to praise the singer's talent, saying, "Madonna is a great artist, she's a great writer, she's a great performer, she makes great records and I just want to leave it at that."
Later that month, he told Entertainment Weekly, "I don't want to escalate it because I like Madonna. She's been to my house for dinner. It was something that was said in the heat of the moment, and probably should not have been said." John added, "Would I apologize to her if I saw her? Yeah, because I don't want to hurt any artist's feelings. It was my fault. I instigated the whole thing. But it applies to all those bloody teenage singers."
August 2005 - Madonna and John were still on rocky ground a couple of years later. "I did send her two Christmas cards and they both came back," John told the U.K.'s Daily Telegraph in December 2005.
December 2005 - It appeared as though Madonna still wouldn't forgive John for accusing her of lip-synching in concert. The New York Post reported that John tried to make amends by inviting her to perform at his and David Furnish's bachelor party in London. But John reportedly told his guests, "Madonna, the miserable cow, wouldn't do it."
Madonna's spokeswoman responded, "Madonna wishes Elton all the best, and hopes married life will make him a happier person."
February 2011: And in 2011, John didn't change his tune on lip-synching. When Rolling Stone asked him how he feels about it, he said, "Anyone who lip-syncs should be shot. Just take 'em out on the street and shoot 'em. I think Madonna 's a fantastic showgirl -- show-woman -- and I'm a big fan of some of her records. I didn't want to hurt her feelings, and subsequently I've made up and apologized. I think she paved the way for everybody, but I am right. I'm right. Live means live."
January 2012 - Things got heated at the beginning of this year when John's partner, David Furnish, got involved. John and Madonna were competing against each other in the best original song Golden Globe category, and after Madge's win, Furnish, blasted the singer in a private message on Facebook, which was later deleted. He reportedly wrote: "Madonna. Best song???? F**k off!!!"
"Madonna winning best original song truly shows how these awards have nothing to do with merit," Furnish added. The British filmmaker called Madonna's acceptance speech embarrassing in its narcissism, noting that her criticism of Lady Gaga "shows how desperate she really is."
John, meanwhile, launched into the Madonna bashing even before the ceremony began, telling Carson Daly that Madonna had "no f---ing chance" of winning the honor. When asked if "those were fighting words," he said, "No, those are accurate words."
After her Golden Globes win, Madonna laughed off John's comments while chatting with the press backstage, saying, that John "speaks to me for the next couple of years. He's been known to get mad at me, so I don't know. He's brilliant, and I adore him, so he'll win another award. I don't feel bad."
Furnish later spoke up about the incident, saying his comments were taken the wrong way.
"My passion for our film 'Gnomeo & Juliet' and belief in Elton's song really got my emotional juices going," he said. "But I must say for the record that I do believe Madonna is a great artist, and that Elton and I wish her all the best for next week's premiere of the film 'W.E.'"
July 2012: John reignited the Madonna feud this summer in an interview with Molly Meldrum, which aired on Australian TV.
John said, "Why is she such a nightmare? Sorry, her career is over. Her tour has been a disaster and it couldn't happen to a bigger [expletive]."
"If Madonna had any common sense, she would have made a record like 'Ray of Light,' stayed away from the dance stuff and just been a great pop singer and made great pop records, which she does brilliantly. But no, she had to prove that she was like ...," he said, not specifying. "And she looks like a [expletive] fairground stripper."
Madonna has yet to respond.
Tell us: What do you think about Madonna and Elton John's feud?
Thanks for reading CBS NEWS.
Create your free account or log in
for more features.