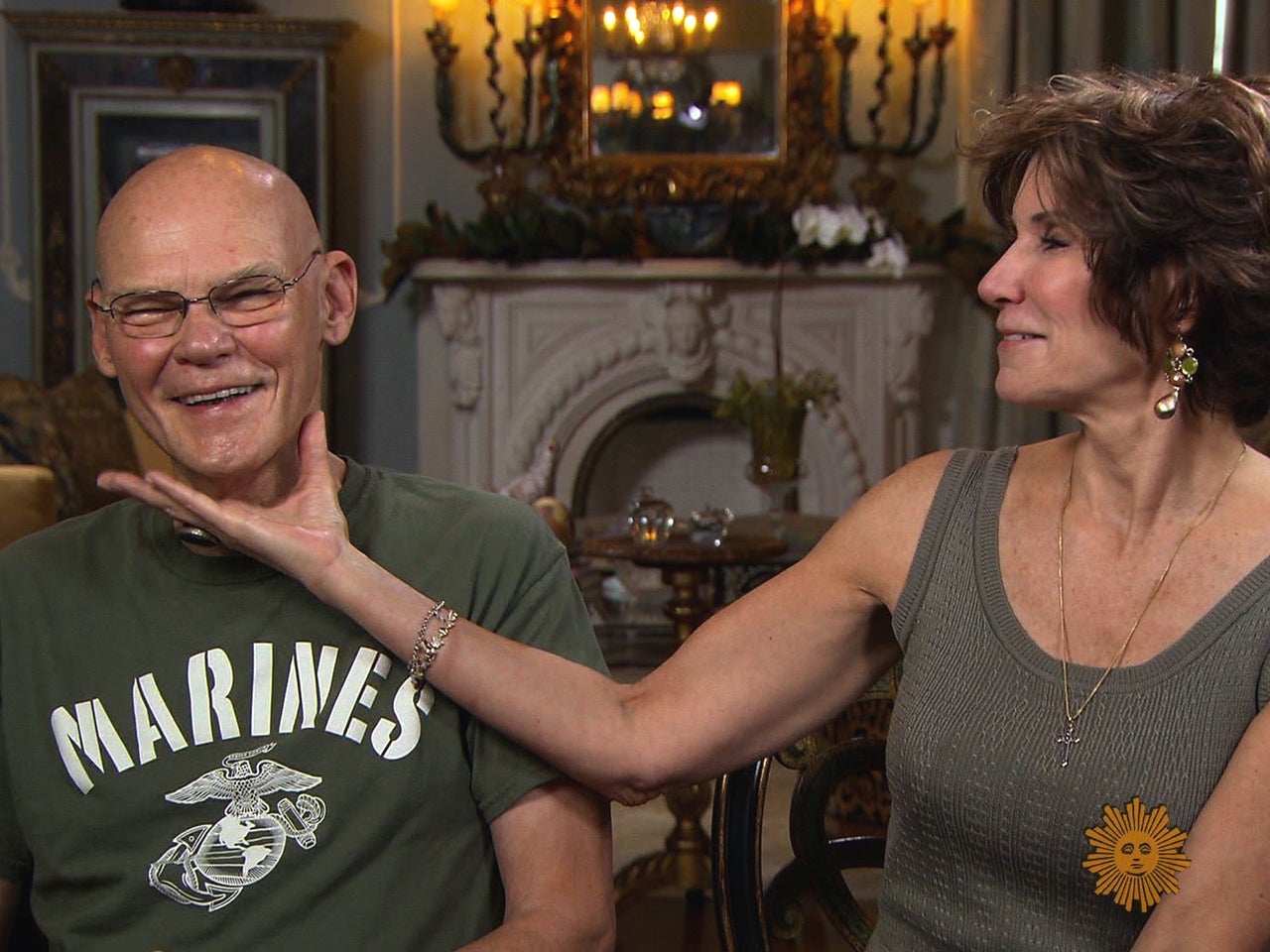 Love & war with James Carville and Mary Matalin
"Opposites attract" is a saying that applies well to one political power couple, as Tracy Smith reports:
It may seem odd to think of Democratic tough guy James Carville anywhere but Washington . . . or Republican stalwart Mary Matalin this far outside the Beltway.
"Could you ever have imagined 20 years ago, when you met Mary, that you'd be bringing her down here and this would be home for you, for your family, for her?" Smith asked.
"I think I always knew that I wanted to come home," said Carville.
And Matalin says she loves it: "It's a great, warm place."
They still keep a house near D.C., but now they call New Orleans home.
The "Ragin' Cajun" is now Professor Carville, teaching politics at Tulane University. He also takes on the occasional movie role. He played a Western governor in "The Assassination of Jesse James by the Coward Robert Ford."
But Carville and wife Mary Matalin are best known for playing themselves, taking opposing viewpoints on the political talk show circuit, or the short-lived HBO series "K Street."
So it might come as a surprise that here at home, they live in harmony . . . most of the time.
When asked what is the number one thing they fight about, Carville replied, "The air conditioning in the house. The kids, not at all."
Money? "A little bit, like most people," he said.
Matalin said, "We don't really fight. We're not good fighters -- we kind of pout, or passive-aggressive. And I think the reason for that is, if we actually, either of us, get into our fight mode, given our experience and our skill sets, we are so vicious, we turn into a different person."
And they were vicious indeed during the 1992 campaign.
In Governor Bill Clinton's corner: James Carville, the fiery political genius who knew where President George H.W. Bush was vulnerable.
"He reeks of yesterday," Carville said, captured in the award-winning documentary, "The War Room. "When I see an old calendar, I see George Bush's face on it."
And in the Bush camp: deputy campaign chief Mary Matalin, the one they counted on to come out swinging against Bill Clinton.
"It's vintage Clinton," she said. "If we cannot believe anything he says about the past, how can we believe anything he's going to say about the future?"
But even as Matalin denounced Clinton, she was romantically involved with Carville, whom she'd met in D.C. a year earlier.
"It wasn't really a date," she told Smith. "I don't know what we were -- it was something. It was vodka and French fries, that's all I remember. And I was struck, stayed struck, am struck."
They couldn't have been more different: Matalin was from the South Side of Chicago; Carville from rural Louisiana.
And he was, by all accounts, a real handful.
Matalin spoke of the unconditional love of Carville's mother, who "dragged him through school, dragged him through college. Finally his dad made him join the Marines.
"Sometimes unconditional love needs to have a condition."
"Yeah," Carville said, "I mean, I was bad."
How bad? "Bad. I mean, not goin' to class, drinking, gambling, Everything you can think of. I mean, I wasn't like a criminal or anything, but . . ."
"Don't you say you graduated with a 4.0?" Smith asked.
"On graduation day, 4.0 was my blood alcohol level!" Carville replied.
By the time of the 1992 campaign, their romance was pretty well known, though they said it was on hold during the campaign. Still, people wondered.
During an August 1992 appearance on CNN's "Evans and Novak," Matalin was asked, "There's been so many reports of a romantic attachment between you and Mr. Carville. Since you're both senior figures in the campaign, doesn't that give the impression that it's all make-believe?"
"I think the media does not know how to cover what is an unprecedented relationship," Matalin replied.
But they did know how to cover Clinton's landslide victory. Matalin was devastated.
"I love Poppy Bush. I love him to this day. And it was a very personal loss."
"It's complicated because your partner, meanwhile, is on this trajectory while you're feeling so low," said Smith.
"Yeah, it's really hard. It was really, really depressing, but he was really doing great. And I was really in love. And they fought against each other, and the good side won. I stayed in love instead of in darkness."
They were married a year later: Thanksgiving Day 1993 in New Orleans.
In the years that followed, Carville grew more prominent in Democratic politics; Matalin became a trusted advisor in the GOP.
When Vice President Dick Cheney was rushed to a secret location during the horror of the 9/11 attacks, she was by his side.
The couple and their two daughters, Emma and Matty, were such a part of Washington, D.C., that some were shocked when they all moved down to New Orleans in 2008.
Their house -- what Matalin calls "a work in progress" -- is a 1905 mansion decorated to die for. The two girls are off to school now, but the nest is hardly empty. Cats are free to come and go, as long as they stay away from Carville. "He doesn't want to know their names," explained Matalin. "They are the devil incarnate to him."
These days it seems the only animals Carville can tolerate are the political ones. But he says he doesn't miss Washington, D.C. one bit.
"I'm really happy here," he said. "That all I can say. There ain't much else I can add to it."
"Happier than you think you've been at any other point in your life?" asked Smith.
"Yeah, I think so. And satisfied, just where my life is. But I don't think I could have done it without doing the things I did."
Carville's famously frantic personality got him lampooned on "Saturday Night Live," but a few years into their marriage, Matalin says, it wasn't so funny.
"He's very hyper. Can you tell?" she said. "Or very impatient. He could not understand why I was feeling so detached from him all the time, or so unheard."
Things changed when a doctor observing Carville at an airport approached him and said he suspected Carville had an attention deficit disorder.
"I've been lookin' at you the last five minutes,'" Carville recalled hearing, "'and I'm pretty sure you've got a real case of ADHD just watching you.' And so we went through the whole thing and then diagnosed me as being ADHD."
"Dah dah! Surprise," said Matalin.
"We started talking about medication and everything," Carville continued, "and you know, I'd built a life around it and kind of didn't want to change. Having something confirmed, I guess, was to some extent liberating."
And it does make for quite a story. The couple recently collaborated on a book about their marriage, moving to New Orleans, and raising their two daughters.
They're both still in politics, but after more than two decades, the Carville-Matalin home is one place where it seems no spin is needed.
"It feels good," he said. "I love to walk into places and have what I think is, like, the prettiest, smartest wife in town. I kind of enjoy that."
And as far as Matalin goes, "What do I see in him? What do I love most? He loves us."
For more info:
Thanks for reading CBS NEWS.
Create your free account or log in
for more features.